Quote of the Month:

"People eat meat and think they will become strong as an ox, forgetting that the ox eats grass."
—Pino Caruso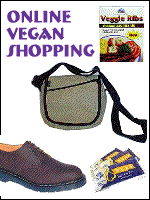 VISIT OUR NEW STORE HERE


Our new online store is friendly on all devices, including your phone. More new vegan products added every week.
WE ARE WORKING ON a redesign of the non-commercial sections of our website, including vegan recipes, news, events, educational info, editorials, and more!
Copyright © 2000-2020 The Vegetarian Site, All Rights Reserved.