Quote of the Month:

"People eat meat and think they will become strong as an ox, forgetting that the ox eats grass."
—Pino Caruso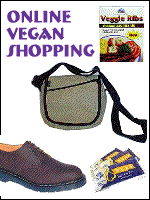 VISIT OUR NEW STORE HERE


Our new online store is friendly on all devices, including your phone. Many more new products on the way shortly! Our older online store was deactivated on June 30th.
In the News: 90% of Plant-Based Meat Sales Are to Meat-Eaters ~ Ratings for Popular Vegan Cheeses ~ Study: White Meat Not a Healthy Choice
Copyright © 2000-2020 The Vegetarian Site, All Rights Reserved.