Quote of the Month:
"It is not an act of kindness to treat animals respectfully. It is an act of justice."

—Tom Regan , The Case for Animal Rights (1983)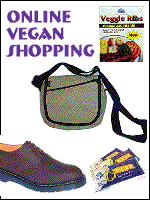 New Vegan Products: One Smart Cookie made with almond meal ~ Lite Tofu ~ Plant-Based Natural Food Coloring ~ PB Choc. Chip Nirvana Protein Bars ~ & more!
In the News: Brooklyn's 100% Vegan Pizzeria ~ Australia to Ban Animal Testing on Cosmetics ~ Eating More Whole Grains Linked to Lower Mortality Rates
Tom Regan: The Case for Animal Rights: Our summary of philosopher Tom Regan's most important work.
Copyright © 2000-2016 The Vegetarian Site, All Rights Reserved.