Copyright © 2016 The Vegetarian Site, All Rights Reserved.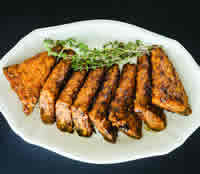 Maple-Miso Tempeh Cutlets
Copyright © 2016 Kristy Turner, from But My Family Would Never Eat Vegan. Reprinted with permission from the publisher, The Experiment.

These tasty tempeh cutlets, glazed in a savory maple-miso sauce, are best enjoyed the day they're prepared. If you need to prepare them somewhat in advance, steam the tempeh and prepare the sauce so that all you need to do on the day you're serving is cook the cutlets in the sauce.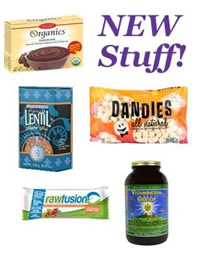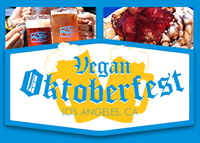 MAIN INGREDIENTS:
two 8-ounce packages tempeh
1/4 cup low-sodium vegetable broth
1/4 cup tamari or liquid aminos
1/4 cup maple syrup
2 teaspoons white soy miso (or chickpea miso)
1 teaspoon dried sage
1 teaspoon dried thyme
salt and black pepper to taste


DIRECTIONS:
Chop each tempeh block in half horizontally, then chop each half diagonally so that you have eight triangles.

Fill a large shallow saucepan with a couple inches of water and fit with a steamer basket. Place the tempeh triangles in the steamer basket and cover with a lid. Bring to a boil, then reduce to a simmer. Steam the tempeh for 15 to 20 minutes, flipping the triangles once halfway through. Remove the steamer basket from the pan (keep the tempeh in the basket) and set aside.

Dump the water from the saucepan. Combine the vegetable broth, liquid aminos, maple syrup, miso, sage, and thyme in the pan and stir to mix. Add the
tempeh triangles and bring to a boil. Once boiling, reduce the heat to a low simmer. Let the tempeh simmer in the sauce for 10 to 12 minutes, flipping them once halfway through, until the sauce is absorbed and starts to caramelize. Remove from the heat and add salt and pepper. Serve immediately. Leftovers will keep in an airtight container in the fridge for 4 to 5 days.

New Vegan Products This Month
We're continuing to expand our online vegan grocery store with more new foods and supplements this month, a few of which are highlighted below. As always, each purchase directly supports nonprofit vegan and animal rights causes, as we continue to contribute a full 10% of our product sales at TheVegetarianSite.com to these important organizations. And shipping is still just $5 within the 48-state contiguous USA.
Pumpkin Dandies Mini Vegan Marshmallows
The seasonal spiced-pumpkin Dandies are here! A delicious twist on the classic Dandies taste.

Legumes Plus Lentil Sloppy Joe
Makes a hearty meal in 30 minutes with its combo of brown and red lentils and a flavorful sloppy joe seasoning. Simple, healthy, all-natural ingredients. Just add water and ketchup.


Rawfusion Whole Foods Protein Bar with Superfoods
The most convenient and delicious way to ensure all day nutrition. Rawfusion bars are comprised of a high-quality protein matrix of pea protein isolate and pumpkin seed protein. The bars are made with pure almond butter, delicious dates, greens, and chia seeds too.

HealthForce Vitamineral Green Whole Food Supplement
Vitamineral Green is a superior, nutritionally dense, therapeutic green superfood powder. Raw, gluten-free, yeast free, Actual Food that's packed with vitamins, minerals, trace elements, and healing phytonutrients. No fillers of any kind.

GET FREE SHIPPING FOR 6 MONTHS (UP TO 10 ORDERS) WITH YOUR SHIP PASS MEMBERSHIP

See our complete New Products Section, or visit the main page of our online store anytime..

IN THE NEWS...
Inside the Country's First 100% Vegetarian Drive-Thru Restaurant
(Insider) — Fast food is a guilty pleasure many Americans find impossible to avoid. But Amy's Drive Thru is a first-of-its-kind restaurant serving up organic, local, vegetarian, and non-GMO fare — and they're doing it well. Yes, this is the same Amy's that you know for their frozen vegetarian entrees and canned soups. read more...
Kellogg's Declares No Cereals Suitable for Vegans
(Kelloggs.com) — Due to their use of both Vitamin D2 and animal-derived D3, Kellogg's has declared on their community forum that none of their cereals is suitable for vegans: "None of our cereals would be acceptable to someone on a strict 'no animal derived ingredients' diet." read more...
5 Vegan Ice Cream Brands Put to the Ultimate Taste Test
(Organic Authority) — Vegan ice cream is going mainstream, and with all the new varieties, Organic Authority has put them to the test to find their strengths and weaknesses. Judges included both vegans and non-vegans. Find out which vegan ice creams fared the best. read more...
Keep up to date with more news related to animal rights and your vegetarian lifestyle.

Upcoming Events
Sep. 24, DC VegFest, Washington, DC
Sep. 24, Erie Vegfest, Erie, Pennsylvania
Sep. 24, Charlottesville Veg Fest, Charlottesville, Virginia
Sep. 30 - Oct. 10 , Phuket Vegetarian Festival, Phuket, Thailand
Oct. 1, Chicago Veganmania, Chicago, Illinois
Oct. 2, New Jersey Vegfest, Morristown, New Jersey
Oct. 4, World Animal Day events, multiple locations
Oct. 7-9, Annual Animal Law Conference, Portland, Oregon
Oct. 8, An Evening with PCRM, New York City, NY
Oct. 8-9, World Veg Festival, San Francisco, California
Oct. 14-16, Healthy Lifestyle Expo, Los Angeles, California
Oct. 15, Vegan Oktoberfest, Los Angeles, California
Oct. 22, Texas State Veggie Fair, Dallas, Texas
Oct. 22-23, Boston Vegetarian Food Festival, Boston, Mass.
Oct. 22-23, Portland Vegfest, Portland, Oregon
Oct. 24, Central Florida Veg Fest, Orlando, Florida
Oct. 29-30, SoCal Vegfest, Costa Mesa, California
Oct. 29-30, Twin Cities Veg Fest, Minneapolis, Minnesota
Oct. 29-30, Vegan Festival, West Midlands, U.K.
Oct. 29-30, Tokyo Vegefest, Tokyo, Japan
Nov. 4-5, Veganfach, Cologne, Germany
Nov. 5-6, Montreal Vegan Festival, Montreal, Quebec
Nov. 5-6, Vegan Festival, Adelaide, South Australia
Nov. 5, 13, 19, Celebration For The Turkeys, multiple locations
Nov. 12, Tampa Bay Veg Fest, Tampa, Florida
Nov. 12, Atlanta Veg Fest, Atlanta, Georgia
Nov. 19, VSSJ 30th Anniversary Celebration, Medford, New Jersey
Nov. 20, UK North East Vegan Festival. Sunderland, U.K.

Please report your event to us roughly 2 months in advance. Thank You.

Quote of the Month
"But why must the system go to such lengths to block our empathy? Why all the psychological acrobatics? The answer is simple: because we care about animals, and we don't want them to suffer. And because we eat them. Our values and behaviors are incongruent, and this incongruence causes us a certain degree of moral discomfort."

—Melanie Joy, Why We Love Dogs, Eat Pigs, and Wear Cows: An Introduction to Carnism