Copyright © 2015 The Vegetarian Site, All Rights Reserved.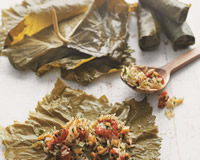 Sun-dried Tomato and Pine-Nut Stuffed Grape Leaves
©2015 Mitchell Beazley, from Mildreds The Cookbook. Photo by Jonathan Gregson. Reprinted with permission.
If you've only ever had cold stuffed grape leaves from the supermarket or, heaven forbid, the mushy canned variety, then you need to try these ones because they are simply delicious. Although they are best served warm, you can make them in advance, refrigerate them, and then let them come up to room temperature. Don't serve them straight from the fridge because the rice will be hard. You can use a ceramic baking dish for this recipe. However, because it is helpful to be able to see the water level through the dish, a Pyrex dish is recommended. Serves 8 to 10 as part of a mezze platter or as a side.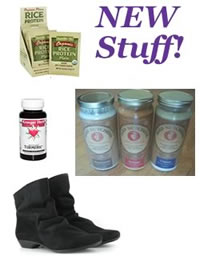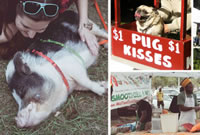 INGREDIENTS:
30 to 35 grape leaves in brine
2 tablespoons olive oil
1 large white onion, finely diced
4 garlic cloves, minced
1/4 teaspoon ground cumin
8 oz. sun-dried tomatoes in oil (drained and chopped, oil reserved)
1 2/3 cups long-grain white rice (rinsed and drained)
2 tablespoons chopped parsley
2 tablespoons chopped dill leaves
1/2 cup pine nuts, toasted,chopped
grated zest of 1/2 lemon
DIRECTIONS:
Preheat the oven to 375°F. Soak the grape leaves in boiling water and drain them following the package instructions.

Heat the oil in a pan, add the onion, garlic, and cumin and cook over very low heat, stirring, for 5 to 8 minutes, or until the onions are soft and translucent. Add the sun-dried tomatoes and cook for another minute or so, then remove from the heat and stir in the rice, herbs, nuts, and grated lemon zest.

Spread out the grape leaves, trimming off the stalk at the base of each with a pair of scissors. Spoon a tablespoon or so of the filling into the center of each,
fold the ends over, and roll the leaves up, pressing the mixture into a sausage shape as you go. Arrange the rolls seam-side down in a 9 x 13-inch baking dish,
packing them together as tightly as possible to stop them from moving around while cooking. The dish must be tightly packed or the grape leaves will fall apart. If you find that you have any empty space left in the dish, pack it with balls of crunched-up parchment paper.

Pour enough water over the grape leaves to cover them by about 1/8 inch and drizzle them with the oil from the sun-dried tomatoes. Cover with nonstick parchment paper and weigh down with a smaller baking dish or a couple of plates to stop the grape leaves from floating around. Bake for 1 hour, adding extra water halfway through cooking if the grape leaves are starting to dry
out. Serve warm.


New Vegan Items + Free Primal Strips (Vegan Jerky)
With more new items coming in every week, here are a few product highlights:

Women's Pixie Boot by Vegetarian Shoes
Lovely and versatile pull-on boot in black. Made from lightweight super-soft-to-touch microfiber faux suede on a pointy but comfortable shape last. Simple design with rouched front detailing. Lined throughout. It's made in Europe, not in China.

Vegan NutCheese Alfredo Sauces by Parmela Creamery
Made with fresh cashew cream and aged nutcheeses, these amazing vegan alfredo sauces offer the authentic alfredo taste that you crave. Gluten-free, non-GMO, and soy-free.

Raw Organic Sprouted Brown Rice Protein Packet by Nutribiotic
Single serving packet of 100% raw, USDA Organic brown rice protein powder by Nutribiotic. It's gluten-free, hypo-allergenic, non-GMO, and vegan. Mixes easily into your favorite beverage.


Kroeger Herb Ageless Asset Turmeric Supplement (100 vegan capsules)
An economical and easy way to consume this healthy spice, which has been used widely in Indian food for centuries. Turmeric is an antioxidant and anti-inflammatory agent, is often used for digestive health, and may have other beneficial medicinal properties according to dozens of peer-reviewed journal studies.

Visit the main page of our online store anytime, and do let us know if there are any favorite vegan products that you'd like to see added to our offerings.

HOW TO GET FREE PRIMAL STRIPS WITH YOUR ORDER?
It's our current Twitter Promo. Just be sure to choose the 'Twitter Promo' option from our shipping menu when you check out. It's that simple! And keep an eye on all our future Twitter promotions and news here:
http://twitter.com/thevegsite
As always, shipping is just $5, and each purchase directly supports nonprofit vegan and animal rights causes, as we continue to contribute a full 10% of our product sales to these important organizations.

IN THE NEWS...
Study Finds Diets Heavy on Meat, Sugar, and Salt Worse Than Smoking or Alcohol for Premature Death Risk
(The Independent) — Unhealthy eating has been named as the most common cause of premature death around the globe, new data have revealed. A poor diet — which involves eating too few vegetables, fruits, nuts and grains and too much red meat, salt and sugar — was shown to be a bigger killer than smoking and alcohol. The study was the most recent update on the 2010 report on the Global Burden of Disease, considered the most authoritative work on the causes of ill-health. read more...
Berlin Named Vegetarian Capital of the World by Renowned Culinary Magazine
(The Local DE) — Saveur, the New York based magazine, said that Berlin is the only city in the western world in which
vegetarian cuisine has achieved "complete culinary parity" with a carnivorous diet. As the scene has grown under inspirational chefs such as La Mano Verde's Jean Christian Jury, the city has become home to "the world's most talented constellation of vegetarian and vegan chefs," the magazine said. read more...
It's Now Certain That the Real Paleo Diet Included Grains and Flours
(NPR) — The popular so-called Paleo Diet is rather meat-heavy and eliminates healthy whole grains and legumes because its proponents are adamant that our ancestors did not eat them. (Yes, Registered Dieticians advise us all to include legumes and whole grains in our diet on a daily basis, but that's beside the point.) Now, even the purported foundation of the Paleo Diet itself has crumbled, because science has shown that real paleo people were consuming grains and flours 32,000 years ago. Oops. read more...
Keep up to date with more news related to animal rights and your vegetarian lifestyle.

Upcoming Events
Sep. 26, Charlottesville Veg Fest, Charlottesville, Virginia
Oct. 3, DC VegFest, Washington, DC
Oct. 3-4, World Veg Festival, San Francisco, California
Oct. 3-4, Vegan Oktoberfest, Los Angeles, California
Oct. 4, World Animal Day events, multiple locations
Oct. 10, Chicago Veganmania, Chicago, Illinois
Oct. 16-18, Healthy Lifestyle Expo, Los Angeles, California
Oct. 16-18, Annual Animal Law Conference, Portland, Oregon
Oct. 19, Texas State Veggie Fair, Dallas, Texas
Oct. 24, 10th Annual Central Florida Veg Fest. Orlando, Florida
Oct. 24, Farm Sanctuary's NYC Gala, New York, NY
Oct. 24-25, 20th Annual Boston Vegetarian Food Festival, Boston, Mass.
Oct. 24-25, VegFest Accra 2015, Accra, Ghana
Nov. 1, Twin Cities Veg Fest, Minneapolis, Minnesota
Nov. 7, The 6th Annual Tampa Bay Veg Fest, Tampa, Florida.
Nov. 7, Atlanta Veg Fest 2015, Atlanta, Georgia
Nov. 7, 14, 15, 21, Celebration For The Turkeys, multiple locations

Please report your event to us roughly 2 months in advance. Thank You.

Quote of the Month
"Think about the lambs we eat who want to be our friends."

—Garrison Keller & Band, A Prairie Home Companion, Sept. 5, 2015