Copyright © 2014 The Vegetarian Site, All Rights Reserved.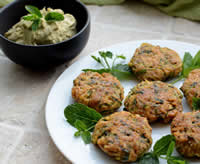 Zucchini & Tofu Fritters w/ Avocado-Cashew-Lime Dip
Recipe from the excellent Cooking For Health Blog. ©2014 Jane Philpott. Reprinted with permission.
Zucchini is nutritious and low in calories. It's also quite easy to incorporate into a variety of delicious dishes, and this recipe is sure to please.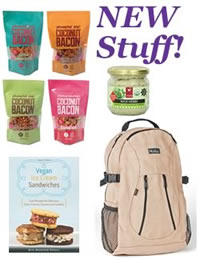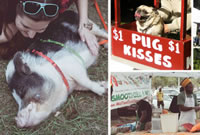 INGREDIENTS FOR DIP:
1/2 cup cashews
1 small avocado
juice of 1/2 small lime
small pinch of salt (optional)
INGREDIENTS FOR FRITTERS:
2 medium zucchini
1 small white onion, grated
2-3 small new potatoes
1/2 teaspoon salt
3 ounces firm tofu
1 teaspoon ground cumin
1 teaspoon ground coriander
1 teaspoon ground paprika
1 teaspoon lime zest
1-2 tablespoons fresh lime juice
1 teaspoon apple juice concentrate
1 tablespoon ground flax mixed in 2 tablespoons warm water
2 tbsp. fresh coriander, chopped
3-4 tbsp. chickpea or wheat flour

TO MAKE THE AVOCADO-CASHEW-LIME DIP:
Soak the cashews in water for 1-2 hours. While they're soaking, prepare the fritters following the instructions below. When the cashews have finished soaking, drain them. Cut the avocado in half, remove the stone, scoop out the flesh and blend it with cashews, adding the lime juice and salt to taste.
TO MAKE THE ZUCCHINI & TOFU FRITTERS:
Grate the zucchini and onion into a bowl. Peel the potatoes, then grate them into the same bowl. Sprinkle the grated vegetables with salt and allow them to sit for 30 minutes to draw out the juices. Squeeze out the excess liquid with your hands and put the mixture into a bowl. Grate the tofu into the same bowl, then add the
ground cumin, ground coriander and ground paprika, lime zest, lime juice, apple juice concentrate, and fresh coriander. Carefully fold in the ground flax seed and water mixture (it acts as the binding agent) and the flour. Shape the resulting mixture into small flat rounds and gently pan-fry them in rice bran oil or olive oil.
SERVING:
Garnish with fresh herbs and serve with the dip and a green salad.


Ethical Wares® 4-Day Shoe Sale + New Vegan Items
Many styles of Ethical Wares brand footwear are on sale for the next 4 days. It's all fair labor vegan footwear made in the UK and Italy. Several options for both men and women range from dress shoes to hiking shoes. As usual, shipping is just $5 for your entire order, regardless of its size and weight.
MEN'S ETHICAL WARES® SHOES ON SALE:
Union Street Shoe, Classic Black Tie Shoe, Brown Gibson, "Suede" Gibson, Monk Buckle Shoe, Kathmandu Hiking Shoe, Last Dance Shoe
WOMEN'S ETHICAL WARES® SHOES ON SALE:
Black Hemp Oxford, Monk Buckle Shoe, Jazz Dance Shoe, "Suede" Gibson, Kathmandu Hiking Shoe, Steel Toe Work Boot
The eco-friendly Hemp Backpack by Hempmania is an attractive, highly functional pack featuring a large main compartment, mesh side pockets for your water, plus compartments to keep small items separated, a hemp corduroy compartment to secure your wallet, digital camera, iphone, etc., and 3 zippered pockets on the front too.
Four new Specialty Flavors of Coconut Bacon from Phoney Baloney's are now in stock! Try them all -- you'll just love
snacking on these new vegan bacon offerings: Chipotle BBQ, Candied, Apple Fennel, and Soy-Free/Reduced Sodium.
The amazing Viana Organic Creamy Sunflower Spreads are delicious on sandwiches, with your favorite crackers, or as a vegetable dip. They're gluten-free too. Choose from Red Pepper, Wild Herbs, or Horseradish.
See our other recent product offerings or visit the main page of our online store anytime. And check out our special 50% OFF Food Closeouts section as well as our main list of items on sale.
As always, each purchase directly supports nonprofit vegan and animal rights causes, as we continue to contribute a full 10% of our product sales to these important organizations.

Registered Dietician Encourages Aging Women to Consider a Vegetarian Diet
(Everyday Health) -- Contrary to what you may have heard, a plant-based diet – one that is limited in or devoid of any animal products – is not off-limits for aging women. In fact, this style of eating can offer optimal health rewards for older women, such as promoting healthy weight, warding off heart disease, and protecting against the risks of other chronic
diseases. Sharon Palmer, online editor for the American Academy of Nutrition and Dietetics, promotes well-planned plant-based eating. read more...
More Dairy Cruelty Uncovered by MFA: Supplier to Pizza Hut, Domino's, Others
(The Daily Meal) -- It happens way too often. A horrific account of animal abuse on a major factory farm surfaces, and we are stunned. Mercy for Animals just released a disturbing undercover video from Winchester Dairy just outside of Roswell, New Mexico, that shows farm workers viciously kicking, punching, stabbing and otherwise abusing the dairy cows. Winchester Dairy just also happens to be a major supplier of milk to Leprino Foods, the world's number one mozzarella cheese supplier, and distributor to pizza chains like Pizza Hut, Domino's, and Papa John's. read more...
Study: Daily Fruit Consumption Strongly Associated with Cardiovascular Health
(Science World Report) -- The latest study presented at the ESC Congress by Dr. Huaidong Du, Oxford-UK, indicates that people can cut the risk of cardiovascular diseases (CVD) by almost 40 percent by eating more fruits on a regular basis. They based their finding on the evaluation of 451,681 participants in China with no history of CVD. A seven year follow-up showed the greater the consumption of fruits, the lower the risk of developing CVD. read more...
Keep up to date with more news related to animal rights and your vegetarian lifestyle.

Upcoming Events
Sep. 20, D.C. VegFest. Washington, DC
Sep. 20, Plant Powered Health Expo. San Francisco, California
Sep. 24 - Oct. 2, Phuket Vegetarian Festival. Phuket, Thailand
Sep. 27, Charlottesville Veg Fest. Charlottesville, VA
Sep. 27-28, Portland VegFest 2014. Portland, Oregon
Sep. 28, Twin Cities Veg Fest. Minneapolis, Minnesota
Oct. 1-6, 42nd IVU World VegFest. Accra, Ghana
Oct. 4, World Animal Day events. (various locations)
Oct. 4, Vegan Oktoberfest. Santa Monica, California
Oct. 5, Poplar Springs 17th Annual Open House. Poolesville, Maryland
Oct. 10-12, Healthy Lifestyle Expo. Los Angeles, California
Oct. 11, Chicago Veganmania. Chicago, Illinois
Oct. 11-12, World Veg Festival. San Francisco, California
Oct. 17-19, Annual Animal Law Conference. Portland, Oregon
Oct. 19, Texas State Veggie Fair. Dallas, Texas
Oct. 25, 9th Annual Central Florida Veg Fest. Orlando, Florida
Oct. 25-26, 19th Annual Boston Vegetarian Food Festival. Boston, Mass.
Oct. 26, Lone Star Vegetarian Chili Cook-Off. Round Rock, Texas
Nov. 2, Healthy Taste of LA, Los Angeles, California
Nov. 8, The 5th Annual Tampa Bay Veg Fest. Tampa, Florida.
Nov. 8, Atlanta Veg Fest 2014. Atlanta, Georgia
Nov. 8, Celebration For The Turkeys. Acton, California.

Please report your event to us roughly 2 months in advance. Thank You.

Quote of the Month
"In fact, if one person is unkind to an animal it is considered to be cruelty, but where a lot of people are unkind to animals, especially in the name of commerce, the cruelty is condoned and, once large sums of money are at stake, will be defended to the last by otherwise intelligent people."

—Ruth Harrison, acclaimed animal advocate and author of Animal Machines (1964)