Copyright © 2016 The Vegetarian Site, All Rights Reserved.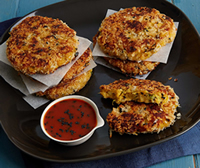 Acorn Squash Fritters with Spicy Korean Sauce
Copyright © 2016 Sonoma Press, from Vegan 101: Learn to Cook Plant-Based Meals That Satisfy Everyone by Spork Foods founders Heather Bell and Jenny Engel. Reprinted with permission.

Drizzle Korean spicy sauce on pretty much anything, and you'll wind up with a hit. Combined with these crispy-on-the-outside, smooth-in-the-middle fritters, you're likely to have anyone who tastes them clamoring for more. Our advice? Make a double batch. (Note: the gochujang sauce ingredient is available at most natural food stores if you don't have a Korean market in your area.)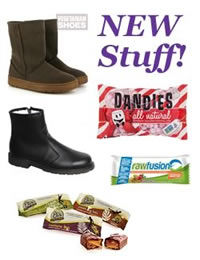 INGREDIENTS FOR FRITTERS:
1 acorn squash, halved and seeded
1 tsp. veg. oil + 2 Tbsp. divided
1 1/2 cups panko bread crumbs
+ 1/2 cup, divided
1/2 cup unbleached all-purpose flour
1 tablespoon rice vinegar
2 teaspoons tamari
2 teaspoons brown rice syrup
2 teaspoons toasted sesame oil
1/2 teaspoon sea salt
2 tsp. fresh ginger, finely grated
2 teaspoons black sesame seeds
1 tablespoon scallions, thinly sliced
INGREDIENTS FOR SAUCE:
1/3 cup vegan gochujang sauce
2 teaspoons rice vinegar
1 tablespoon brown rice syrup
1 tsp. freshly squeezed lime juice
1 teaspoon toasted sesame oil
1 teaspoon black sesame seeds


DIRECTIONS:
1. Preheat oven to 400°F. Place squash cut-side up on a baking sheet and drizzle each half with 1 teaspoon neutral-tasting oil. Roast for 36 to 38 minutes, or until knife easily pierces flesh. Set aside to cool.

2. Scoop out 2 1/2 cups squash flesh and place in large bowl. Mash with potato masher. Add 1 1/2 cups panko, flour, vinegar, tamari, brown rice syrup, sesame oil, sea salt, and ginger. Whisk. Fold in sesame seeds and scallions.

3. In a shallow bowl, place remaining 1/2 cup panko. Scoop 1/3 cup squash mixture and roll in panko. Flatten into a 3-inch disk. Repeat with remaining squash mixture.

4. Heat a large nonstick sauté pan and add two tablespoons oil. Add fritters and cook about 4 minutes per side, or until golden.

5. To prepare the sauce, combine in a mixing bowl the gochujang sauce, vinegar, brown rice syrup, lime juice, oil, and sesame seeds. Whisk until uniform. Serve fritters warm, drizzled with sauce.


New Vegan Products This Month
This month, we're introducing new men's and women's fair labor winter boots. Made in Italy and in Portugal, they're stylish, functional, and of course 100% vegan. We also have the new seasonal Peppermint Dandies Marshmallows, and Fair Trade Organic candy bars too. As always, we ship worldwide, and shipping is just $5 within the contiguous USA.
Men's or Women's Ethical Wares Scandinavian Boot
Fleece-lined vegan boot with side zip. Made in Italy, smart, warm & durable. For those who want style, comfort, and warmth in their boot!

Women's Vegetarian Shoes Fleecy Brown Snug Boot
Get these boots and have lovely and snug feet during the cold months! Made from soft-to-touch and breathable fake suede. Lined throughout with fleecy faux "sheep wool." With grippy, and eco-friendly stitched-on rubber and cork soles. Made in Portugal.


IN THE NEWS...
Direct Action Group Reveals That Cage-Free Eggs Are Far From Humane
(The New York Times) — Direct Action Everywhere, an all-volunteer animal advocacy group, released a video of a stealth visit to a cage-free barn in California that produces cage-free eggs. The conditions are far from humane. Their video shows dead birds on the floor and injured hens pecked by other chickens. Most experts maintain that such cage-free methods are better than the standard battery cage system of extreme lifetime confinement. However, cage-free is not without clear animal welfare problems of its own. read more...
Dallas Barbecue Enthusiasts Outraged and Confused by New Vegan Brisket
(Eater.com) — Dallas Observer food editor Beth Rankin headed to V-Eats to check out the restaurant's new vegan brisket. Rankin described the meat substitute as "smoky and moist," and "kind of chewy," ultimately deciding that the vegan brisket is "pretty good." But then the onslaught of unfriendly comments by many Dallas readers began in earnest, as the Texans made it clear that they won't tolerate any meat-free alternatives. read more...
Two Critically Endangered Right Whales Killed by Commercial Fishing Industry
(EcoWatch) — Two North Atlantic right whales were found dead off the Maine coast on Tuesday, while a third was rescued from entrapment by fishing gear off Cape Cod. A recent study revealed that the critically-endangered whales are
threatened by a dramatic increase in lethal entanglements with fishing gear. Only 500 remain in the ocean. read more...
Keep up to date with more news related to animal rights and your vegetarian lifestyle.

Upcoming Events
Oct. 29-30, SoCal Vegfest, Costa Mesa, California
Oct. 29-30, Twin Cities Veg Fest, Minneapolis, Minnesota
Oct. 29-30, Vegan Festival, West Midlands, U.K.
Oct. 29-30, Tokyo Vegefest, Tokyo, Japan
Nov. 4-5, Veganfach, Cologne, Germany
Nov. 5-6, Montreal Vegan Festival, Montreal, Quebec
Nov. 5-6, Vegan Festival, Adelaide, South Australia
Nov. 5, 13, 19, Celebration For The Turkeys, multiple locations
Nov. 12, Tampa Bay Veg Fest, Tampa, Florida
Nov. 12, Atlanta Veg Fest, Atlanta, Georgia
Nov. 19, VSSJ 30th Anniversary Celebration, Medford, New Jersey
Nov. 20, UK North East Vegan Festival. Sunderland, U.K.

Please report your event to us roughly 2 months in advance. Thank You.

Quote of the Month
"When you start with a necessary evil, and then over time the necessity passes away, what's left?"

—Matthew Scully, Dominion: The Power of Man, the Suffering of Animals, and the Call to Mercy