Copyright © 2015 The Vegetarian Site, All Rights Reserved.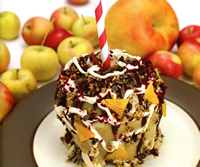 Raw Candy Apples
©2015 Cara Brotman and Markus Rothkranz, from: Love on a Plate: The Gourmet UnCookbook. Reprinted with permission of Rothkranz Publishing,
www.loveonaplatebook.com
Raw vegan chef Cara Brotman teamed together with health expert Markus Rothkranz to bring exciting raw versions of so many comfort foods. These inventions taste and look amazing, while retaining all the health benefits of a raw plant-based diet. Their Candy Apples recipe featured here is a shining example.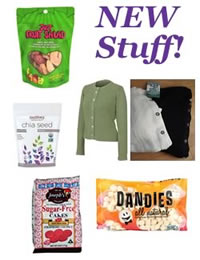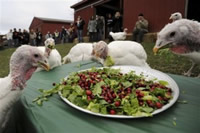 INGREDIENTS:
4 apples (Granny Smith, Golden Delicious, or Jonagold)
4 candy apple sticks (or popsicle sticks)
1 cup cashew butter
1/2 to 3/4 cup maple syrup
splash of vanilla
pinch of salt
SUGGESTED TOPPINGS:
cacao nibs, orange segments, candied almonds, dehydrated raspberries or mulberries (finely minced).

DIRECTIONS:
Wash apples, but do not peel them. Dry them very well since the caramel doesn't stick to moisture. Add cashew butter, 1/2 cup maple syrup, vanilla, and salt to food processor. Turn on for 1 minute. If caramel is too thick, drizzle a little more maple syrup in. (The more syrup you add, the runnier the caramel will be, and the easier the caramel will run down and fall off the apple.) Stick candy apple sticks in top center of your apple and dunk in caramel, turning quickly to coat. Place on a piece of wax paper containing candy apple toppings and roll apple until well coated. Put in freezer for 30 minutes.



New Vegan Products + Closeout Deals on Foods
You know, with our friendly 90-day return policy, it's not too early to start your holiday shopping (gasp). As always, shipping is just $5, and each purchase
directly supports nonprofit vegan and animal rights causes, as we continue to contribute a full 10% of our product sales to these important organizations.
Here's a sampling of our new items:

Women's Organic Hemp Cardigan Sweater by Ecolution
A very limited quantity of these excellent cardigans is available in naturally dyed black or ivory. Ethically made in Romania, the hemp is organically grown and the buttons are made from sustainably harvested tagua nuts.

Spiced Pumpkin Vegan Dandies Marshmallows
The seasonal spiced-pumpkin Dandies are here! A delicious twist on the classic Dandies taste. All natural and made on dedicated vegan equipment. Get them before they're gone. Also, check out our Halloween Candy Section.

Freeze-Dried Just Fruit Salad
Raw freeze-dried, shelf stable fruit salad that's made up of pears, apples, peaches, bananas, strawberries and red grapes — absolutely nothing else added. Here is the fruit salad you love!

Sugar-Free Bite-Size Strawberry Coconut Cakes
Naturally sugar-free, saturated fat-free, and highly addictive, these bite-sized strawberry coconut cakes are just what you need if you're watching your intake of sugars and/or saturated fats, but you still want a delicious, all-natural vegan treat.

And Lots of Closeout Deals on Foods!
Up to 60% off closeout foods, until these items sell out.

Visit the main page of our online store anytime, and do let us know if there are any favorite vegan products that you'd like to see added to our offerings.



IN THE NEWS...
Secret to Vegan Butter and Desserts Comes in a Can of Beans
(The Washington Post) — Imagine being a vegan in France and craving île flottante, or floating island, a dessert of fluffy puffs of meringue nestled in a sea of crème anglaise. Well, a 34-year-old opera tenor has discovered magic in the liquid from a can of beans. Whipping the liquid results in an amazing and completely eggless meringue. read more...
Industrial Animal Farming May Be Considered One of Worst Crimes in History
(The Guardian) — The fate of industrially farmed animals is one of the most pressing ethical questions of our time. Tens of billions of sentient beings, each with complex sensations and emotions, live and die on a production line for human
culinary preference. read more...
Demand For Meat Sets Up Global Environmental Challenge
(Harvest Public Media) — Meat consumption in the USA is declining, but the fact is that demand worldwide is rising very fast. Most of the increases have been in the poorest countries and the most populous countries, such as India and China. This demand is putting great pressure on land and resources, as farmers use enormous acreage to produce grains not to be eaten by people but to fatten farm animals. read more...
Keep up to date with more news related to animal rights and your vegetarian lifestyle.

Upcoming Events
Oct. 24, 10th Annual Central Florida Veg Fest. Orlando, Florida
Oct. 24, Farm Sanctuary's NYC Gala, New York, NY
Oct. 24-25, 20th Annual Boston Vegetarian Food Festival, Boston, Mass.
Oct. 24-25, VegFest Accra 2015, Accra, Ghana
Oct. 24-25, West Midlands Vegan Fest. Wolverhampton, U.K.
Nov. 1, Twin Cities Veg Fest, Minneapolis, Minnesota
Nov. 7, The 6th Annual Tampa Bay Veg Fest, Tampa, Florida.
Nov. 7, Atlanta Veg Fest 2015, Atlanta, Georgia
Nov. 7, 14, 15, 21, Celebration For The Turkeys, multiple locations
Nov. 13-15, Food As Medicine Conference, Atlanta, Georgia
Nov. 14-15, Portland VegFest 2015, Portland, Oregon
Nov. 15, UK North East Vegan Festival. Sunderland, U.K.

Please report your event to us roughly 2 months in advance. Thank You.

Quote of the Month
"If you think that being vegan is difficult, imagine being a factory farmed animal."

—Davegan Raza