Copyright © 2014 The Vegetarian Site, All Rights Reserved.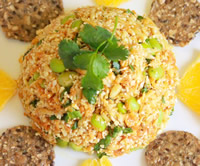 Sri Lanka Curry Cauliflower "Rice"
Recipe from innovative chef Charles Chen ©2014. Reprinted with permission.
Super-light and scrumptious Sri Lanka-inspired Curry Cauliflower "rice" is a raw dish that's high in fiber and Vitamin C without all the carbs and calories of rice. It's quick and easy to make! (Food processor required.)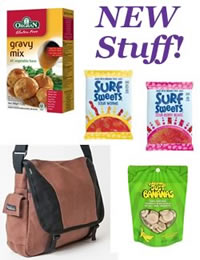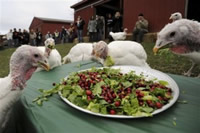 INGREDIENTS:
1 medium head cauliflower
1 cup fresh organic edamame
(substitute green peas if you wish)
handful of chopped parsley/cilantro
1/2 cup shredded carrots
juice from 2 fresh lemons
2 tsp. curry powder
2 tsp. coconut nectar or maple syrup
2 tsp. tamari or Liquid Aminos
1 tsp. grated fresh ginger (optional)
3/4 cup pine nuts
freshly ground pepper, to taste
drizzle of cold-pressed olive oil
(flax crackers or favorite crackers to serve)

DIRECTIONS:
Cut the cauliflower florets from the stem. Pulse in food processor with a grating blade until the cauliflower is the size of pieces of rice. Empty into a bowl and stir in the edamame, carrots, and parsley (or cilantro) followed by the remaining ingredients.
SERVING:
Garnish with fresh herbs and serve with flax crackers and a green salad. (Makes 3-4 servings.)


Free Shipping, 90-Day Return Policy, and New Items
If you're among the 40% of Americans who begin their holiday shopping in October, you'll be happy to hear about our new 90-day return policy. Order today and there's still plenty of time to return or exchange any items after the holidays.
Furthermore, for our e-newsletter subscribers (like you) all orders over $75 are eligible for free shipping through this weekend! You simply must select the
'newsletter subscriber' option on our shipping menu. (Valid for orders shipping within 48-state contiguous USA. Expires Sunday, Oct. 19 at midnight Eastern time.)
So it's the perfect time to try that new pair of fair labor men's or women's vegan shoes, belts, bags/accessories, and clothing. Or maybe you'd like to stock up on vegan groceries -- because shipping is free.
Halloween is upon us soon, and we just received a shipment of Organic Gummy Worms, Fruity Bears, and Sour Berry Bears from Surf Sweets. Be sure to peruse our full selection of vegan candy and chocolate.
The Hempmania Two-Tone 100% Hemp Urban Bag is large enough to carry your books and attractive enough to make it your everyday bag. Multiple compartments. Four color options.
Orgran Gravy Mix is an all-natural powdered product produced from all vegetable-derived ingredients. The flavorful smooth sauce is naturally wheat-free and gluten-free with no added yeast extracts, cane sugar, dairy, soy, or MSG.
Equivalent to 1 lb. of fresh bananas, Certified Organic Just Bananas are raw freeze-dried and shelf-stable. They're light, sweet, and crunchy. A delicious way to enjoy this favorite fruit.
See our other recent product offerings or visit the main page of our online store anytime. And be sure to check our big list of items on sale.
As always, each purchase directly supports nonprofit vegan and animal rights causes, as we continue to contribute a full 10% of our product sales to these important organizations.

A Hard Look at Corn Economics, Animal Feed, and World Hunger
(American Public Media) -- Corn, the biggest crop in our agricultural powerhouse of a nation, is not a foodstuff for humans. And a hard look at corn economics puts world hunger in a different light. This farmland could be used to feed the entire world, but due to market demand it is used to produce animal feed (for the meat and dairy industries) and ethanol for fuel. read more...
Global Wildlife Populations Down by Half Since 1970
(Reuters) -- The world populations of fish, birds, mammals, amphibians and reptiles fell overall by 52% between 1970 and 2010, far faster than previously thought, the World Wildlife Fund reported recently. Their Living Planet Report indicates that human demands are now 50% more than nature can bear, with trees being felled, groundwater pumped, and carbon dioxide emitted faster than Earth can recover. read more...
Sarasota County Launches Meatless Mondays in Schools
(Gannett) -- It's a move that likely makes Sarasota the first district in Florida to go all-veggie for one day a week. What's on a meatless menu? Things like hummus and vegetable subs, veggie pasta bakes, spaghetti, pizza sticks you can dip, taco salads, and more. Some meat-free options will be available Tuesday through Friday as well. read more...
Keep up to date with more news related to animal rights and your vegetarian lifestyle.

Upcoming Events
Oct. 19, Texas State Veggie Fair. Dallas, Texas
Oct. 19, Triangle VegFest. Raleigh, North Carolina
Oct. 25, 9th Annual Central Florida Veg Fest. Orlando, Florida
Oct. 25-26, 19th Annual Boston Vegetarian Food Festival. Boston, Mass.
Oct. 26, Lone Star Vegetarian Chili Cook-Off. Round Rock, Texas
Oct. 26, West Midlands Vegan Fest. Wolverhampton, U.K.
Nov. 2, Healthy Taste of LA, Los Angeles, California
Nov. 2, UK North East Vegan Festival. Sunderland, U.K.
Nov. 8, The 5th Annual Tampa Bay Veg Fest. Tampa, Florida
Nov. 8, Atlanta Veg Fest 2014. Atlanta, Georgia
Nov. 8, Celebration For The Turkeys. Acton, California
Nov. 15, Albany VegFest. Albany, New York
Nov. 15, Celebration for the Turkeys. Acton, California
Nov. 20-30, Plant-Based Health Summit. Dominican Republic
Nov. 22, Thanksgiving With The Turkeys, Poolesville, Maryland
Nov. 22, Celebration for the Turkeys. Watkins Glen, New York

Please report your event to us roughly 2 months in advance. Thank You.

Quote of the Month
"Refrain at all times from such foods as cannot be procured without violence and oppression."
—Thomas Tryon, prolific author, vegetarian & animal rights advocate (1634-1703)