Copyright © 2013 The Vegetarian Site, All Rights Reserved.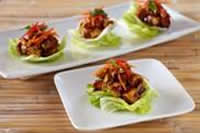 Tofu & Walnut Lettuce Cups
©2013 Mutsumi Gonzales, House Foods Tofu. Reprinted with permission.
This Japanese inspired, low-carb recipe is full of healthy walnuts and is bursting with flavor.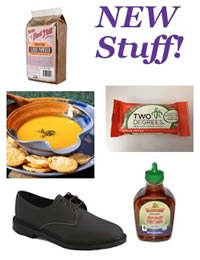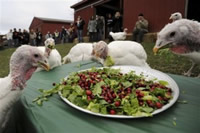 INGREDIENTS:
7 to 8 ounces firm tofu, drained well
1 tsp. olive oil or other cooking oil
1 clove of garlic, minced
1 1/2 tbsp. miso (red or awase)
1 teaspoon soy sauce
1 1/2 tablespoons hoisin sauce
1 teaspoon sake
1 teaspoon sugar
1/2 cup chopped walnuts
1/2 teaspoon corn starch (mixed with 1/4 cup cold water)


DIRECTIONS:
In a frying pan, heat the oil, garlic, and tofu over medium-high heat (below smoking point), breaking up the tofu into small pieces with a wooden spoon (can also be cubed beforehand according to preference). Cook until tofu and garlic are well-toasted. Add the miso, soy sauce, hoisin sauce, sake, and sugar, and cook for a few more minutes, stirring constantly. Add the water and cornstarch mixture, stirring until the mixture thickens. Then mix in the walnuts.

SERVING:
Serve on lettuce cups, topped with shredded carrots and chopped cilantro.


New Vegan Products for October
Peruse our online store for several hundred ethically made vegan products and our quickly expanding selection of foods (all vegan). Here are a few of our newest additions. Your entire order still ships for just $5.
Made in England, the classic dark brown men's City Shoe by Ethical Wares is
perfect for the office or anywhere else. The shoe has a good quality sole and an upper composed of breathable, water-resistant synthetic.
See more men's vegan shoes and check our huge selection of women's shoes as well.
For your vegan Halloween, enjoy new discounted 12-packs of candy bars! Or feel free to buy individual bars in whatever quantity you prefer. See our full selection of vegan candy and chocolate.
Chili Con Queso is a delicious and all-natural Mexican cheese-type dip and sauce mix that is 100% vegan. It's also low in calories, has less than 1g of fat, is low sodium, is an excellent source of B12, and is gluten-free and non-GMO.
Unlike most agave nectar, which is processed at high temperature, Madhava Raw Organic Agave Nectar is a truly raw, 100% pure, certified organic product. Agave nectar is a low glycemic index, natural liquid sweetener extracted from the agave plant. A nice alternative to honey too. Big 23.5-ounce bottle with a long shelf life.

Try the tasty Two Degrees Apple Pecan Food Bar with Quinoa, Chai & Millet. Slightly tart from the dried apples and lightly spiced with cinnamon, this excellent bar was crafted to be like a chewy and crunchy apple pie. And take a look at our full selection of vegan nutrition bars too.

Toasted Carob Powder by Bob's Red Mill is perfect for baking and for hot or cold drinks. Made of only 100% high quality roasted carob, it is naturally sweet, with no sugar or other additives (and no caffeine).
See more new products or visit the main page of our online store anytime. And don't forget about our Food Closeouts section for vegan foods at half price!
As always, each purchase directly supports nonprofit vegan and animal rights causes, as we continue to contribute a full 10% of our product sales to national and international organizations.

Cruelty Uncovered at Whole Foods' Chicken Supplier
(Philly.com) -- On its website, the high-end chicken company Bell & Evans paints a picture of the coddled chicken. Its chickens are "humanely raised" in a "minimal stress" environment. However, undercover video from Compassion Over Killing shows workers at their Pennsylvania plant throwing live chicks into meat grinders. The company sells its "humane" and "organic" chicken to restaurants and leading grocers, such as Whole Foods and Wegmans. read more...
Blueberries, Red Grapes May Boost Immune Function
(WebMD) -- A new study finds that both fruits contain compounds called stilbenoids, which work with vitamin D to increase expression of the human cathelicidin antimicrobial peptide (CAMP) gene, which is involved in immune function. The immune system is our body's first line of defense that gives it the ability to fight bacterial infection. This news could become especially important as many antibiotics become less effective. read more...
How Vegan-Friendly is Your College? PETA Ranks Over 2000
(USA Today) -- With an increase in the number of vegan and vegetarian students, PETA released its first-ever rankings of
the vegan-friendliness of every U.S. four-year public and private nonprofit college and university with a full dining program. read more...
Keep up to date with more news related to animal rights and your vegetarian lifestyle.

Upcoming Events
Oct. 19, The 4th Annual Tampa Bay Veg Fest. Tampa, Florida.
Oct. 20, 2013 Texas State Veggie Fair. Dallas, Texas.
Oct. 25-27, 21st Annual Animal Law Conference. Palo Alto, California.
Oct. 26, Twin Cities Veg Fest. Minneapolis, Minnesota.
Oct. 26, West Midlands Vegan Fest. Wolverhampton, UK.
Oct. 26-27, 18th Annual Boston Vegetarian Food Festival. Boston, Massachusetts.
Oct. 28, 8th Annual Central Florida Veg Fest. Orlando, Florida.
Nov. 9, Atlanta Veg Fest 2013. Atlanta, Georgia.
Nov. 9, Celebration For The Turkeys. Acton, California.
Nov. 10, Lone Star Vegetarian Chili Cook-off. Austin, Texas.
Nov. 16, Celebration For The Turkeys. Watkins Glen, New York.
Nov. 16, Albany VegFest 2013. Albany, New York.
Nov. 17, UK North East Vegan Festival. Sunderland, UK.
November Gentle Thanksgiving Events (many locations)
Nov. 23 Poplar Springs' Thanksgiving With The Turkeys. Poolesville, Maryland.
Please report your event to us roughly 2 months in advance. Thank You.

Quote of the Month
"With a vegan diet you always have energy ... You feel light. You don't feel bulky or heavy. This would benefit any athlete in any sport." —Timothy Bradley, WBO welterweight champion