Copyright © 2016 The Vegetarian Site, All Rights Reserved.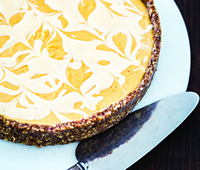 Marbled Pumpkin Cheesecake
Copyright © 2016 Kristy Turner, from But My Family Would Never Eat Vegan. Reprinted with permission from the publisher, The Experiment.

This special seasonal vegan cheesecake is as delicious as it is beautiful, and there's no baking involved. Tips: Refrigerate a can of coconut cream. The cream will harden and separate from the water. Use a can opener and lift off the lid. Carefully spoon out the solid coconut cream. Discard the water (or save it for later use if you wish). Soak the raw cashews in warm water for at least 4 hours.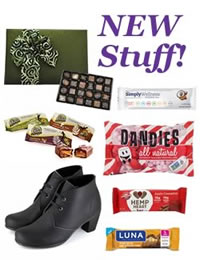 DIRECTIONS:
1. To make the crust: Place the dates in a food processor and process until they're in small pieces. Add the pecans and process until crumbly. Add the
almond flour, cinnamon, ginger, salt, maple syrup, and coconut oil and process until incorporated and the mixture holds together when squeezed.

2. Line the bottom of a 9-inch springform pan with parchment paper and lightly spray the inside of the pan with cooking spray. Transfer the crust mixture to the pan and spread it evenly along the bottom and about 1 inch up the sides. Place pan in freezer.

3. To make the filling: In a blender, combine the cashews, coconut cream, maple syrup, and lemon juice. Blend until smooth, then transfer 1/4 cup of the mixture to a small bowl and set aside. Add the pumpkin, vanilla, cinnamon, ginger, nutmeg, cloves, and salt to the processor. Blend until smooth. Pour
on top of the crust and spread it evenly.

4. Drizzle the reserved cashew cream over the top. Carefully drag a toothpick or skewer through the coconut cream and pumpkin mixtures, making a marbleized pattern. Cover the pan, return to the freezer, and freeze for 2 hours. Transfer to the refrigerator until ready to serve. Remove the sides of the springform pan, slice, and serve. Leftovers will keep in the fridge for 3 to 4 days.


New Vegan Products + Cyber Monday Celebration
It's Cyber Monday and we're very pleased to offer you free shipping through Tuesday on any order over $35 within the 48-state contiguous USA. Take advantage of some of our new products (see below) or stock up on your old favorites, because every product we sell qualifies, even our 200+ sale items and closeout items. (Note: limit one Cyber Monday free shipping order per household, and free shipping is not available for purchases made with gift certificates.)
Sjaak's Organic Fair Trade 24-Piece Chocolate Assortment
A perfect gift for the holidays, this vegan, organic, fair trade chocolate assortment from Sjaak's includes a superb variety of incredibly delicious confections. Taste them and you will weep with delight!


IN THE NEWS...
Former Chick-Fil-A Restaurant Owner Regains Health with Nutritious Vegan Diet
(courier-journal) — A daily diet of fried foods and sodas resulted in diabetes and eventually a minor stroke for Robert Kluttz, former owner of two Chick-Fil-A restaurants. After leaving the hospital, gone was the junk food in favor of a standard diabetes diet. But it failed to lower his blood sugar to a healthy level and was altogether unsatisfying as well. His ultimate switch to a whole-food, low-fat vegan Cleveland Clinic-style diet changed everything for the better, and at age 61 he says that he now feels like he's 30 again. read more...
How the Vegan Movement Finally Broke Out and Started Disrupting Things
(Quartz) — After decades of loud protests that gave only the impression of fringe fanatics to the general public, a small clan of seven people — most of them in Washington, DC — considered a different tactic, a quieter approach advocating for incremental change. The vegan movement's brain finally outgrew its heart, and in less than two decades the pragmatic vein of the movement has morphed into one of the biggest disruptors of the American food system. read more...
The 'Beyond Burger' Passes the Carnivore Test
(Bustle) — Even a critical carnivore with a long history of disliking vegan foods because they "taste weird" finds the Beyond Burger by Beyond Meat to be a real substitute for the beef burgers in his diet. read more...
Keep up to date with more news related to animal rights and your vegetarian lifestyle.

Upcoming Events
Dec. 3-4, Vegfest Scotland, Glasgow, Scotland
Dec. 9, COK's Holiday Party, Silver Spring, Maryland
Dec. 9-11, Compassionfest, Hamden, Connecticut
Jan. 6, ALDF's Animal Law Reception, San Francisco, California
Jan. 7-11, IVU World Vegfest, Buenos Aires, Argentina
Jan. 9-13, Vegan Fusion Cooking Immersion, Kauai, Hawaii
Jan. 14-15, Sedona VegFest, Sedona, Arizona
Jan. 22-29, b.alive! Raw Food Retreat, Bali
Jan. 27-29, Tulum Vegan Fest, Tulum, Quintana Roo, Mexico
Jan. 28-29, Arizona Vegetarian Food Festival, Scottsdale, Arizona
Jan. 29, SWFL Veg Fest, Fort Myers, Florida

Please report your event to us roughly 2 months in advance. Thank You.

Quote of the Month
"This is a message to all those out there who think that you need animal products to be fit and strong.
Almost two years after becoming vegan I am stronger than ever before and I am still improving day by day."

—Patrik Baboumian, World record-holding vegan strongman