Copyright © 2015 The Vegetarian Site, All Rights Reserved.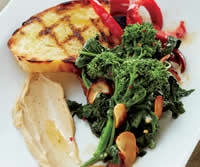 Broccoli Rabe Philly Style
©2013 Rich Landau and Kate Jacoby, from: Vedge: 100 Plates Large and Small That Redefine Vegetable Cooking. Reprinted with permission from the publisher, The Experiment. Available wherever books are sold.
Stroll down 9th Street in Philly, and you're bound to find the traditional Italian greens, broccoli rabe. Not the easiest vegetable to work with, it can quickly become a bitter mess if not prepared properly. The key is blanching first and draining all excess water, then knowing when to stop cooking—when it's just one shade darker than it was just after blanching.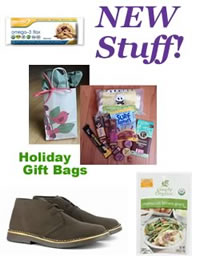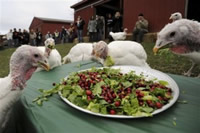 INGREDIENTS:
3 tablespoons olive oil (plus more
for oiling pan)
4 red bell peppers
2 teaspoons balsamic vinegar
1 1/4 teaspoons salt
1 1/4 teaspoons grnd. black pepper
2 bunches broccoli rabe (bottom 3 inches of stems removed, leaves and remaining stems chopped into 1-inch pieces)
2 tablespoons minced garlic
1 tablespoon porcini powder
1/2 cup vegan mayo
1 teaspoon vegan Dijon mustard
sliced bread, toasted (optional)
DIRECTIONS:
1- Preheat the oven to 400°F. Bring a large pot of salted water to a boil over heat high and prepare an ice bath.
2- Rub a sheet pan lightly with olive oil. Put the peppers on the pan and roast until they collapse, 12 to 15 minutes. Remove the peppers from the oven and set
aside until cool to the touch. Peel off the skins, cut the peppers in half, and remove the seeds and stems. Then slice the peppers into thin strips and toss in a
small bowl with 1 tablespoon of the oil, the balsamic vinegar, 1/2 teaspoon of the salt, and 1/2 teaspoon of the pepper. Set aside.
3- Blanch the broccoli rabe in the salted boiling water for 4 minutes. Reserve 2 tablespoons of the cooking water. Drain the broccoli rabe, shock in the ice bath
for 5 minutes, then drain thoroughly.
4- Heat the remaining 2 tablespoons oil in a large sauté pan over high heat. When it begins to ripple, add the garlic and allow it to brown for about 1 minute. Add the broccoli rabe, 1/2 teaspoon of the salt, and 1/2 teaspoon of the pepper. Cook, stirring often, until the broccoli rabe wilts and turns a slightly
darker shade of green, 5 to 7 minutes, then remove the pan from the heat.
5- Meanwhile, whisk the porcini powder with the reserved 2 tablespoons cooking water in a small bowl. Add the vegan mayo, mustard, and remaining 1/4 teaspoon salt and 1/4 teaspoon pepper and whisk until creamy.
6- If desired, spread the cream on the bread and top with the broccoli rabe and peppers. Or, if serving the broccoli rabe and peppers as an antipasto, offer the
cream on the side. Serves 2-4.


New Vegan Products + Vegetarian Shoes 3-DAY SALE
Lots of good stuff to announce this month, including new holiday gift bags filled with vegan treats for everyone on your list, plus new vegan products, and our
Vegetarian Shoes pre-Thanksgiving 3-DAY SALE (ending Wednesday).

Four New Personalized Holiday Gift Bag Options
Each of our medium gift bags is filled with vegan treats. Choose from Sweet Stuff, Vegan Meaty, Bakery, or Gluten-Free Bakery options. We're happy to
personalize this gift with your message and ship it directly to your recipient.

Men's and Women's Bush Boots by Vegetarian Shoes
This is the ankle boot that you've been looking for. The classic, casual, light-weight, lace-up boot. Made in super soft-to-touch breathable fake-suede microfiber. Both practical and stylish. Well-made in Poland.

Simply Organic Vegetarian (Vegan) Brown Gravy Mix
Here's the quick and easy solution for all-natural vegan gravy that's USDA Organic. Each packet makes a full cup of gravy in just minutes on the stovetop. It's only 20 calories per 1/4-cup serving! Gluten-free.

VEGETARIAN SHOES 3-DAY FOOTWEAR SALE!
Lots of styles of high-quality UK- and European-made footwear are on sale, but not for very long. Get them before Thanksgiving, because this sale ends Wednesday night.

Women's Vegetarian Shoes Styles On Sale: Wombat Shoe, Bush Boot, Olivia Heels, Brown Kalahari Shoe, Pixie Boot, Black Airseal 3-Eyelet Shoe, Brown Airseal 3-Eyelet Gibson, Contoured Footbed Sandal, Apollo Shoe, Babette Shoe, Hemp Spider XT Trail Shoe, and Vintage Boot.

Men's Vegetarian Shoes Styles On Sale: Wombat Shoe, Bush Boot, Hemp Spider XT Trail Shoe, Black Airseal
3-Eyelet Shoe, Brown Airseal 3-Eyelet Gibson, Brown Kent Clark, Contoured Footbed Sandal, Airseal Boulder Boot, Office Shoe, and Steel Toe Safety Work Boot.

Visit the main page of our online store anytime. As always, shipping is just $5, and each purchase directly supports nonprofit vegan and animal rights causes, as we continue to contribute a full 10% of our product sales to these important organizations.



IN THE NEWS...
How to Get Lots of Protein as a Vegan
(Food52) — At some point or another, every vegan will be asked what he or she does for protein. It's a fact of life, as inevitable as daylight savings or taxes. The fact of the matter is that yes, it's relatively easy to get the protein you need if you're eating a well-rounded, calorically adequate plant-based diet. And no, protein deficiency isn't common in the Western world. read more...
Red Meat and White Meat Consumption May Raise Risk of Kidney Cancer
(San Diego Union-Tribune) — A new study has found an increased risk of kidney cancer among those who ate more meat, and also with barbecuing and frying, which produce two carcinogens, PhIP and MeIQx. While the causal explanation is sensible, the study is relatively small from a statistical standpoint and will need to be replicated in larger future studies. read more...
Undercover Videos Reveal Widespread Cruelty in Tyson's Slaughterhouse
(USA TODAY) — Mercy For Animals' video taken by an undercover investigator shows extreme animal cruelty, including footage of workers on the floor of the slaughterhouse jabbing shackled birds like they were punching bags and tossing birds toward metal shackles like basketballs. The undercover investigator also had raised concerns to two different supervisors on three separate occasions on the plant floor that chickens were too frequently going to the kill machine while still conscious, but the concerns were dismissed. read more...
Keep up to date with more news related to animal rights and your vegetarian lifestyle.

Upcoming Events
Nov. 19-26, Vegan Thanksgiving events, many locations
Nov. 26-28, APVC & Veg Fest, Bangkok, Thailand
Dec. 5-6, Vegfest Scotland, Glasgow, Scotland
Dec. 12, Compassion Over Killing Anniversary Celebration, Silver Spring, MD

Please report your event to us roughly 2 months in advance. Thank You.

Quote of the Month
"Animals experience contagious joy and the deepest of grief, they get hurt and suffer, and they take care of one another. They have a point of view on what happens to them, their families, and their friends. Nonetheless, in innumerable situations their lives are wantonly and brutally taken in deference to human interests."

—Dr. Marc Bekoff, Professor Emeritus of Ecology and Evolutionary Biology, University of Colorado