Copyright © 2014 The Vegetarian Site, All Rights Reserved.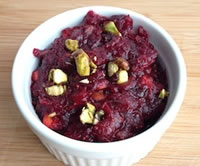 Pistachio Cranberry Sauce
©2014 Spork Foods, with pistachios and cranberries from Setton Farms. Reprinted with permission.
Cranberry sauce is the perfect holiday side dish, and it's so fast to whip up! In this delicious version, we're using pistachios to put a little spin on usual tradition. Pistachios are healthy, and they look great in this sauce! You'll never have to resort buying that can of jelly-like sauce again.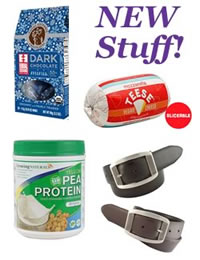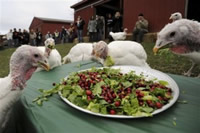 INGREDIENTS:
3/4 cup water
1/2 cup packed organic brown sugar
1 large cinnamon stick
10 oz. organic cranberries (fresh or frozen -- about 2-2.5 cups)
1 tablespoon fresh lemon juice
zest of 1/2 lemon
dash sea salt
1/4 cup roasted pistachios, diced
2 tablespoons dried cranberries

DIRECTIONS:
Heat a 2-quart sauce pot and add water and brown sugar. Bring to simmer over medium heat and add cinnamon stick, fresh or frozen cranberries, lemon juice and zest, and sea salt. Stir to incorporate all ingredients. Simmer covered until berries burst and sauce thickens, stirring occasionally (about 10 minutes). Remove cinnamon stick and add in diced pistachios and dried cranberries. Cook about 1-2 minutes uncovered and remove from heat.
SERVING:
Serve warm or allow to cool, then refrigerate sauce overnight. Pistachio cranberry sauce can be made up to 3 days in advance. (Makes 6-8 servings.)


New Vegan Items + Bonus Gift Certificate with Purchase over $75
With our holiday friendly 90-day return policy and $5 shipping, vegan shopping for the holidays is now in full swing. And for our e-newsletter subscribers (like you) we're offering a very special bonus for 2 days only:

-Any order over $75 will receive a $15 gift certificate in early 2015.
-Better yet, any order over $150 will receive a $30 gift certificate!

You simply must select the 'newsletter subscriber' option on our shipping menu to take advantage of this 2-day offer. Your bonus gift certificate will be valid towards anything that we sell, and it has no expiration date.
Whether you're looking for a pair of men's or women's fair labor vegan shoes or you just want to stock up on vegan groceries we've got you covered.
Here are a few of our new offerings this month:
The top-quality Truth Gemini Reversible Belt from Canada is two belts in one! Wear it as a black belt or as a brown
belt, whichever best matches your outfit. Satin nickel-free finish belt buckle. Belt contains recycled content too.
Fair Trade Organic Dark Chocolate Minis Gift Box: These delicious bite-sized chocolates are beautifully packaged, making them a perfect gift. Adorned with snowflakes, each box includes 20 vegan dark chocolate minis. Soy-free and gluten-free.
Teese Vegan Cheese is low in fat, gluten-free, and soy-free. It's the cheese alternative that delivers authentic taste, texture, melt and stretch. The unique shelf-stable packaging requires no refrigeration until opened (and it stays fresh for about 4 weeks after that time). All natural and non-GMO too.
Growing Naturals Raw Yellow Pea Protein Powder: Finally a raw, non-GMO pea protein that's easily stored, scooped and blended with water or in your favorite smoothie recipe. This 1-lb. canister of plant protein provides 24 servings (15g protein per serving) of all the essential and non-essential amino acids.
See our other recent product offerings or visit the main page of our online store anytime. And be sure to check our big list of items on sale and closeouts too.
As always, each purchase directly supports nonprofit vegan and animal rights causes, as we continue to contribute a full 10% of our product sales to these important organizations.

Study Finds Vegan Diets Best for Weight Loss, Even if Plenty of Carbs Eaten
(University Herald) -- Researchers from the University of South Carolina found that people who say no to all animal products have the ability to shed weight faster than those who consume a diet that contains meat and dairy. A vegan diet may be the best answer for those looking to shed a few pounds and gain other health benefits. "We've gotten somewhat
carb-phobic here in the US when it comes to weight loss," the lead author of this study said in a statement. "This study might help alleviate the fears of people who enjoy pasta, rice, and other grains but want to lose weight." read more...
Study Links Milk Consumption to Higher Mortality and Bone Fracture Rates
(The Washington Post) -- A new study from researchers at Uppsala University in Sweden indicates that consuming milk isn't good for the bones or for the body. Women who consumed three or more glasses of milk a day had a higher risk of fracture and a higher risk of death. Men who drank three or more glasses of milk a day had a slightly higher risk of death compared to those who drank less than one glass a day. And there was no reduced risk of fracture as milk consumption increased. read more...
Untimely Death of Vegan Activist, Molly Benvenuti Anderson Leaves Her Mark
(LA Daily News) -- Former restaurant owner and vegan activist Molly Benvenuti Anderson loved watching her children play soccer, dispensing advice to friends and family and taking a week's worth of vegan meals to moms who had just given birth. Her causes were animal rights & environmentalism. She talked the talk and walked the walk throughout, organizing eco-friendly and vegan events, and collaborating with such groups as Farm Sanctuary, PETA, and HSUS. read more...
Keep up to date with more news related to animal rights and your vegetarian lifestyle.

Upcoming Events
Nov. 20-30, Plant-Based Health Summit. Dominican Republic
Nov. 22, Thanksgiving With The Turkeys, Poolesville, Maryland
Nov. 22, Celebration for the Turkeys. Watkins Glen, New York
Nov. (various dates/locations) Compassionate Thanksgiving Events
Dec. 6-7, Fair@Square Festival. Melbourne, Australia
Dec. 6, Compassion Over Killing Holiday Party. Silver Spring, Maryland
Jan. 16, Vegan Fusion Cooking Immersion, Boca Raton, Florida

Please report your event to us roughly 2 months in advance. Thank You.

Quote of the Month
"Veganism is not about giving anything up or losing anything; it is about gaining the peace within yourself that comes from embracing nonviolence and refusing to participate in the exploitation of the vulnerable."
—Gary L. Francione, Professor and Scholar of Law & Philosophy at Rutgers School of Law