Copyright © 2013 The Vegetarian Site, All Rights Reserved.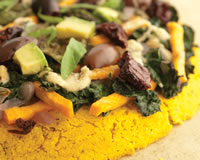 Butternut Squash-Crusted Pizza
from The Ayurvedic Vegan Kitchen, ©2013 Tayla Lutzker. Reprinted with permission from Book Publishing Co., Summertown, Tennessee.
No doubt you have enough Thanksgiving recipes by now, so here's an excellent non-holiday seasonal recipe. Butternut squash is plentiful at this time of year, and
this special pizza crust is nutrient-rich, gluten-free, savory, and easy to make. Enjoy it with a variety of toppings!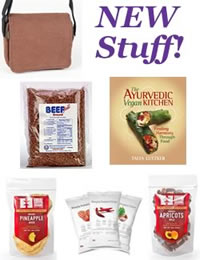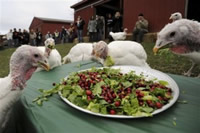 CRUST INGREDIENTS:
large butternut squash
1 tablespoon vegan egg replacer
4 tablespoons water
2 tablespoons melted coconut oil
1 cup cornmeal
3/4 cup amaranth or quinoa flour
1/2 cup coconut flour
2 teaspoons salt
2 teaspoons baking powder
2 teaspoons ground cumin
1 tablespoon Italian herb seasoning

TOPPING INGREDIENTS:
1 tablespoon coconut oil
1 red onion, chopped
1 teaspoon salt
1 teaspoon fennel seeds
1 medium sweetpotato
1/4 bunch dinosaur kale, chopped
2 cloves garlic, minced
1/2 cup sun-dried tomatoes
1/4 cup basil leaves
sliced avocado and olives (optional)
1/4 cup shredded vegan cheese (optional)

DIRECTIONS TO MAKE CRUST:
Preheat oven to 350 degrees F. Lightly oil a pizza pan with coconut oil. Peel and cut squash into chunks. Place a steamer basket in a large saucepan with 1 cup water. Bring to a boil then add squash to steamer. Cover and steam for 20 minutes, or until squash is fork-tender. Drain and transfer squash to blender or food processor.
In small bowl, whisk egg replacer with water until smooth and pour into blender. Add coconut oil and process until smooth. Set aside.
In large bowl, mix cornmeal, amaranth flour, coconut flour, salt, and baking powder. Stir in the cumin and seasoning, then pour in the squash mixture. Stir until combined. Pour batter into the prepared pan. Bake for 15 minutes.
DIRECTIONS TO MAKE TOPPING:
Peel and cut sweetpotato into thin strips. Melt coconut oil in large, shallow skillet over medium heat. Add onion, salt, and fennel seeds. Cook 3 minutes or until onion is soft. Add sweetpotato and cook 5 minutes, or until fork-tender. Add kale and garlic. Cook for another 2 minutes.
Spread sweetpotato mixture over crust. Place sun-dried tomatoes, basil, and optional vegan cheese on top. Bake for 10 minutes. Garnish with olives and avocado.


New Vegan Products, Plus Top 30 Gifts Under $30!
Below are a few of the newest additions to our online vegan store. We also just released our list of the Top 30 Gifts Under $30! It's ethical shopping at its best, and your entire order still ships for just $5.
Introducing the Hempmania Ultra Mini Hemp Urban Bag: This small shoulder bag's simplicity makes it a must. Comes with three inside compartments and an adjustable shoulder strap.
Try new Simply Protein Chips. Savory, not sweet. 15g of protein in every bag!
Equal Exchange Fair Trade Organic Wild Dried Apricots are from four different varieties in Pakistan. They have a lovely sweet and tangy flavor. No sugar added, and no preservatives either.
Equal Exchange is also offering their Fair Trade Organic Dried Pineapple. This dried pineapple from Uganda has a wonderful sweet, zingy flavor that you'll choose instead of dessert.
You can use high-protein, gluten-free Beef (Not!) Ground bits like ground beef in your favorite recipes. Just reconstitute these non-GMO bits with water or vegetable broth. The 1-lb. dry bag makes 3.9 lbs. of plain ground beef substitute!
In the book department, The Ayurvedic Vegan Kitchen is a celebration of the benefits of ayurveda and a vegan diet. Now vegans and anyone allergic to dairy products can follow the same nutritional principles as traditional ayurveda with this breakthrough cookbook by certified ayurvedic practitioner, Talya Lutzker.
See more new products or visit the main page of our online store anytime. And don't forget about our Food Closeouts section for vegan foods at half price!
As always, each purchase directly supports nonprofit vegan and animal rights causes, as we continue to contribute a full 10% of our product sales to national and international organizations.

Study Shows Frequent Meat Consumption Highly Increases Breast Cancer Risk, Soy Consumption Can Lower Risk
(FoodConsumer) -- Eating meat increases the risk of breast cancer, while eating soy or soybean foods such as soymilk and tofu can lower the risk in both BRCA mutation carriers and noncarriers, according to a study recently published in the American Journal of Clinical Nutrition. Heavy meat eaters increase breast cancer risk by as much as 97%, while high soy consumption decreases risk up to 61%. read more...
Mercy For Animals Hidden Camera Investigation Exposes Horrific Animal Abuse at Tyson Factory Farm
(PR Newswire) -- The disturbing undercover video, recorded at West Coast Farms in Okfuskee County, Oklahoma, reveals a culture of cruelty and abuse at this Tyson pork producer, supplier to Walmart. Mercy For Animals is calling for criminal charges against the workers involved in extreme animal abuse. The group is also calling on Walmart to immediately adopt new animal welfare guidelines, including prohibiting Tyson and its other pork suppliers from routinely confining pigs in tiny crates. read more...
Norway's Military Adopts 'Meatless Mondays' to Combat Global Warming
(FRANCE 24) -- The Norwegian military said last Tuesday that it plans to put its troops on a vegetarian diet once a week in a bid to fight a new kind of enemy -- climate change. The army said its new meatless Mondays are meant to cut its consumption of ecologically unfriendly foods whose production contributes heavily to global warming. read more...
Keep up to date with more news related to animal rights and your vegetarian lifestyle.

Upcoming Events
November Gentle Thanksgiving Events (many locations)
Nov. 30 - Dec. 1, Fair@Square Festival 2013. Melbourne, Australia.
Dec. 7, Compassion Over Killing Holiday Party. Silver Spring, Maryland.
Dec. 7, Vida Vegan Holiday Hors d'Oeuvres. Portland, Oregon.
Dec. 7-8, Vegan Fusion Cooking Workshop. Boulder, Colorado.
Dec. 8, Animal Aid's Christmas Fayre. London, England.

Please report your event to us roughly 2 months in advance. Thank You.

Quote of the Month
"The more we learn about what must happen for even the most 'humane' meat to come to your counters, it becomes harder and harder for you to uphold your reputation as a forward-thinking organization." —Prof. James McWilliams, Open Letter to Whole Foods Market, Fall 2012.