Copyright © 2016 The Vegetarian Site, All Rights Reserved.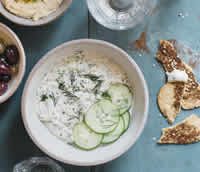 Chickpea Tzatziki Dip
Copyright © 2016 Lindsey S. Love, from Chickpea Flour Does It All: Gluten-Free, Dairy-Free Recipes for Every Taste and Season. Reprinted with permission from the publisher, The Experiment.

Tzatziki is a Greek yogurt–based sauce and dip. It's served cold and is flavored with cooling cucumbers, garlic, and lemon juice. Chickpea flour is used here to
form that creamy base that tzatziki is known for, but without the yogurt, and it does a remarkable job of duplicating it entirely. This dip is best made the day before you plan to serve it, but it can also be made the morning of; it needs time to cool and for the flavors to meld. Serve with flatbread or vegetables.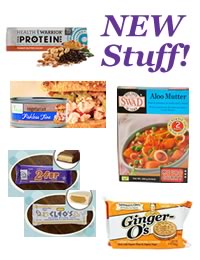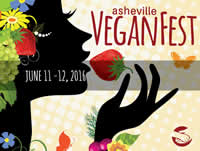 MAIN INGREDIENTS:
1 medium cucumber, grated
1 cup water
1/4 cup chickpea flour
1/4 cup raw cashews (soaked
overnight & drained)
2 garlic cloves, roughly chopped
1 tablespoon apple cider vinegar
1 tablespoon extra virgin olive oil
1 tablespoon lemon juice
coarse sea salt
freshly ground pepper
2 tablespoons chopped dill

DIRECTIONS:
1. Place the grated cucumber in a fine-mesh sieve. Use your palm and push to squeeze out as much liquid as possible; set aside.
2. In a small saucepan, whisk together the water and flour until smooth. Turn heat to medium and continue whisking until the mixture thickens, about 6 to 7
minutes; the mixture will resemble a roux or melted cheese. Remove from the heat.
3. Place the flour mixture, cashews, garlic, vinegar, oil, lemon juice, and salt and pepper (to taste), in a high-speed blender; blend for 1 minute, until smooth.
Pour the mixture into a bowl; stir in the grated cucumber and dill. Let the tzatziki come to room temperature, then refrigerate for at least 4 hours. Remove from the refrigerator when ready to serve and give it a good stir.

New Vegan Products + Free Clif Mojo Bars
We have more new vegan foods to announce this month, some of which are also on sale right now. As always, each purchase directly supports nonprofit vegan and animal rights causes, as we continue to contribute a full 10% of our product sales at The Vegetarian Site to these important organizations.

Right now, get two free full-size Mojo Bars with any order simply by selecting the "Twitter Promo" option from our shipping menu at checkout. (This required selection is the last shipping option on the list.) Do follow us on Twitter to keep up with these special promotions.

...New vegan products next:

Caroline's Fishless Tuna
vegan, non-GMO, and all-natural. It looks and tastes like tuna, but it's 100% fish-free and 100% delicious. And it's a good source of high-quality, lean protein.


Health Warrior Chia Protein/Omega3 Bar (Gluten-Free)
This bar's 10g of clean protein come from a special blend of chia, oats, quinoa, and peas. Along with being a high source of fiber, 2000mg Omega-3 essential fatty acids, antioxidants and iron, calorie-for-calorie Health Warrior has half the sugar of most protein bars.

Heat-and-Eat Dal Tadka Indian Lentil Entree
A traditional Punjabi mother's recipe where split red lentils are cooked with onions and tomatoes and garnished with a crisp 'tadka' (tempering) of Indian spices. All-natural and shelf-stable until opened.

For more new foods, including 2 new flavors of GoMaxGo Candy Bars, Peanut Butter Toffee PureFit Protein Bars, 3 new flavors of Nugo Dark Chocolate Nutrition/Protein Bars, Newman's Organic Ginger O's, Go Raw Organic Sprouted Sesame Bars, Aloo Mutter Indian Entree, and more, see our New Products Section. And visit the main page of our online store anytime.

.

IN THE NEWS...
The Healthiest Ways to Cook Veggies to Boost Nutrition
(CNN) — Whether you love vegetables or not, there's one thing you know for sure: Veggies are really good for you. And you can make them even more nutritious if you prepare them in ways that maximize their benefits. Oddly enough, that's not likely to be raw. Studies show the process of cooking actually breaks down tough outer layers and cellular structure of many vegetables, making it easier for your body to absorb their nutrients. read more...
Meat Consumption Linked to Risk of Early Death
(Red Orbit) — Bad news for fans of bacon cheeseburgers: a new review of large-scale studies involving more than
1.5 million subjects has discovered that consuming at least one serving of red or processed meats every day causes a significant increase in all-cause mortality rate. Based on their work, the authors recommend that physicians advise their patients to limit the amount of animal products that they consume, and to have a diet that is based more around fruits and veggies than meat. read more...
Number of Vegans in Britain Rises by 360% in 10 Years
(The Telegraph) — The number of vegans in Britain has risen by more than 360 percent over the past decade, according to a new survey that shows record numbers of people are avoiding food derived from animals. Some 542,000 people aged 15 or over — more than 1% of the population — have adopted a plant-based diet, up from 150,000 in 2006. According to the Vegan Society, the survey proves that veganism is now one of Britain's "fastest growing lifestyle movements." read more...
Keep up to date with more news related to animal rights and your vegetarian lifestyle.

Upcoming Events
May 21, Charlotte VegFest, Charlotte, North Carolina
May 21-22, VegFestUK. Brighton, U.K.
May 29, American Vegan Garden Party, Malaga, New Jersey
May 29, Kiss A Cow Day, Asha Sanctuary, Newfane, New York
June 4-5, Niagara Veg Fest, St. Catharines, Ontario, Canada
June 5, Farm Sanctuary Birthday Bash, Watkins Glen, New York
June 11-12, Asheville VeganFest, Asheville, North Carolina
June 12, Farm Sanctuary Pignic, Acton, California
June 27, Mad City Vegan Fest, Madison, Wisconsin
June 25, Richmond Vegetarian Festival, Richmond, Virginia
July 6-10, Vegetarian Summerfest, Johnstown, Pennsylvania
July 7-10, Animal Rights 2016, Los Angeles, California
July 23, Sheffield Vegan Festival, Sheffield, South Yorkshire, UK
July 23-24, Veggie Fest 2016, Lisle, Illinois
July 23-24, VegFest Colorado, Golden, Colorado

Please report your event to us roughly 2 months in advance. Thank You.

Quote of the Month
"As for the cages themselves, an ordinary citizen who kept dogs in similar conditions for their entire lives would risk prosecution for cruelty. A pig producer who keeps an animal of comparable intelligence in this manner, however, is more likely to be rewarded with a tax concession or, in some countries, a direct government subsidy."

—Peter Singer, Animal Liberation (1975)