Copyright © 2015 The Vegetarian Site, All Rights Reserved.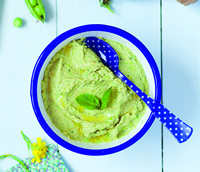 Inner Peas Perfect Pea Purée
Recipe from Très Green, Très Clean, Très Chic: Eat (and Live!) the New French Way with Plant-Based, Gluten-Free Recipes for Every Season, ©2015 Rebecca
Leffler. Reprinted with permission of the publisher, The Experiment.
Serve this tasty purée as a side dish, as a spread on toast or crackers, atop a salad, or as a creamy pesto for pasta or grains.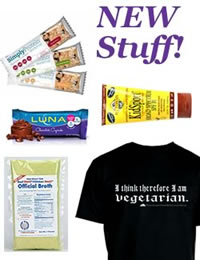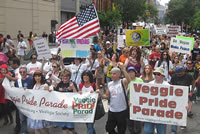 INGREDIENTS:
1 cup peas (thawed, if frozen)
2 tablespoons tahini
1 tablespoon lemon juice
1 teaspoon lemon zest
1 garlic clove, peeled and sliced
pinch of cumin
2 tablespoons chopped fresh mint
salt and pepper to taste

DIRECTIONS:
Steam the peas for just one minute, then immediately place them under cold running water to stop the cooking. If desired, reserve some of the cooled peas for mixing in just before serving (this makes for a coarser texture with some crunch). Add the rest of the peas and the tahini, lemon juice and zest, garlic, cumin, and mint to a food processor or blender and blend until smooth and creamy. If you make the purée with frozen peas, you may wish to add a handful of fresh peas at the end. Add salt and pepper to taste. Makes 2 servings.


New Vegan Items + 100 Products On Sale
With more new items coming in every week, here are a few new vegan product highlights:
"I Think, Therefore I Am Vegetarian" Shirt:
Special made-in-USA version of this great quote t-shirt. A nice twist on Descartes. Too bad he couldn't think up this quote himself.
KidSport Natural Sunscreen by All Terrain (Top-Rated):
KidSport SPF30 Lotion is a highly effective, safe, natural, oxybenzone-free sunscreen providing full-spectrum UVA (skin cancer) and UVB (sunburn) protection. Big 6-oz. size. All Terrain is top-rated by Environmental Working Group.
Simply Protein Nut & Fruit Bars (No Sugar Added):
Meet the newest vegan bar from Simply Protein, with luscious fruits, wholesome nuts, and pea protein. This crunchy bar satisfies your cravings with more fiber (10g) and protein (10g), and only 2g of sugar. Try all 3 tempting flavors.
Chocolate Cupcake Luna Nutrition Bar (Gluten-Free):
The new flavor is here -- a rich indulgence with dark chocolate pieces and a silky frosting. Luna is the all-natural, gluten-free, 70% organic whole nutrition bar created for women, and inspired by the women of Clif Bar.
See our other items added recently and watch for lots of new stuff coming in all summer long.

100 PRODUCTS ARE ON SALE RIGHT NOW (and not even including our deeply discounted closeout items). Foods, footwear, books, DVDs, personal care items, and more.
Visit the main page of our online store anytime, and do let us know if there are any favorite vegan products that you'd like to see added to our offerings.
As always, each purchase directly supports nonprofit vegan and animal rights causes, as we continue to contribute a full 10% of our product sales to these important organizations.

Gallup Poll Shows Significant Increase in Support for Animal Rights
(Gallup Social Issues) -- Almost a third of Americans (32%) believe animals should be given the same exact rights as people regarding freedom from harm and exploitation. This strong animal rights view is up from 2008 when 25% thought animals' rights should be on par with those of humans. read more...
Packaged Foods Go Vegetarian with Strong Demand from Millennials
(Medical Xpress) -- Vegetarian foods are positioned for success in the marketplace as public health advocates highlight the benefits of plant-based diets and a growing number of consumers embrace meat-free or meat-reduced lifestyles. Mainstream food brands are taking notice and expanding their offerings. Some 13% of Millennials describe themselves as
vegetarian (9%) or vegan (4%), which is increasing demand now and into the future. read more...
Just in Case You're Assuming that Your Wine is Vegan
(Science 2.0) -- Is your wine vegan? It seems like an odd question: wine is made of grapes, grapes fall solidly under the "not an animal product" label, therefore it would seem that wine is a vegan-friendly beverage. But some wines are processed with animal products. The culprit is a process called fining. Common fining agents include egg whites, casein,
gelatin, and isinglass. However, the necessity of fining has diminished in the last 50 years as refrigeration and pressing technology has improved. Contact your favorite winemaker for the official word. read more...
Keep up to date with more news related to animal rights and your vegetarian lifestyle.

Upcoming Events
May 23-24, VegFest UK, Bristol, United Kingdom
May 24, American Vegan Garden Party, Malaga, New Jersey
May 30, Chicago Veggie Pride Parade, Chicago, Illinois
May 31, Toronto Veggie Parade, Toronto, Ontario, Canada
May 31, Kiss A Cow Day, Asha Sanctuary, Newfane, New York
June 6, Philly Vegfest, Philadelphia, Pennsylvania
June 7, Niagara Veg Fest, St. Catharines, Ontario, Canada
June 13, Farm Sanctuary Birthday Bash, Watkins Glen, New York
June 20, Richmond Vegetarian Festival, Richmond, Virginia
June 20-21, VegFest Colorado, Golden, Colorado
June 27, Mad City Vegan Fest, Madison, Wisconsin
July 8-12, Vegetarian Summerfest, Johnstown, Pennsylvania
July 26, First Annual VegVoyage, Cleveland, Ohio
July 30 - Aug.2, Animal Rights 2015 National Conference, Washington, DC

Please report your event to us roughly 2 months in advance. Thank You.

Quote of the Month
"Veganism is an answer for almost every problem facing the world in terms of hunger and climate change."
—Sam Simon (1955-2015), co-creator of The Simpsons