Copyright © 2014 The Vegetarian Site, All Rights Reserved.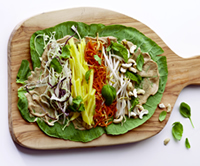 Thai Wraps with Almond Cream & Dipping Sauce
©2014 Denise Mari - from the book, Organic Avenue: Recipes For Life, Made With Love (HarperCollins Publishers). Reprinted with permission.

These wraps, at once sweet, spicy, and tangy, are also a good protein source, thanks to the almond butter and cashews. Collard leaves do make a neat little wrapper—sturdy enough to support a substantial filling but tender enough to be enjoyed out of hand, a clever way of getting in your greens, and they're great for those who are counting their carbs or calories. The filling and dipping sauce will keep in the refrigerator for up to 5 days, so they can be made ahead and kept ready for rolling your wraps as you're ready for them.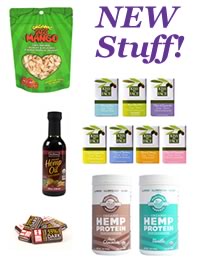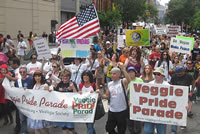 Dipping Sauce Ingredients:
5 pitted prunes, soaked 3 hrs.,drained
2 tablespoons fresh lime juice
2 tablespoons coconut sugar
1 1/2 teaspoons tamari
2 teaspoons sesame oil
1/2 cup water
pinch of salt
4 pinches of red chile flakes
Thai Almond Cream Ingredients:
1/2 cup almond butter
2 tablespoons coconut sugar
1 1/2 teaspoons fresh ginger juice
2 tablespoons fresh lime juice
1 tablespoon tamari
1/2 garlic clove, cut in half
2 tablespoons water
Wraps Ingredients:
4 large collard green leaves
1 cup (100 grams) shredded cabbage
1 mango, peeled, cut into thin strips
2 medium carrots, shredded
1 tablespoon chopped mint leaves
1 tablespoon chopped basil leaves
1 tablespoon chopped cilantro leaves
1/2 cup (50 grams) chopped cashews


DIRECTIONS FOR DIPPING SAUCE
Combine all the ingredients except the chile flakes in a blender and blend until smooth. Divide the sauce among 4 dipping bowls, add a pinch of chile flakes to
each, and set aside.
DIRECTIONS FOR THAI ALMOND CREAM
Rinse the blender, then combine all the ingredients in the blender and blend until smooth. Transfer to a bowl.

DIRECTIONS TO MAKE WRAPS
Place a collard leaf bottom side up on a cutting board and using a sharp knife, shave off as much of the thick portion of the stem as possible. Spread one quarter of the almond cream over the leaf, leaving a half-inch border on all sides. Make a line of one quarter of the cabbage over the bottom third of the collard leaf; above the cabbage, make a line of one quarter of the mango; finish with a line of one quarter of the carrot. Sprinkle with one quarter of the mint, basil, and cilantro. Top with one quarter of the cashews. Working from the end facing you, tightly roll the collard leaf away from you. Place seam side down, tuck in the sides, and cut the wrap in half using a serrated knife. Place on a plate; repeat with the remaining 3 wraps and filling. Place a bowl of dipping sauce on each plate and serve. (Makes 4 servings.)


New Vegan Products + Sale Items

From vegan groceries to footwear, it's ethical shopping at its best, and your entire order still ships for just $5. As always, each purchase directly supports nonprofit vegan and animal rights causes, as we continue to contribute a full 10% of our product sales to these important organizations.
Do you like mangos? Each pack of Certified Organic Just Mango is raw, freeze-dried, shelf stable, and contains the equivalent of 2-3 mangos. It's a sweet & crunchy snack that's 100% mango with nothing else added.
Raw Organic Hemp Protein Powder: Chocolate or Vanilla! Another Excellent product from Manitoba Harvest. Blend it into smoothies, stir it into oatmeal, or add it to baking recipes like you would add spelt flour. Easy to digest plant-based complete protein. Sweetened with low glycemic index palm sugar. Responsibly sourced ingredients.

In the news...
Native Foods Vegan Restaurant Chain Aims for 200 Locations, Has Investors
(Nation's Restaurant News) -- The fast-casual Native Foods Cafe chain on Tuesday announced a $15 million investment by two private-equity firms to support the meat-free concept's planned national expansion. Based in Chicago but founded in Palm Springs, California, Native Foods is a 16-unit restaurant chain with a plant-based, made-from-scratch menu. This year, the company plans to add 12 to 14 new restaurants and another 25 to 30 units in 2015. The goal is to reach 200 units within the next five years. read more...
80% of So-called 'Humane Meat' Labels Could be Meaningless
(Time) -- A new report finds that the government was unable to provide proof that many meat and poultry producers are living up to many of their feel-good labeling claims. The advocacy group Animal Welfare Institute spent three years requesting documentation from the USDA about companies that boast their animals are well cared for or raised in
accordance with high environmental standards. The USDA failed to supply documentation supporting these sorts of
claims, which range from "Humanely Raised and Handled" to "Sustainably Farmed," for 20 of the 25 products AWI
investigated. read more...
European Study Quantifies Detrimental Nature of Meat & Dairy on Climate
(Business Standard) -- A new report has quantified for the first time how much our food choices affect pollutant nitrogen emissions, climate change and land-use across Europe. Report lead author Henk Westhoek, program manager for Agriculture and Food at PBL (the Netherlands Environmental Assessment Agency) said, "The report shows that the nitrogen footprint of meat and dairy is considerably higher than that from plant-based products. If all people within the EU would halve their meat and dairy consumption, this would reduce greenhouse gas emissions from agriculture by 25 to 40 percent, and nitrogen emissions by 40 percent. read more...
Keep up to date with more news related to animal rights and your vegetarian lifestyle.

Upcoming Events
May 23-25, Vegfest UK Bristol. Bristol, UK
May 25, American Vegan Garden Party. Malaga, New Jersey
May 31, Vegan Professional Bootcamp, Colorado Springs, Colorado
May 31, Chicago Veggie Pride Parade. Chicago, Illinois
June TBA, Toronto Veggie Pride Parade. Toronto, Ontario, Canada
June 1, Niagara Veg Fest. St. Catharines, Ontario, Canada
June 1-8, 14th International Vegan Festival. Varna, Bulgaria
June 7, Cleveland Veg Fest. Cleveland, Ohio
June 7, Mad City Vegan Fest. Madison, Wisconsin
June 21, Richmond Vegetarian Festival. Richmond, Virginia
June 25-27, Engine2 Weekend Retreat. Chicago, Illinois
July 2-6, Vegetarian Summerfest. Johnstown, Pennsylvania
July 5-6, VegFest Colorado. Golden, Colorado
July 10-13, Animal Rights 2014 National Conference. Los Angeles, California
July 19, 4th Annual VegFest Houston. Houston, Texas

Please report your event to us roughly 2 months in advance. Simply send an e-mail to comments@TheVegetarianSite.com
Quote of the Month
"but this slaughtering-machine ran on ... it was like some horrible crime committed in a dungeon, all unseen and unheeded, buried out of sight and of memory." --Upton Sinclair, The Jungle (1906)