Copyright © 2013 The Vegetarian Site, All Rights Reserved.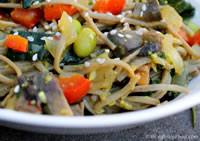 Portabella Mushrooms and Noodles
Recipe from Cathy Fisher and her excellent blog, Straight Up Food!, where you'll find an array of vegan recipes without added salt, oil, or sugar. ©2013 Cathy Fisher.
This hearty Asian noodle dish is made without soy sauce, salt, or oil, but it's still full of flavor, with garlic, cilantro, ginger, curry, and lime juice -- and for those that like it a little spicy, some optional red pepper flakes.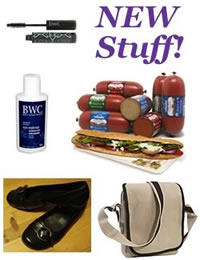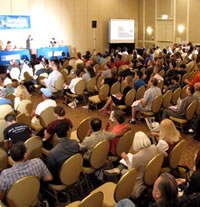 SAUCE INGREDIENTS:
1 cup water
2 tablespoons lime juice
2 tablespoons white, hulled sesame seeds
2 medjool dates, pitted
1 1/2 teaspoons freshly grated ginger
1 teaspoon yellow curry powder
1/2 tsp salt-free poultry seasoning (vegan)
1/4 teaspoon red pepper flakes (optional)
NOODLES:
1 package soba noodles
water to boil noodles
VEGETABLES:
water to saute
1 yellow onion, diced
1 tablespoon minced garlic (2-3 cloves)
3 portabellas, diced into 1/2-inch squares
1 red bell pepper, diced
1 cup shelled edamame soybeans
1 bunch kale, cut to bite-size (5-6 cups)
1 cup cilantro, measure then roughly chop

DIRECTIONS:
Place all the sauce ingredients into a blender and set aside to soak (blend later). Start a large pot of water to boil the noodles and cook the noodles according to the package. Drain and rinse with cool water. Place the cooked, drained noodles back into their cooking pot and set aside.
Chop the vegetables and herbs before you start cooking: mushrooms, onion, bell pepper, kale, garlic, and cilantro, and place into bowls or onto a plate so everything is ready to go.
Set a large skillet to high heat. Once the pan is hot, add the onions and saute with a couple tablespoons of water, stirring to avoid sticking, 1-2 minutes. Add the garlic, bell pepper, mushrooms, kale and soy beans, and stir. Reduce heat to medium. Place the cover on the pan and let cook for 5-7 minutes, stirring occasionally. (Add a little water only if necessary.)
While the vegetables are cooking, blend all the sauce ingredients that have been soaking, until smooth. Add to the pot of noodles, along with the sauteed vegetables and cilantro. Stir thoroughly. You don't need to cook it any further at this point; after stirring it all together, it should be warm enough if your noodles are still hot. If not, heat for 2 more minutes to warm throughout. Optional: garnish with some sesame seeds, chopped cilantro, or grated nuts. (Serves 4 to 6.)

New Vegan Products and Dollar Menu
Peruse our online store for several hundred ethically made vegan products and our growing selection of foods (all vegan). Here are a few of our newest additions. Your entire order still ships for just $5.
The Hemp Verona Bag by Ecolution is made in Romania with heavyweight organic hemp canvas. A high quality, water-resistant, versatile bag. Available in natural with black trim or black with gray trim.
We've added quite a lot of lip balm and we now have 34 different flavor choices from Crazy Rumors, as simple as Au Naturale to the exotics like Red Velvet Cake and Plum Peppermint Candy Cane.
For a nice pair of women's flats, check out the Nicole Shoe by Vegetarian Shoes UK. (limited availability)
We have a couple of new products this month from Beauty Without Cruelty. Their Waterproof Mascara defines each
lash with long-lasting, smudge-resistant color. Paraben-free and fragrance-free. Available in black or cocoa. Their Extra Gentle Eye Makeup Remover removes all types of makeup, including water-resistant, completely and easily without irritation. Leaves no oily residue.
If you're seeking a delicious meat substitute for sandwiches, salads, and pastas, then try Elianni Organic Veggie Roll. Available in 4 flavors, it's fully cooked and ready to eat. Certified Organic, gluten-free, soy-free, low sodium.
Don't forget that we offer the one and only Vegan Dollar Menu, where you'll find big savings on dozens of food items. Each item is just $1 when purchased from this menu.
See our other items on sale from foods to personal care items, or visit the main page of our online store anytime.
As always, each purchase directly supports nonprofit vegan and animal rights causes, as we continue to contribute a full 10% of our product sales to national and international organizations.

*New Blog Post*
Emily Deschanel delivers the sad truth about dairy. read it here
ACLU Speaks Out Against Ag Gag Laws
(ACLU Legislative Council) — Ag-gag laws have long been highly unpopular among the animal rights and food safety movements. But, a recent Utah case shows the extent to which these laws are flagrant violations of the First Amendment — and how much they have in common with other recent attempts to limit our constitutional right to photograph and record (even while in public). While the animal welfare aspects to the problem are central, constitutional considerations should not receive short shrift. read more...
High Vegetable Diet Protects Against Pancreatic Cancer
(News Fix) — In the biggest study of its kind, researchers from University of California have found that eating vegetables reduces the risk of pancreatic cancer. They included a group of 523 pancreatic cancer patients and 1,700 controls. They found that a high vegetable intake was protective against the disease. The vegetables most strongly linked to protection were onions, garlic, beans, yellow vegetables like carrots, sweet potatoes, corn and yellow squash, dark leafy vegetables and cruciferous vegetables. read more...
NYC Elementary School First to Adopt All-Vegetarian Menu
(AP) — A New York City elementary school has adopted an all-vegetarian menu, serving kids tofu wraps and veggie chili. Public School 244 is the first public school in the city, and possibly in the nation, to go all-veggie. read more...
Keep up to date with more news related to animal rights and your vegetarian lifestyle.

Upcoming Events
May 24-26, Vegfest UK Bristol. Bristol, UK.
May 31 to June 1, Anti-Fur Society Conference. Alexandria, Virginia.
June 1, Cleveland Veg Fest. Cleveland, Ohio.
June 1, Toronto Veggie Pride Parade. Toronto, Ontario, Canada.
June 1, Farm Sanctuary's Hug a Farm Animal Day. Acton, California.
June 2, Niagara Veg Fest. St. Catharines, Ontario, Canada.
June 15, Richmond Vegetarian Festival. Richmond, Virginia.
June 15, Vegfest Houston. Houston, Texas.
June 27-30, Animal Rights 2013 National Conference. Washington, DC.
July 3-7, Vegetarian Summerfest. Johnstown, Pennsylvania.
July 6-7, VegFest Colorado. Golden, Colorado.
Please report your event to us roughly 2 months in advance. Thank You.

Quote of the Month
"There slowly grew up in me an unshakable conviction that we have no right to inflict suffering and death on another living creature unless there is some unavoidable necessity for it, and that we ought all of us to feel what a horrible thing it is to cause suffering and death out of mere thoughtlessness."
—William Schweitzer, 1947, The Spiritual Life