Copyright © 2016 The Vegetarian Site, All Rights Reserved.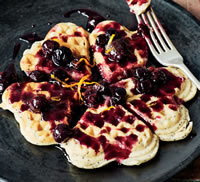 Poppy Seed Waffles with Blueberry Sauce
Copyright © 2016 Kerstin Rodgers, from V Is For Vegan.
Reprinted with permission from Quadrille Publishing Ltd.

If you're up for a weekend breakfast splurge, these delicious waffles will be difficult to resist. (Waffle maker required.)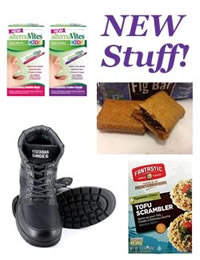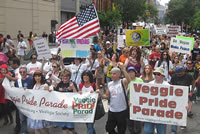 INGREDIENTS FOR WAFFLES:
1/4 cup superfine vegan sugar
1 1/2 teaspoons baking powder
heaping 1 3/4 cups all-purpose flour
1 cup hemp or rice milk
1/3 cup coconut oil, melted
1 teaspoon vanilla paste
2 tablespoons poppy seeds

FOR BLUEBERRY SAUCE:
1 1/8 cups blueberries
1/4 cup vegan sugar
3 tablespoons maple syrup + extra
zest and juice of 1 orange
DIRECTIONS:
Heat up your waffle maker and grease with vegan butter or coconut oil. Then mix the waffle ingredients together in a bowl to create the batter.

Put the blueberries, sugar, maple syrup, and orange zest and juice in a medium saucepan over medium-high heat, keeping back a little of the orange zest to
serve. Stir until the blueberries start to break down but have not lost their shape entirely. Then take off the heat and set aside.

Ladle just enough of the waffle batter to fill the waffle maker sections, then spread it around. Close the lid and cook for 3 to 5 minutes, or according to the
manufacturer's instructions. Transfer to a heat-proof plate, cover with foil, and keep warm in the oven on its lowest setting.

Cook the remaining waffles in the same way until they are all done. Serve the waffles hot with the blueberry sauce, a little extra maple syrup, and the reserved orange zest.


New Vegan Products + 111 Products On Sale
We have more superb new items to announce this month, and a whole lot of stuff is on sale too. As always, shipping is just $5, and each purchase directly
supports nonprofit vegan and animal rights causes, as we continue to contribute a full 10% of our product sales at The Vegetarian Site to these important organizations.

Women's Vegetarian Shoes Jungle Trail Boot
Super lightweight and tough, this European-made vegan hiker is ideal for summer trekking and everyday wear. Nicely padded for extra comfort.

alternaVites Kids Powdered Melt-in-your-mouth Vitamins
A fun and yummy way to get a potent multi formula. Powder can be poured onto the tongue directly from packet or mixed into food and drinks. 30 packets per box.

IN THE NEWS...
National Academy of Sciences Study Finds That Vegan Eating Would Slash Food's Global Warming Emissions and Substantially Improve Human Health
(Reuters) — By eating less meat and more fruits and vegetables, the world could prevent several million deaths per year by 2050, cut planet-warming emissions substantially, and save billions of dollars annually in healthcare costs and climate damage, researchers said. A new study published in the Proceedings of the National Academy of Sciences is the first to estimate both the health and climate change impacts of a global move towards a more plant-based diet. read more...
The Virtual Reality Slaughterhouse Known as iANIMAL
(Vice Food LLC) — A new virtual reality factory farm tour is traveling the UK to test the meat-eating resolve of anyone willing to strap on the goggles. The "unique immersive experience" known as iANIMAL has been developed by animal welfare group, Animal Equality. Executive director Toni Shephard says that the experience is being especially targeted at young people because they are far more open to adopting new eating habits when faced with the brutal reality of the meat
industry. read more...
Tyson Foods' Animal Welfare Report Fails to Address Standard Abusive Methods
(Arkansas Online) — Animal welfare groups were not placated by Tyson Foods' latest report on animal welfare that shared new details about the results of the company's FarmCheck program. Auditors found no "acts of abuse" during more than 650 inspections, but an auditing system is only as good as the criteria it uses to perform audits, and Tyson's FarmCheck system allows inherently cruel systems to be used up and down the supply chain. The program is essentially meaningless when it comes to preventing the worst forms of abuse, like extreme lifelong confinement. read more...
Keep up to date with more news related to animal rights and your vegetarian lifestyle.

Upcoming Events
Apr. 1-3, Healthfest 2016, Marshall, Texas
Apr. 2, Texas VegFest, Austin, Texas
Apr. 2, Valley Vegfest, Northampton, Massachusetts
Apr. 3, Veggie Pride Parade, New York City, NY
Apr. 9, Vegas Vegfest, Las Vegas, Nevada
Apr. 9, Nashville VegFest, Nashville, Tennessee
Apr. 9-10, Seattle Vegfest, Seattle, Washington
Apr. 15-30, Worldwide Vegan Bake Sale
Apr. 16, The Yoga Expo, Fort Lauderdale, Florida
Apr. 17, Berkeley Vegan Earth Day, Berkeley, California
Apr. 24, VegFest Vegan Tastefest, Novi, Michigan
Apr. 30, Baltimore Veg Fest, Baltimore, Maryland
May 1, New England VegFest, Worcester, Massachusetts
May 7, Milwaukee Veg Expo, Milwaukee, Wisconsin
May 7, Cleveland VegFest, Cleveland, Ohio
May 7, To The Rescue! Saving Animal Lives, Los Angeles, CA
May 7-8, NYC Vegetarian Food Festival, New York City, NY
May 7-8, NOLA Veggie Fest, New Orleans, Louisiana
May 11-14, HSUS Animal Care Expo, Las Vegas, Nevada
May 14, Veggie Fest Hamilton, Ontario, Canada
May 15, Annual Run for the Animals, Wheaton, Maryland
May 21-22, VegFestUK. Brighton, U.K.

Please report your event to us roughly 2 months in advance. Thank You.

Quote of the Month
"Farmed animals are as sensitive and intelligent as our beloved dogs and cats yet endure abuses
by the millions that would be illegal if just one dog or cat were the victim."

—Nathan Runkle, Founder and President of Mercy For Animals