Copyright © 2015 The Vegetarian Site, All Rights Reserved.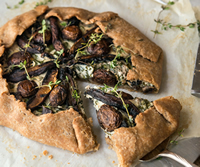 Spinach and Mushroom Galette
Recipe from the book GREENS 24/7, ©2014 Jessica Nadel.
Reprinted by permission of publisher, The Experiment.
A galette is a rustic, free-form French pie. It can be sweet, but a savory galette is a great dish to have in your repertoire. Don't let the homemade pastry intimidate you--it's so easy, and since rustic is the name of the game, it needn't be perfect either.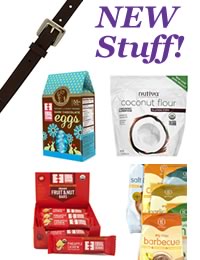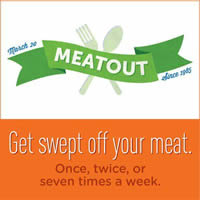 INGREDIENTS:
1 cup whole wheat flour
1/4 cup all-purpose flour
1/4 cup coconut oil
1/2 cup iced water
2 portobello mushrooms
2 tablespoons + 1.5 tsp. olive oil
1 large clove garlic, minced
6-8 cremini mushrooms
1 teaspoon fresh thyme leaves
4 cups (4-5 oz.) fresh spinach
1 cup firm tofu
3 teaspoons lemon juice
1 teaspoon nutritional yeast powder
sea salt and ground black pepper

DIRECTIONS:
1. Make the pastry: In a large bowl, mix together the flours and 1/2 teaspoon salt. Using a pastry cutter or your fingers, work the coconut oil into the flour, leaving small lumps. Sprinkle over the water and work until the dough just comes together. Roll into a ball, wrap in plastic wrap, and refrigerate 20 min.
2. Remove the stems and black gills from the portobello mushrooms and slice into long pieces, 1/2-inch thick. Heat 2 tablespoons oil in a large pan over medium heat, add the garlic, and saute until fragrant, about one minute. Add all the mushrooms and a generous pinch of sea salt and cook, stirring occasionally, for 15 to 20 minutes, until the mushrooms release their juices and the juices evaporate. Remove pan from heat, sprinkle with thyme, and set aside.
3. Meanwhile, steam the spinach lightly, for 30 seconds to 1 minute, until partially wilted but still holding a little structure. Leave to cool.
4. Place tofu, lemon juice, 1.5 teaspoons olive oil, nutritional yeast, and garlic powder in food processor, and process until fairly smooth. Season to taste with salt and pepper, then transfer to a bowl. Add the spinach and fold in by hand.
5. Preheat the oven to 400°F. On a piece of parchment paper, roll out pastry to a 12-inch round. Transfer pastry and parchment onto a baking sheet and spread the spinach-tofu mixture over, leaving a 2-inch border all around the perimeter. Top with the sauteed mushrooms, again leaving a border. Gently fold the extra pastry up and onto the toppings, pleating as you move around the outside.
6. Bake in the oven for 30 to 35 minutes, until the edges of the pastry are golden brown. Remove from the oven and let sit for 5 minutes before slicing and
serving. (Serves 6.)


New Vegan Products + Easter Chocolates & Candy We're your source for the best in quality vegan shoes, belts, bags, accessories, and care products. And we've added more great specialty foods this month to
our growing all-vegan online grocery store. As usual, your entire order ships for just $5 within the 48-state USA. Worldwide shipping is always available as well. Here are a few highlights this month:

Fair Trade Organic Dark Chocolate Easter Eggs Gift Box: Celebrate Easter with a gift box of fairly traded and organic egg-shaped chocolates from Equal Exchange! 18 Dark Chocolate pieces individually wrapped in blue foil. Soy-free and gluten-free. ...And be sure to peruse all our chocolate and candy offerings.
Women's Brown Shanti Belt by Truth: The new Shanti "leather look" belt, named after the Sanskrit word for peace, just might be the most versatile of all the women's belts out there. This skinny belt (roughly 3/4-inch) looks great around your waist or over a dress or sweater, or through your belt loops like a normal belt. Ethically made in Canada.
Nutiva Organic Gluten-Free Coconut Flour: This versatile flour is finely ground from dried coconut meat, with a lower glycemic index than most traditional flours, it's an excellent source of fiber and has a high protein content as well. Its rich texture and natural sweetness make it great for baking. Nutiva Coconut Flour is certified gluten-free and certified organic.

Fair Trade Organic Pineapple-Cashew Fruit & Nut Bar: Imagine a food system where you know the farmer behind
every product. This Equal Exchange fairly traded fruit and nut bar is made by Fullwell Mill in the UK with 100% organic ingredients from small farmers. It's wholesome, sweet and satisfying – the perfect snack for your busy day.

Dozens of items are on sale this month, including foods, supplements, personal care items, and footwear too.
Visit the main page of our online store anytime. And be sure to check our deeply discounted closeouts.
As always, each purchase directly supports nonprofit vegan and animal rights causes, as we continue to contribute a full 10% of our product sales to these important organizations.

Study Confirms Plant-Based Eating Associated with Lower Risk of Heart Disease
(WebMD/HealthDay) -- Researchers found that among more than 450,000 European adults, those whose diets were about 70% plant-based -- meaning whole grains, beans, vegetables, fruit and nuts -- had a relatively lower risk of dying
from heart disease. Their odds were 20% lower, compared with people whose diets were over 50 percent meat, dairy, eggs and fish. The findings are in line with a wealth of research, by which the AHA recommends eating an abundance of plant-based foods, while limiting meat and saturated fat. read more...
Environmental Standoff over Massive $55 Million Dairy Feedlot in Minnesota
(Star Tribune) -- The latest controversy in large-scale farm animal confinement operations brings up the usual issues: depletion of local groundwater, spilling of manure into waterways, and odors that simply spoil rural living. Riverview
Farms LLP ran into resistance when the MPCA Citizens' Board ordered an in-depth Environmental Impact Statement (EIS) for the mega-dairy. While many have heralded the decision, the incident has given rise to open talk among some Republicans and farm lobbyists about restricting or eliminating the Citizens' Board altogether, as citizens are increasingly taking a stand against new massive agricultural operations across the state. read more...
Undercover Video Shows Violent Slaughter at Supplier to P.F. Chang's, Red Robin
(Media General Communications) -- A company that supplies chicken for restaurants is under fire following the release of a hidden camera video taken at one of their operations in North Carolina. The video is difficult to watch, showing chickens violently hung on a slaughter line -- their wings and legs crushed, and their throats slit while still conscious. Gordon Food Service said that it is taking the situation seriously, but Mercy For Animals indicates that they have been less than responsive. read more...
Keep up to date with more news related to animal rights and your vegetarian lifestyle.

Upcoming Events
Mar. 20, Great American MeatOut (various events)
Mar. 20-22, World Vegan Summit & Expo, LA, California
Mar. 20-22, Expo Manger Sante et Vivre Vert, Montreal, Canada
Mar. 21-22, Vegfest 2015, Seattle, Washington
Mar. 27-29, Healthfest 2015, Marshall, Texas
Mar. 28, Valley Vegfest, Northampton, Massachusetts
Mar. 28-29, VegFestUK. Brighton, U.K.
Mar. 29, Veggie Pride Parade, New York City, NY
Apr. 4, North Florida VegFest, Tallahassee, Florida
Apr. 4, Texas VegFest, Austin, Texas
Apr. 9, Moby and Gene Baur, Los Angeles, California
Apr. 19, VegFest Vegan Tastefest, Novi, Michigan
Apr. 19, Berkeley Vegan Earth Day, Berkeley, California
Apr. 25 - May 3, Worldwide Vegan Bake Sale
Apr. 26, New England VegFest, Worcester, Massachusetts
Apr. 30 - May2, HSUS Animal Care Expo, New Orleans
May 9, Baltimore Veg Fest, Baltimore, Maryland
May 9-10, NOLA Veggie Fest, New Orleans, Louisiana
May 16, LA Vegan Beer & Food Festival, Los Angeles, California
May 17, Annual Run for the Animals, Wheaton, Maryland
May 23-24, VegFest UK, Bristol, United Kingdom

Please report your event to us roughly 2 months in advance. Thank You.

Quote of the Month
"If I have taken an animal as my property and taken their very liberty and life as my own to create products out of their carcass, how is that not a form of slavery?"
—Charles Horn, Animal Slavery and Other Comparisons:Who Should Be Offended? 2014