Copyright © 2014 The Vegetarian Site, All Rights Reserved.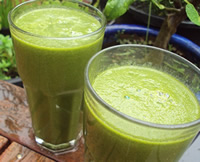 Super Green Goddess Smoothie
©2014 Lisa Sussman - from the book, Green Smoothie Cleanse (Ulysses Press, ISBN 978-1-61243-267-0). Reprinted with permission.

Begin a green smoothie "cleanse" or simply start off the day right with this super-healthy concoction. It's an excellent way to increase your intake of some of the most nutritious vegetables, and it's sweetened naturally without any added sugar.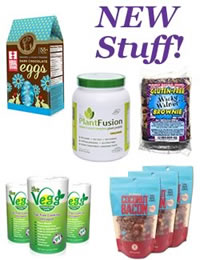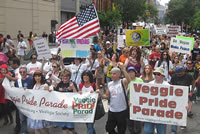 INGREDIENTS:
1/2 cup 100% white grape juice
1/2 cup water and ice
1/2 avocado
2 cups kale leaves
1 cup spinach leaves
1 green apple
1 pear
1 cup green grapes
1/2 bunch parsley
1 tablespoon spirulina or chlorella powder
1/4 cup pumpkin seeds

DIRECTIONS:
Prepare the fruit and vegetables for blending by chopping fruit into small chunks, removing and discarding vegetable stems/ribs. Add to your blender the liquids first, followed by the other ingredients, and any ice should be added last. Blend until smooth. Makes 2 servings.

New Vegan Products + Sale Items

Peruse our online store today. We've added more food items, Easter chocolates, and supplements this month. Special sale pricing on a variety of vegan snacks too. From vegan groceries to footwear, it's ethical shopping at its best, and your entire order still ships for just $5.
Celebrate Easter with a Vegan Gift Box of Fair Trade Organic Chocolate Eggs from Equal Exchange. Eighteen dark chocolate egg-shaped pieces individually wrapped in blue foil.
And also for Easter we have -- while they last -- Sjaak's Solid Organic Vegan Milk Chocolate Bunnies.

Looking for a superior soy-free, gluten-free protein powder? You need to try PlantFusion multi source complete plant protein powder. It scores a perfect 1.0 on the Protein Digestibility Corrected Amino Acid Score (PDCAAS). Four flavors available at our special intro sale price this month.
The very popular Vegg yolk mix is now available in a larger sized, better value, 4.5 oz. shaker container. So nice
for vegan French toast!
And we definitely need to mention our new Gluten-Free Wacky Walnut Vegan Brownies. Just because you're eating gluten-free doesn't mean you can't enjoy delicious brownies!
EVEN MORE SALE ITEMS THIS MONTH at 10% to 40% savings: Better Than Milk Soy Milk or Rice Milk, Jocalat Bars, Luna Bars, Primal Strips, Kay's Naturals Protein Snack Chips, Go Raw Organic Super Cookies, Vegan Decadence Brownies, Non-dairy Yogurt Starter, and dozens more.
Our fair labor vegan footwear on sale this month includes the Women's Vegetarian Shoes Vintage Boot, the Men's Vegetarian Shoes Wombat Shoe, and others. Browse our large selection of men's footwear and women's footwear.
See our other recent product offerings or visit the main page of our online store anytime.
As always, each purchase directly supports nonprofit vegan and animal rights causes, as we continue to
contribute a full 10% of our product sales to these important organizations.

In the news...
ACLU, Animal Welfare Groups, Others Sue Idaho Over New Ag Gag Law
(Wisconsin Gazette) -- A progressive coalition that includes civil liberties, animal protection, food safety, labor rights, environmental and media groups has filed a federal lawsuit to overturn Idaho's newly passed "ag gag" statute. Idaho is the seventh state to pass some version of an ag gag law, and the first to do so since 2012. The lawsuit challenges the constitutionality of Idaho's new law. read more...
Keys to a Well-Planned, Healthy Vegan Diet
(EatingWell) -- A vegan diet is a healthy way to eat when your meals are full of vegetables, fruits, legumes and whole grains. You need a well-planned vegan diet to make sure you don't miss out on essential nutrients or end up eating only processed vegan foods. Special attention should be given to consuming a wide variety of foods, and to ensuring adequate intake of a few particular vitamins/minerals and essentially fatty acids that are less prevalent in most vegan foods. read more...
Avoid Meat for Lower, Healthier Blood Pressure Levels
(LiveScience) -- A US/Japanese meta-analysis of 39 high-quality, previously conducted hypertension studies from 18 countries (with a total of more than 21,000 participants) found that people who avoid meat had consistently lower and healthier blood pressure levels. Hypertension is a leading risk factor for stroke, heart disease, kidney disease and shortened life expectancy. The condition affects one in three U.S. adults, according to the CDC. read more...
Keep up to date with more news related to animal rights and your vegetarian lifestyle.

Upcoming Events
Mar. 20 and later, Great American MeatOut. (various events)
Mar. 29, Valley Vegfest. Northampton, Massachusetts
Mar. 29, Sydney Vegan Festival. Sydney, Australia
Mar. 29-30, Seattle Vegfest. Seattle, Washington
Mar. 29-30, VegFestUK. Brighton, U.K.
Mar. 30, Veggie Pride Parade. New York City, NY
Mar. 30 - May 6, Spring Renewal Cleanse. Maui, Hawaii
Apr. 5, Texas VegFest. Austin, Texas
Apr. 6, Worcester VegFest. Worcester, Massachusetts
Apr. 13, VegFest Vegan Tastefest, Novi, Michigan
Apr. 19, Berkeley Vegan Earth Day. Berkeley, California
Apr. 25-27, Engine 2 Retreat. Portland, Oregon
Apr. 26 - May 4, Worldwide Vegan Bake Sale.
May 3, Baltimore Vegfest. Baltimore, Maryland
May 3-4, Your Food, Your Health. Tucson, Arizona
May 4, Hug a Farm Animal Day. Acton, California
May 4, Healthy Taste of the Inland Empire. Riverside, California

Please report your event to us roughly 2 months in advance. Simply send an e-mail to comments@TheVegetarianSite.com
Quote of the Month
I'd ask you this simple question: Could you look a baby cow in its eyes and say to it, "My appetite is more important than your suffering?" --Moby, "Why I'm Vegan." Rolling Stone, March 18th 2014.