Copyright © 2013 The Vegetarian Site, All Rights Reserved.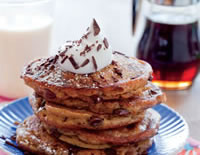 Tiramisu Pancakes for dessert
Recipe reprinted with permission from Chloe's Vegan Desserts ©2013 Chloe Coscarelli, Atria Books, New York, NY.
Tiramisu pancakes are perfect to make for dessert or a decadent breakfast. They are most impressive: fluffy golden pancakes with a hint of espresso and rum, dotted with melted chocolate chips, and topped with your favorite vegan whipped cream (optional).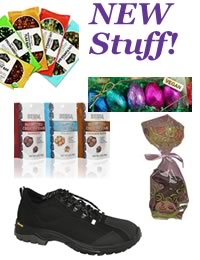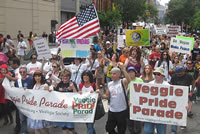 INGREDIENTS:
1 cup all-purpose flour
1 tablespoon baking powder
1 tablespoon instant espresso powder
1/2 teaspoon salt
3/4 cup water
1/4 cup maple syrup
1 tablespoon dark rum
1/3 cup dairy-free semisweet chocolate chips
canola oil, for greasing
powdered sugar, for serving
vegan whipped cream (optional)

DIRECTIONS:
In a large bowl, whisk together flour, baking powder, espresso powder, and salt. In a separate small bowl, whisk together water, maple syrup, and dark rum. Add the liquid to the flour mixture and whisk until just combined. Do not over-mix; the batter should have some lumps. Gently fold in chocolate chips.
Lightly oil a large nonstick skillet or griddle and heat over medium-high heat. Pour 1/4 cup batter onto the skillet. When bubbles appear in the center of the pancake, it is time to flip it. Let it cook on the other side until lightly browned and cooked through (about 1 more minute). Repeat with remaining batter, adding more oil to the skillet as needed. If the batter becomes too thick, add a little more water, one tablespoon at a time. To serve, dust pancakes with powdered sugar. Optionally, top with a dollop of your favorite vegan whipped cream. Serves 2 to 3.

New Vegan Products and Easter Chocolates Too
Peruse our online store for several hundred ethically made vegan products and our growing selection of foods (all vegan). Here are a few of our newest additions. Your entire order still ships for just $5, just as it did 13 years ago when we started!
The excellent Women's Kathmandu Hiker by Ethical Wares is constructed with a dual density Vibram sole and a reinforced upper. It's a comfortable and hard-wearing design that's made in Italy. Fair labor manufacturing and high quality from Ethical Wares.
Biena's new chickpea snacks taste great, they're packed with protein and fiber, plus they're low in fat and very low in sugar. It's a lightweight snack that's sure to satisfy your hunger without weighing you down.
Go Raw Live Food Bars are perfect for today's busy lifestyles. Ideal for when it's hard to find time to stop for a healthy snack or if you want an easy and tasty way to incorporate raw foods into your diet! We also have 21 other brands of vegan nutrition bars on hand, many of which are on sale this month. Mix and match individual bars and flavors.
Enjoy Organic Fair Trade Easter chocolates whether you prefer vegan 'milk' chocolate or vegan dark chocolate. We have solid chocolate bunnies, truffle filled chocolate eggs, and more.
See our other recent product offerings or visit the main page of our online store anytime.
As always, each purchase directly supports nonprofit vegan and animal rights causes, as we continue to contribute a full 10% of our product sales to national and international organizations.

*New Blog Entry*
We've finally resuscitated our vegan blog. This time, care for some dirt on a beloved "vegan" brand? read it here
Federal Legislation Would Ban Slaughter of US Horses
(LA Times) -- Proposed federal legislation would both ban the export of American horses for slaughter and reinstitute a ban on slaughtering them in the US, thereby protecting the public from a European-style horse meat debacle. The legislation comes at a time when new horse slaughterhouses are being built in the US, and just as the USDA announced its plan to process an application for inspecting horse slaughter at Valley Meat Company, New Mexico. read more...
New Poll Shows Majority of US Strongly Opposes Animal Testing for Cosmetics
(PRWEB) -- A nationwide poll conducted by Lake Research Partners found that 67 percent of American voters oppose testing cosmetics on animals (margin of error is +/- 3.5 percent). Three in four voters say that they would feel safer, or as safe, if non-animal methods were used to test the safety of a cosmetic instead of animal testing. read more...
Series of Bills Would Limit Inquiries of Farm Animal Abuse
(Associated Press) -- The meat and poultry industries in conjunction with a number of state legislators across the country are introducing laws making it harder for animal welfare advocates to investigate cruelty and food safety cases. New bills are pending in California, Nebraska, and Tennessee. read more...
Keep up to date with more news related to animal rights and your vegetarian lifestyle.

Upcoming Events
March 20 and later dates, Meatout 2003. Events worldwide.
March 23, The 26th Genesis Awards. Beverly Hills, California.
March 23-24, Vegfest 2013. Seattle, Washington.
March 24, Veggie Pride Parade. New York, NY.
March 30, Animal Advocacy Museum Launch Party. Pasadena, California.
April 6, Texas Vegfest. Austin, Texas.
April 20, Berkeley Vegan Earth Day. Berkeley, California.
April 20-28, Worldwide Vegan Bake Sale.
April 24, Vegfest 2013 - Vegan Tastefest and Expo. Novi, Michigan.
April 27, Baltimore Vegfest. Baltimore, Maryland.
Quote of the Month
"This is not a matter of a couple of rotten eggs, but rather standard industry practices that are simply rotten."
-- HSUS, Appalling Cruelties at Nation's Top Egg Producers