Copyright © 2016 The Vegetarian Site, All Rights Reserved.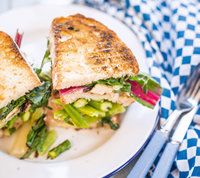 Asparagus Club Sandwiches
Copyright © 2016 Lee Watson, from Peace & Parsnips: Adventurous Vegan Cooking for Everyone. Reprinted with permission from the publisher, The Experiment.

This one is quite tall. Incredibly green and healthy, with a touch of rainbow chard technicolor among the layers, it's a light and quick sandwich to whip up and stack. Three tiers of tofu and panfried asparagus goodness here, with a smooth pine nut cream. The trick is to slice the bread as thinly as possible. Recipe makes 2 sandwiches.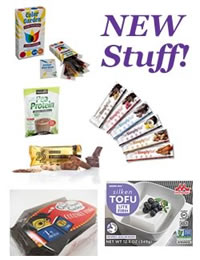 MAIN INGREDIENTS:
11 1/2 ounces firm tofu, pressed
1 tablespoon all-purpose flour
sea salt and cracked black pepper
2 tablespoons olive oil
6 scallions, halved lengthwise
6 asparagus spears, halved lengthwise
1 teaspoon fennel seeds
2 cloves of garlic, peeled, crushed
6 leaves rainbow chard, 2 cm ribbons
1/4 cup dry vermouth or dry sherry
handful of basil leaves
6 thin slices sourdough bread
olive oil, for brushing bread
large ripe tomato, thinly sliced

INGREDIENTS PINE NUT CREAM:
3/4 cup toasted pine nuts
4 1/2 ounces silken tofu
1 small clove garlic, peeled, crushed
1/2 tablespoon lemon juice
large pinch sea salt and black pepper

DIRECTIONS:
To make the pine nut cream, put the pine nuts into a food processor with the rest of the ingredients and blitz until smooth and creamy. Check the seasoning and set aside.

Pat the pressed tofu dry. Season the flour with sea salt and cracked pepper and place on a plate. Dust the tofu slices with the seasoned flour – they have to be
very dry to crisp up nicely.
Heat 1 1/2 tablespoons of oil in a large heavy-bottomed frying pan on medium heat. Add the scallions and sear for 5 minutes, until tender. Remove and keep warm, then add the tofu slices in the center of the pan, arranging the asparagus around the edges. Fry the tofu and asparagus until nicely golden – this will only take 2 minutes on each side for both. The asparagus may need turning more than the tofu, but see how they get on. Remove everything from the pan and keep warm.

Add 1/2 tablespoon of oil to the same pan on medium heat and add the fennel seeds and garlic. Heat through for a minute, then drop in the chard. Stir and sauté for 3 minutes. Drizzle in the vermouth and let it steam for a moment, then add the basil leaves, season, and cover tightly with a lid. Turn the heat down to low and allow to steam for 5 minutes.

Brush your sourdough bread with olive oil and lightly toast on both sides. Time to build your triple-decker! Grab two pieces of toasted bread, spread them with a thick layer of the pine nut cream, then top each one with a couple of slices of tomato and two pieces each of tofu, asparagus and scallion. Top with a second
slice of bread and repeat for the next layer, but this time spoon some of the chard and basil on top instead of the asparagus and scallions. Press down firmly, then cut the sandwiches in half.


New Vegan Products This Month
We have more new vegan foods to announce this month, a few of which are highlighted below. As always, each purchase directly supports nonprofit vegan and animal rights causes, as we continue to contribute a full 10% of our product sales at The Vegetarian Site to these important organizations.
'One Smart Cookie' - made with almond meal!
Tasty cookies made with almond meal, not with flour, so they're low in carbs and higher in protein. Super-low in sugar too. Choose from 3 gluten-free flavors.

Mori-Nu Non-GMO *LITE* Firm Silken Tofu
Mori-Nu's silken firm tofu is now available in this very low calorie LITE variety too. Just 35 calories and 1g fat per serving. Shelf-stable until opened.



IN THE NEWS...
Brooklyn's First 100% Vegan Pizzeria Opens
(Gothamist) — It's a great time to be vegan in NYC, with Screamers Pizzeria opening just last week. The smallish spot will turn out classic cheese pies; a white pie with garlic oil, vegan cheese, broccoli rabe, caramelized onions and homemade almond ricotta; and their namesake "The Screamer" with garlic oil, vegan cheese, cremini and oyster mushrooms and parsley, topped with homemade almond parm, among others. read more...
Australia Moves to Ban Animal Testing on Cosmetics
(Vogue) — The Australian government has announced plans to ban cosmetics sold in Australia that have been tested on animals starting July 1, 2017. From sunscreens to baby products, the proposed law will cover a full range of cosmetics, but not medications or pharmaceuticals. read more...
Eating More Whole Grains Linked to Lower Mortality Rates
(Harvard School of Public Health) — Eating more whole grains may reduce the risk of premature death, according to a new meta-analysis by researchers from Harvard T.H. Chan School of Public Health. The study, which included health information from 786,000 individuals found that those who ate the most whole grains (70 grams/day, about 4 servings), compared with those who ate little or no whole grains, had a lower risk of dying during the study period. Given previous
studies that have found whole grains to reduce risk of cardiovascular disease, diabetes, and poor gut health, Harvard Health recommends consuming at least 3 servings of whole grains daily. read more...
Keep up to date with more news related to animal rights and your vegetarian lifestyle.

Upcoming Events
July 6-10, Vegetarian Summerfest, Johnstown, Pennsylvania
July 7-10, Animal Rights 2016, Los Angeles, California
July 9, Richmond Vegetarian Festival, Richmond, Virginia
July 23, Compassionfest 2016, Hamden, Connecticut
July 23, Sheffield Vegan Festival, Sheffield, South Yorkshire, UK
July 23-24, Veggie Fest 2016, Lisle, Illinois
July 23-24, VegFest Colorado, Golden, Colorado
Aug. 7, VegFest WNY, Buffalo, New York
Aug. 13-16, Satvik Vegan Festival, Karnataka, India
Aug. 14, Tour D'Organics, Sebastopol, California
Aug. 22, Bethlehem Vegfest, Bethlehem, Pennsylvania
Aug. 20-21, Engine2 Plant-Stock, Claverack, New York
Aug. 20-21, Farm Sanctuary's Country Hoe Down, Watkins Glen, NY


Please report your event to us roughly 2 months in advance. Thank You.

Quote of the Month
"It is not an act of kindness to treat animals respectfully. It is an act of justice."

—Tom Regan , The Case for Animal Rights (1983)