Copyright © 2015 The Vegetarian Site, All Rights Reserved.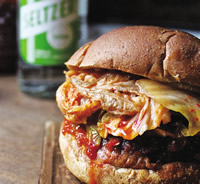 Vegan Korean Kimchi BBQ Burgers
Recipe from Mastering the Art of Vegan Cooking, ©2015 Annie and Dan Shannon. Reprinted by permission of Grand Central Life and Style.
These spectacular vegan burgers combine the signature sweet Korean BBQ sauce with a "beefy" veggie burger and spicy kimchi (a sort of hot Korean sauerkraut usually made with napa cabbage, radishes, and green onions) to create a perfect dinner. Plus, you'll hopefully have some leftover kimchi as a side for lunch the next day.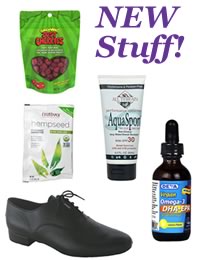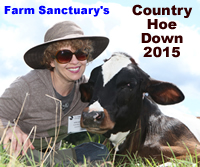 BURGER INGREDIENTS:
2 cups ground beef substitute
1 green onion, diced
1 tablespoon blackstrap molasses
1/2 teaspoon ginger paste
1 tablespoon soy sauce
dash of vegan liquid smoke flavor
1/2 teaspoon onion powder
1 clove garlic, minced
BBQ SAUCE INGREDIENTS:
1 (6-ounce) can tomato paste
2 tablespoons soy sauce
dash of vegan liquid smoke flavor
1 Tbsp. Sriracha or Thai chili sauce
1/4 cup applesauce
2 teaspoons agave nectar
2 teaspoons sesame seeds
1/4 teaspoon ginger paste
1 clove garlic, minced
OTHER INGREDIENTS:
2 tablespoons sesame oil
4 whole wheat hamburger buns
1 cup vegan kimchi
DIRECTIONS:
Make the burger: In a large bowl, use your hands to mix together the vegan ground beef, green onion, molasses, ginger paste, soy sauce, vegan liquid smoke, onion powder, and garlic until blended. (NOTE: If your vegan ground beef is made from a dry mix, we're assuming that it has been fully hydrated/prepared before beginning this recipe.) The molasses is really sticky, so this is kind of messy and weird, but it's totally worth it -- promise. Form the mixture into 4 patties about the size of your hand. Place them on a plate, cover with plastic wrap, and refrigerate for at least 5 minutes.

Meanwhile, make the BBQ sauce: In a small bowl, whisk together all the BBQ sauce ingredients. Set aside. In a cast-iron skillet or frying pan, heat one tablespoon of the sesame oil over medium heat. Working in batches, fry the burgers until lightly crispy around the edges, then reduce the heat to low and brush the burgers with BBQ sauce. Flip and coat the burgers a few times to get
a nice saucy patty, but watch out for the hot oil. Repeat with the remaining burgers, adding the remaining oil after the first batch. Toast the burger buns while the burger patties are cooking. Serve each burger in a toasted bun with lots of kimchi on top.


New Vegan Items + Get a Gift Certificate Worth 10% of Your Entire Order!

Take advantage of our current Twitter Promo: Place any order by Thursday, June 25th and get a gift certificate worth 10% of your order total (not
including shipping/sales tax). You must select the 'Twitter Promo' option from our shipping menu to get your free gift certificate. This purchase cannot be made with an existing gift certificate. Regular shipping rates and rules apply. One free gift certificate per household.

With more new items coming in every week, here are a few product highlights:

Deva Nutrition Liquid Vegan Omega-3 DHA-EPA Supplement:
Deva is proud to offer its new liquid product that is rich in both DHA and EPA derived from a completely vegan source (microalgae). It has a fresh lemon flavor and contains 90 adult doses (of 14 drops) or 180 doses for children.
Nutiva Raw Organic Shelled Hempseed Packets (1.1 ounces):
Enjoy the world's most nutritious seeds, either plain or as a delicious condiment. Organic shelled hempseeds are 33% protein, with Omega-3 and GLA -- the healthy essential fatty acids. Each packet contains a full 3-tablespoon serving.

Men's Ethical Wares Dance Oxford (Made in England):
High quality oxford-style vegan dance shoe. A very lightweight shoe with a breathable black Lorica upper and synthetic 'suede' covered sole, giving just the right amount of grip.

AquaSport Top-Rated Natural Sunscreen Lotion (6 oz.):
AquaSport SPF30 Lotion is a highly effective, safe, vegan, natural, oxybenzone-free sunscreen providing full-spectrum UVA (skin cancer) and UVB (sunburn) protection. Rated the best by both Environmental Working Group and Sport Diver Magazine. This 6-oz. family size tube is on sale now too.
Visit the main page of our online store anytime, and do let us know if there are any favorite vegan products that you'd like to see added to our offerings.
As always, each purchase directly supports nonprofit vegan and animal rights causes, as we continue to contribute a full 10% of our product sales to these important organizations.

North Carolina Becomes 9th State to Pass "Ag Gag" Law, May Shield Animal Abusers Inside Factory Farms
(CNN) -- Experts say that North Carolina's new "Ag Gag" law could stymie investigations into food facilities that have unearthed disturbing video footage of cows, pigs, chickens and other animals being raised in cruel conditions in large factory farms. Some of the investigations have sparked change at several large companies. Most of these videos are made by undercover activists who get access to the factories by getting jobs. In a bizarre twist, the new law gives the farms the right to sue the investigators for any damage to its business due to exposure of the animal cruelty. read more...
Another Study Indicates Cardiovascular Benefits to Dark Chocolate Consumption
(USA TODAY) -- Instead of fighting that chocolate craving, it might be time to indulge it, according to a study published recently in the cardiology health journal, Heart. Researchers found that eating up to 3 1/2 ounces of chocolate every day
was linked to a lowered risk of heart disease and stroke. The study, which tracked 21,000 men and women, showed a strong correlation, but it did not prove cause and effect. read more...
PETA Files False-Advertising Complaint Over Whole Foods' 'Humane Meat'
(PETA News) -- PETA has filed a formal complaint this month with the Department of Consumer and Regulatory Affairs asking the agency to compel Whole Foods' Washington, D.C. stores to stop deceiving consumers into purchasing chickens, turkeys, cows, and pigs with meat-wrapping paper imprinted with the slogan, "Thanks for Caring About Animals," among other misleading representations. read more...
Keep up to date with more news related to animal rights and your vegetarian lifestyle.

Upcoming Events
June 27, Mad City Vegan Fest, Madison, Wisconsin
July 4, Farm Sanctuary Pignic, New York and California
July 8-12, Vegetarian Summerfest, Johnstown, Pennsylvania
July 20 - Aug. 3, Vegan Camp, Mersea Island, Essex, UK
July 26, First Annual VegVoyage, Cleveland, Ohio
July 30 - Aug.2, Animal Rights 2015 National Conference, Washington, DC
Aug. 2, VegFest WNY, Buffalo, New York
Aug. 9, Tour D'Organics, Sebastopol, California
Aug. 15-16, Veggie Fest 2015, Lisle, Illinois
Aug. 15-16, Engine2 Plant-Stock, Claverack, New York
Aug. 15-16, Farm Sanctuary's Country Hoe Down, Watkins Glen, New York
Aug. 22, Bethlehem Vegfest, Bethlehem, Pennsylvania

Please report your event to us roughly 2 months in advance. Thank You.

Quote of the Month
"As with any violent ideology, the populace must be shielded from direct exposure to the victims of the system, lest they begin questioning the system or their participation in it. This truth speaks for itself: why else would the meat industry go to such lengths to keep its practices invisible?"
—Dr. Melanie Joy, Why We Love Dogs, Eat Pigs, and Wear Cows: An Introduction to Carnism