Copyright © 2014 The Vegetarian Site, All Rights Reserved.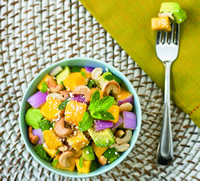 Avocado Mango Cashew Salad
©2014 Terri Hope Romero, from the book Vegan Eats World: 300 International Recipes For Savoring The Planet (Da Capo Press). Reprinted with permission.

A luscious fusion of ripe mango, avocado, and sweet lime dressing with a dusting of toasted rice powder or crumbs. This salad tastes like summer no matter what time of year it's savored.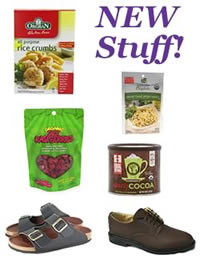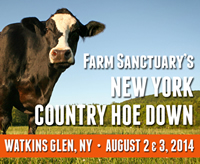 INGREDIENTS:
2 tablespoons lime juice
1 tbsp. packed palm or brown sugar
1/4 teaspoon salt
big pinch of ground white pepper
1 ripe avocado, diced half-inch cubes
1 red onion, diced into 1/4-inch cubes
1 cup chopped fresh cilantro
1 tablespoon chopped fresh mint
1 hot green chile, minced (optional)
1/4 cup chopped roasted cashews
1 tbsp. toasted rice powder/crumbs (optional)


DIRECTIONS:
In a large mixing bowl, whisk together the lime juice, sugar, salt, and white pepper. Add the diced avocado and toss a few times in the dressing. Now add the mango, red onion, cilantro leaves, mint, green hot chile, and chopped roasted cashews to the bowl. Use a wide rubber spatula to thoroughly stir the salad, making sure all the avocado and mango are coated with the lime dressing. Mound the salad into a serving platter and sprinkle with roasted rice powder. Serve and eat this salad immediately. (Serves 2 to 3.)


New Vegan Products + Sale Items

New sandals and shoes this month from Vegetarian Shoes and Ethical Wares. We're your source for high quality, fair labor vegan footwear. And don't forget our extensive selection of all-vegan foods too. With plenty of delicious items on sale this month, your entire order still ships for just $5.
Men's and Women's Duo Sandals are lightweight and comfortable contoured footbed sandals by Vegetarian Shoes. Easily adjustable and quick to slip on and off. With super soft faux-leather micro-fibre footbed lining, cork and rubber midsole and cushioned/grippy outsole.
Ethical Wares has redesigned their brown City Office Shoe with a similar styling to their popular black Kapital Office Shoe. This classic men's brown shoe is perfect for the office or anywhere else.
If you like pesto, you can't go wrong with Simply Organic Sweet Basil Pesto Sauce mix. Easily prepare your vegan pesto dishes with this USDA Organic, all-natural mix.
Orgran All Purpose Rice Crumbs are gluten-free and ideal for use in all crumbing applications of your meat substitutes, vegetables, etc. Rice Crumbs are versatile as a stuffing base or as a natural thickener for soups and casseroles. Equally suited for special desserts, such as a crumb base for vegan cheese cake.
The perfect healthy & low calorie snack, Certified Organic Freeze Dried Just Raspberries have a tangy-sweet flavor that's a delightful explosion in your mouth. Great to eat straight from the bag, or go ahead and use them in salads, sauces, muffins, frozen desserts, cookies, dressings, smoothies, or anywhere else you want a burst of raspberry flavor.

We've also restocked a number of food items that some of you have been expecting for quite a while, such as Dixie Chicken (Not!) Salad Mix, Dixie Turkey (Not!) Burger Mix, Dixie Tenderloin Tips'n Mushroom Sauce, Harvest Direct Vegan Chicken Broth, and Harvest Direct Soy 'Chiken' in Chunk-style and Strip-style.
Plus, dozens of items are on sale this month: vegan foods, nutrition bars, protein powders, supplements, athletic shoes, boots, dress shoes, message t-shirts, DVDs, and personal care items.
See our other recent product offerings or visit the main page of our online store anytime.
As always, each purchase directly supports nonprofit vegan and animal rights causes, as we continue to contribute a full 10% of our product sales to these important organizations.

In the news...
Plant-Based Diets Improve Blood Flow and Cardiovascular Health
(Blood Flow Online) -- A great deal of research has linked plant-based diets to improvements in a variety of cardiovascular risk factors. Plant-based diets have been shown to reduce body mass index, systolic and diastolic blood pressure, triglyceride levels, total cholesterol, LDL cholesterol, fasting blood glucose, and insulin resistance. Further, the positive impact of adopting a plant-based diet may be clinically evident within relatively short periods of
time. read more...
China Ends Animal Testing Requirement for Most Domestically Made Cosmetics
(Chinanews.com) -- China's cosmetics industry will enter uncharted waters at the end of the month when the rules requiring live animal testing will be relaxed for certain products. A regulation released by the China Food and Drug Administration stated that, from June 30, "non-specialized cosmetics" produced in China, including shampoo, soap, nail products and some skincare products, can be sold even if they have not been tested on animals. read more...
New Jersey Legislature Passes Bill to Crack Down on Sale of Ivory
(HSUS) -- The New Jersey State Assembly passed crucial legislation to end New Jersey's contribution to the devastating international elephant ivory and rhino horn trades. The legislation passed the Senate unanimously and is now awaiting Gov. Christie's signature. If enacted, S.2012/A.3128 would prohibit all sales and trade in rhino horns and ivory in the state. It will be the first such law passed by any U.S. state. read more...
Keep up to date with more news related to animal rights and your vegetarian lifestyle.

Upcoming Events
June 21, Richmond Vegetarian Festival. Richmond, Virginia
June 25-27, Engine2 Weekend Retreat. Chicago, Illinois
July 2-6, Vegetarian Summerfest. Johnstown, Pennsylvania
July 5-6, VegFest Colorado. Golden, Colorado
July 10-13, Animal Rights 2014 National Conference. Los Angeles, California
July 19, 4th Annual VegFest Houston. Houston, Texas
Aug. 2-3, Farm Sanctuary Hoe Down. Watkins Glen, New York
Aug. 2-16, Vegan Camp 2014. Lancashire, England
Aug. 3, VegFest WNY. Buffalo, New York
Aug. 9, Creating Culture of Peace. Farmingdale, New York
Aug. 9-10, The Seed. New York City, New York
Aug. 10-11, Veggie Fest 2014. Naperville, Illinois
Aug. 10, Tour d'Organics. Sebastopol, California
Aug. 16-17, Engine2 Plant-Stock. Claverack, New York
Aug. 23, Bethlehem Vegfest. Bethlehem, Pennsylvania
Aug. 24, Healthy Taste. Sacramento, California

Please report your event to us roughly 2 months in advance. Simply send an e-mail to comments@TheVegetarianSite.com
Quote of the Month
"While there is a consensus that the meat industry has taken a heavy toll on the environment, few people agree on what to do about it." --Eliza Barclay, NPR, The Salt, 6/8/2014