Copyright © 2013 The Vegetarian Site, All Rights Reserved.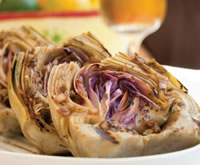 Grilled Baby Artichokes
Recipe from Grills Gone Vegan, ©2013 Tamasin Noyes. Reprinted with permission from Book Publishing Company, Summertown, Tennessee.
These luscious bites have a Mediterranean taste, thanks to the vibrant dressing. Nutritional yeast contributes a richness that balances well with the flavor from the grill.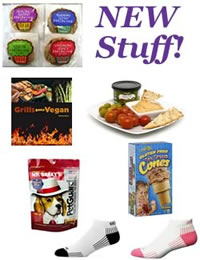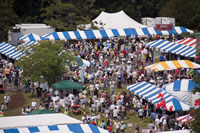 DRESSING INGREDIENTS:
1 shallot, minced
juice from 1/2 lemon
1 tablespoon minced capers
1 tablespoon balsamic vinegar
1 teaspoon nutritional yeast flakes

ARTICHOKES:
2 tablespoons distilled white vinegar
15 baby artichokes
1 tablespoon olive oil
1/4 teaspoon salt
pinch ground pepper
Makes 6 servings. Per serving: 94 calories, 6g protein, 2g fat, 17g carbs, 314mg sodium, 8g fiber.
DIRECTIONS:
To make the dressing, put all the ingredients in a small bowl and whisk to combine.

To prepare the artichokes, fill a medium bowl 2/3 full with cold water. Stir in the vinegar. Working with the artichokes one at a time, remove the outer leaves until you reach the inner yellowish leaves. Trim 1/2 inch off the top and cut off almost the entire stem, leaving just enough stem so the artichoke stays intact. Cut the artichoke in half lengthwise and scoop out the hairy core. Put each artichoke in the vinegar water immediately after preparing it to prevent browning.

Fill a medium saucepan 2/3 full with salted water and bring to a boil over high heat. Drain the artichokes and put them in the saucepan. Decrease the heat to medium-low and simmer uncovered until nearly tender, about 7 minutes. Drain well and transfer to a medium bowl. Drizzle with the oil and sprinkle with the salt and pepper. Toss gently until the artichokes are evenly coated.

Preheat a grill, grill pan, or electric grill to medium-high heat. Working in batches if necessary, put the artichokes on the grill cut-side down and cook
until marked, about 6 minutes. (If using an electric grill, keep it open and cook a few minutes longer if necessary.)

Transfer the artichokes to a bowl as they are cooked. While the artichokes are hot, pour the dressing over them, whisking it first if it has separated, and toss gently to coat. Serve hot or at room temperature.

New Vegan Products
Peruse our online store for several hundred ethically made vegan products and our quickly expanding selection of foods (all vegan). Here are a few of our newest additions. Your entire order still ships for just $5.
Try our new eco-friendly bamboo active sport socks available in men's and women's sizes and colors. Great for running, walking, active sports or everyday leisure wear. They're made in the USA.
Last month, we introduced the Elianni Organic Veggie Roll. This month, we have another excellent product from Elianni: their Organic Vegan Pate, available in five varieties. Delicious with crackers, chips, vegetables, and in sandwiches too.
Ready for a treat? Try MuffinCookies by Alternative Baking Company. Super-thick and absolutely delicious, these 4.25-ounce cookies have the flavors of your favorite muffins. Hand-made in small batches.
Gluten-free Natural Vegan Ice Cream Cones are perfect for holding your favorite vegan frozen desserts. They're low in calories without any artificial flavors, colors, or preservatives.
Move over meat! With Grills Gone Vegan, the new book by Tamasin Noyes, plant-based proteins, vegetables, and even fruits take center stage on the grill to bring out their rich, deep flavors.
See more new products or visit the main page of our online store anytime.
As always, each purchase directly supports nonprofit vegan and animal rights causes, as we continue to contribute a full 10% of our product sales to national and international organizations.

Unlike Animal Fats, Vegetable Oils Do Not Cause Inflammation
(redOrbit) -- There is no link between vegetable oil consumption and circulating indicators of inflammation typically associated with heart disease, cancer, asthma and arthritis, researchers from the University of Missouri and the University of Illinois found in a recently published study. Professor Kevin Fritsche asserts, "We're not saying that you should just go out and consume vegetable oil freely. However, our evidence does suggest that you can achieve a heart-healthy diet by using soybean, canola, corn and sunflower oils instead of animal-based fats when cooking." read more...
Canada Set to Ban Life-long Confinement of Pigs in Small Cages
(The Toronto Sun) -- According to the Canadian branch of Humane Society International, the National Farm Animal Care Council (NFACC) has designed a draft code of practice for the care and handling of pigs that it says will improve animal welfare in pork production nationwide in Canada. One of the key measures is eliminating the confinement of expectant pigs in gestation crates that don't allow the animals to even turn around. The new code of practice will take effect in 2014. read more...
Vegan Latinas: The Cultural Clash of Having a Vegan Lifestyle
(VOXXI) -- Vegan diets have become increasingly popular. As a slew of celebrities are stepping forward and openly embracing plant-based eating, more and more Latinas are following suit and coming out to their families: As vegans. "It's really hard to do," said Sandy Ordonez, 37, a New York Latina raised in Brooklyn by Cuban-Spanish parents. "My family thought I was crazy. They said I was 'una loca.' Veganism and vegetarianism in general is such a foreign concept to them that they simply could not understand why I was choosing to eat a different way." read more...
Keep up to date with more news related to animal rights and your vegetarian lifestyle.

Upcoming Events
June 22, Free to Be Party: A Night for the Animals. New York, NY.
June 27-30, Animal Rights 2013 National Conference. Washington, DC.
July 3-7, Vegetarian Summerfest. Johnstown, Pennsylvania.
July 6, Animal Liberation and Social Justice Conference. Canberra, Australia.
July 6-7, VegFest Colorado. Golden, Colorado.
July 13, Long Island Animal Rights and Vegfest. Huntington, New York.
July 21, Pop Up Taco Shop Vegan Taco Party. Portland, Oregon.
Aug. 2-4, Animal Rights Gathering 2013. Nottinghamshire, UK.
Aug. 3-17, Vegan Camp 2013. Kilkhampton, Cornwall, UK.
Aug. 10-11, Veggie Fest 2013. Naperville, Illinois.
Aug. 12, Tour d'Organics 2013. Sebastopol, California.
Please report your event to us roughly 2 months in advance. Thank You.

Quote of the Month
"Forests and meat animals compete for the same land. ... We are, quite literally, gambling with the future of our planet—for the sake of hamburgers."
—Peter Singer, Animal Liberation