Copyright © 2016 The Vegetarian Site, All Rights Reserved.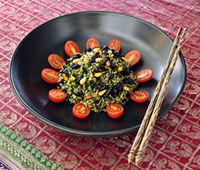 Lemon Rice with Kale and Mint
Copyright © 2016 Jo Stepaniak, MSEd, from Low-FODMAP
and Vegan. Reprinted with permission from Book Publishing Co.

With vivid, contrasting colors, this dish is a sight to behold. The aroma of mint and lemon will invigorate any sluggish appetite. This is a go-to choice on days when you want something fabulous but don't feel like getting too involved in the kitchen. It's also an excellent dish for company.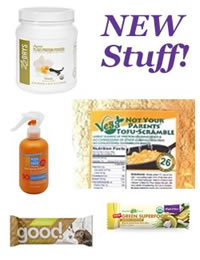 INGREDIENTS:
2 cups water
1 cup finely chopped kale, packed
1 cup white basmati rice
1 tablespoon extra-virgin olive oil
1 tablespoon garlic-infused olive oil
1 1/2 tablespoons dried spearmint
2 teaspoons lemon zest (optional)
1/4 teaspoon sea salt
3 tablespoons fresh lemon juice
1/4 cup chives (optional)
20 pitted kalamata olives, chopped
1/4 cup pine nuts, raw or toasted
16 to 20 grape tomatoes, halved



DIRECTIONS:
Put the water and kale in a medium saucepan (preferably nonstick) and bring to a boil over medium-high heat. Decrease the heat to medium, cover, and cook until the kale is tender, 5 to 8 minutes. Add the rice, olive oil, garlic-infused oil, spearmint, optional zest, and salt and stir to combine. Decrease the heat to low, cover, and cook until the water is absorbed and the rice is tender, 15 to 18 minutes. Remove from the heat and let rest, covered, for 10 minutes. Add the lemon juice and optional scallion greens and fluff with a fork until evenly distributed. Garnish each serving with one quarter of the olives and pine nuts. Arrange the tomatoes around the rim of each bowl with the bottom
points slightly submerged beneath the rice.


New Vegan Products This Month
We have more excellent new vegan products this month, a few of which are highlighted below. As always, each purchase directly supports nonprofit vegan and animal rights causes, as we continue to contribute a full 10% of our product sales at TheVegetarianSite.com to these important organizations.
Not Your Parents' Tofu Scramble Vegan Eggy Scramble
A delicious vegan substitute for scrambled eggs that's higher in quality protein and lower in fat. Enough for 13 "2-egg" scrambles per bag. It's a complete mix — all you need to add is water. Gluten-free and Kosher.

Kiss My Face SPF50 Water-Resistant Sunspray Lotion
Get hydrating defense with this easy-spray sunscreen lotion. An effective combination of broad spectrum protection, moisture rich Hydresia oleosomes made from safflower oil and Antioxidant defenders. Great for kids too.



IN THE NEWS...
Vegan Olympic Weightlifter to Represent USA in Rio
(BarBend) — Vegan now for nearly two years, Kendrick Farris will return to the Olympics once again, this time as a vegan athlete. In fact, Farris has moved up a weight class since his last Olympic Games, and at 94kg he set an American Record total at the 2016 Olympic Trials in Salt Lake City. read more...
North Dakota's First Ever Vegan Restaurant Set to Open
(KVRR) — The state's first vegan restaurant is set to open in Fargo in August. At the Red River Farmers Market, Chef Joey Haynes' current food stand, Green House Cafe, is already a hit. But in a few weeks, the cafe will be going from this temporary site to a permanent location. It will be an oasis for the relatively small but growing vegan community.
read more...
New Mayor Wants Turin to Become Italy's Vegetarian City
(The Independent) — Turin's new mayor has pledged to turn it into Italy's first vegetarian city by making the promotion of vegan and vegetarian diets a priority. In a manifesto, Chiara Appendino said vegan and vegetarian diets would be encouraged "to protect the environment, health and animals." read more...
Keep up to date with more news related to animal rights and your vegetarian lifestyle.

Upcoming Events
Aug. 7, VegFest WNY, Buffalo, New York
Aug. 13-16, Satvik Vegan Festival, Karnataka, India
Aug. 14, Tour D'Organics, Sebastopol, California
Aug. 20, Bethlehem Vegfest, Bethlehem, Pennsylvania
Aug. 20-21, Engine2 Plant-Stock, Claverack, New York
Aug. 20-21, Farm Sanctuary's Country Hoe Down, Watkins Glen, NY
Sep. 9-11, Veg Food Fest, Toronto, Ontario, Canada
Sep. 10, MFA Hidden Heroes Gala, Los Angeles, California
Sep. 26, Charlottesville Veg Fest. Charlottesville, Virginia

Please report your event to us roughly 2 months in advance. Thank You.

Quote of the Month
"The bullfighter dies
And nobody cries
Nobody cries
Because we all want the bull to survive"

—Morrissey, lyrics to The Bullfighter Dies (2014)