Copyright © 2015 The Vegetarian Site, All Rights Reserved.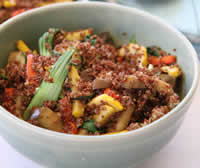 Inca Red Quinoa Stir-Fry
Recipe from There's a Vegan in the Kitchen: Viva la Vegan's Easy and Tasty Plant-Based Recipes, ©2014 Leigh-Chantelle. Book or eBook available at vivalavegan.net.
Try this special quinoa stir-fry if you're looking for a gluten-free, low-fat, complete protein entree. Works great as a side dish too, and putting it all together is very straightforward.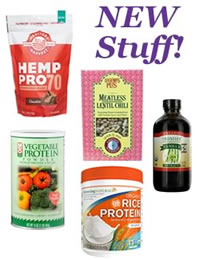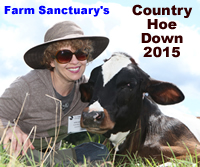 INGREDIENTS:
1 cup Inca red quinoa
2 cups filtered water
1 eggplant, thinly sliced
4 yellow squash, thinly sliced
1 zucchini, thinly sliced
1/2 red bell pepper, thinly sliced
bunch bok choy, coarsely chopped
2 garlic cloves, crushed
optional salt, to taste
DIRECTIONS:
Cook quinoa and water in saucepan until white rims form on the periphery of the grain (about 15 minutes, do not overcook). Saute garlic cloves in a small amount of water. Stir-fry eggplant, squash, zucchini and bell pepper until tender. Add bok choy, stir-fry until cooked. Combine with quinoa and serve! (Serves 3-4.)

TIPS ON COOKING QUINOA:
To remove any bitter taste, rinse the quinoa in a fine strainer before cooking it. Bring to a boil, then cover, reduce to simmer, and cook for roughly 15 minutes. Drain the quinoa well before using it in your recipe to prevent a watery dish.


New Vegan Items + Over 100 Products On Sale
With more new items coming in every week, here are a few product highlights:

30-Minute Lentil Chili by Legumes Plus
Delicious vegan chili is just 30 minutes away with this quick & easy version from Legumes Plus. Great flavor and nutrition with lots of protein (15g per serving) from hearty lentils make for the ultimate vegan chili. Makes 6 cups.

Fair Trade Certified Frontier Organic Vanilla Extract
Exclusively offered here, this is the big 8 oz. Certified Fair Trade version of the extra-rich and creamy Frontier Organic vanilla bean extract.

We're offering 3 new natural, non-GMO vegan protein options this month:

Manitoba Harvest Hemp Pro 70 Chocolate Protein -- 30% OFF!
We have the lowest price on the world's first easy-to-mix protein powder -- now available in chocolate. No blender required.


Growing Naturals Raw Organic Sprouted Brown Rice Protein Isolate Powder
This 1-lb. canister of easily blended powder is the first to use sprouted whole grain brown rice protein isolate, a 90% rice protein. Delicious, smoothest rice protein available. Choose from Original, Vanilla, or Chocolate.

Vegetable Protein Powder by MLO (16 oz.)
MLO Vegetable Protein combines soy with the finest vegetable protein sources, resulting in a high-quality, vegan, mild-tasting protein mix.

Over 100 Vegan Products On Sale Right Now!
Summer is a great time to save here on a big selection of foods, supplements, personal care items, footwear, books, DVDs, and more.
Visit the main page of our online store anytime, and do let us know if there are any favorite vegan products that you'd like to see added to our offerings.
As always, each purchase directly supports nonprofit vegan and animal rights causes, as we continue to contribute a full 10% of our product sales to these important organizations.

CDC: 87% of Americans Do Not Eat the Recommended Quantity of Vegetables
(CDC MMWR) -- According to the Centers For Disease Control, 87% of Americans consume too few vegetables and 75% are too low on fruit as well. Eating more fruits and vegetables adds nutrients to diets, reduces the risk for heart disease, stroke, and some cancers, and helps manage body weight when consumed in place of more energy-dense foods. read more...
Vegan Ultrarunner Scott Jurek Breaks Speed Record on Appalachian Trail
(Washington Post) -- It took him 46 days, 8 hours and 7 minutes to finish the 2185-mile trail, besting the previous speed record for the trail by a 3-hour margin -- all despite a muscle tear that slowed him down. read more...
High Consumption of Livestock Products Could Have Serious Consequences for People and Environment
(Science Daily) -- A recent journal article emphasizes that the demand for livestock-based foods has increased significantly worldwide over the last few decades. "Over the coming years livestock product consumption could soar as more people become wealthier," says co-author Tim O'Riordon. "A vital role for science is to inform and help consumers to switch to healthier non-livestock related diets." As incomes continue to rise and urbanization continues to occur, meat consumption will continue to grow at an alarming rate. The authors urge that a "diet-altering awareness" is needed to placate both environmental and individual health concerns. read more...
Keep up to date with more news related to animal rights and your vegetarian lifestyle.

Upcoming Events
July 20 - Aug. 3, Vegan Camp, Mersea Island, Essex, UK
July 25, Compassionfest, Hamden, Connecticut
July 25, Plant-Powered Health & Fitness, Berkeley, California
July 26, First Annual VegVoyage, Cleveland, Ohio
July 30 - Aug.2, Animal Rights 2015 National Conference, Washington, DC
Aug. 2, VegFest WNY, Buffalo, New York
Aug. 9, Tour D'Organics, Sebastopol, California
Aug. 15-16, Veggie Fest 2015, Lisle, Illinois
Aug. 15-16, Engine2 Plant-Stock, Claverack, New York
Aug. 15-16, Farm Sanctuary Hoe Down, Watkins Glen, New York
Aug. 22, Bethlehem Vegfest, Bethlehem, Pennsylvania
Aug. 29, Mercy For Animals Gala, Los Angeles, California
Sep. 11-13, Veg Food Fest, Toronto, Ontario, Canada
Sep. 26, Charlottesville Veg Fest. Charlottesville, Virginia

Please report your event to us roughly 2 months in advance. Thank You.

Quote of the Month
"People who care about animals tend to care about people. They don't care about animals to the exclusion of people. Caring is not a finite resource"

—Jonathan Safran Foer, Eating Animals