Copyright © 2013 The Vegetarian Site, All Rights Reserved.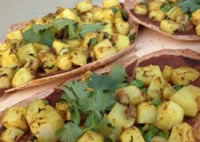 Samosa Pizzas with Tamarind Date Chutney
Recipe from The Sexy Vegan's Happy Hour at Home, ©2013 Brian Patton. Published with permission from New World Library.
Visit your local (or internet) Indian market for a few of the ingredients needed to prepare these special pizzas.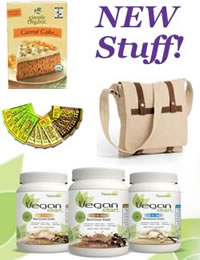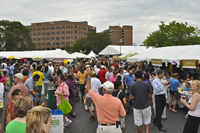 PIZZA INGREDIENTS:
1.5 lbs. potatoes, peeled & quartered
3 tablespoons extra-virgin olive oil
1/2 teaspoon ground coriander
juice of 1/2 lime
2 scallions, thinly sliced
pinch Indian chili powder or cayenne
salt and black pepper
1 tsp. minced peeled fresh ginger
1/4 teaspoon cumin seeds
1/4 teaspoon fennel seeds
1/2 teaspoon asafetida
2 garlic cloves, minced
1/2 cup frozen peas, thawed
1 tablespoon chopped cilantro
five 6-inch chapatis or tortillas
Tamarind Date Chutney (see below)

TAMARIND DATE CHUTNEY:
24 medjool dates
1 cup water
1 teaspoon tamarind paste
1 teaspoon agave nectar
1/2 teaspoon garam masala
1/4 teaspoon amchoor
1/4 teaspoon turmeric
1/8 tsp. Indian chili or cayenne
DIRECTIONS - PREPARE THE CHUTNEY FIRST:
Remove pits and roughly chop the dates. In a small saucepan, combine all the ingredients and bring to a simmer over medium heat. Simmer for 10 minutes, or
until the dates are very soft. Transfer the mixture to a blender or food processor, and puree for 30 seconds, or until smooth.
MAKE THE PIZZAS:
In a medium pot, cover the potatoes with cold water and bring to a boil. Boil for 5 to 7 minutes, or just until fork-tender. Drain and let cool. Cut into bite-size pieces and transfer to a bowl. Toss the potatoes with one tablespoon of olive oil, the coriander, lime juice, scallions, chili powder, and a good pinch of salt and black pepper.

In a large skillet, heat the remaining 2 tablespoons oil over medium heat. Add the ginger, cumin seeds, fennel seeds, and asafetida, and cook for 2 minutes. Add the garlic and cook, stirring often, for 2 more minutes. Add the potatoes and cook for 3 to 4 minutes, stirring occasionally. Add the peas and cilantro, and cook for 1 more minute, or until heated throughout. Transfer the potato mixture to a bowl and set aside.

Line a baking sheet with parchment paper. Lay the chapatis or whole wheat tortillas on the baking sheet. Spread the Tamarind Date Chutney on them, just as you would a pizza sauce, and top with the potato mixture. Bake for 5 to 7 minutes, or until the edges and bottom of the chapatis become crisp. Optionally, serve with a mint chutney and garnish with cilantro sprigs.

New Vegan Products
Peruse our online store for several hundred ethically made vegan products and our quickly expanding selection of foods (all vegan). Here are a few of our newest additions. Your entire order still ships for just $5.
The Ecolution Organic Hemp Field Bag is a top-quality, European-made bag constructed of heavyweight, water-resistant hemp. Attractive and
practical with zippered compartments and an adjustable shoulder strap.
Everything you need, nothing you don't in the new VeganSmart All-in-One Shakes for Optimal Health: Whole Food Complex, 20 grams Non-GMO Protein, Vitamins, Minerals, Omega 3, Probiotics, 6 grams Dietary Fiber, Digestive Support, nothing artificial, soy-free, gluten-free. Available in creamy Vanilla, delicious Chocolate, and tasty Chai. Just perfect.
It's simple to make delicious vegan carrot cake with Simply Organic Fair Trade Carrot Cake Mix. Just add water, grated carrots, and a little applesauce with your favorite egg replacer. It's a gluten-free, whole-grain mix.
Get your kids hooked on Kid's Organic Food Bars, the certified organic, nutritious, pure and unprocessed snack bars. Outrageously good and amazingly healthy. Choose from Chocolate Brownie Crunch, Apple Pie, or Cherry Pie.
See our complete selection of vegan nutrition bars, including protein bars, energy bars, whole food bars, and some deeply discounted closeouts from Larabar, Clif, PureFit, Nugo, and others.
See more new products or visit the main page of our online store anytime.
As always, each purchase directly supports nonprofit vegan and animal rights causes, as we continue to contribute a full 10% of our product sales to national and international organizations.

Medical Research on Animals Often Biased and Irrelevant, Scientists Warn
(Raw Story Media) -- Medical research that uses animals to test therapies for human brain disorders is often biased, claiming positive results and then failing in human trials, Stanford University researchers said Tuesday. "Biases in animal experiments may result in biologically inert or even harmful substances being taken forward to clinical trials, thus exposing patients to unnecessary risk and wasting scarce research funds." read more...
Harvard Study Links Red Meat Consumption and Type 2 Diabetes
(Pittsburgh Post Gazette) -- Science already has identified red meats -- beef, lamb and pork -- and processed meats as contributors to cardiovascular disease, including heart attacks and strokes, as well as colon cancer. But a recent study by the Harvard School of Public Health says a new look at the 123,000 people involved in a 20-year study ending in 2006
finds elevated red meat consumption to be linked with an increase in diabetes. The study shows that increasing red meat intake of more than a half-serving per day for four years is associated with a 48 percent elevated risk of diabetes in the subsequent four years. read more...
Bullfighting Gored by Spain's Economic Woes
(Washington Post) -- In a time of government austerity, cash-strapped municipalities across Spain are abandoning financial support for festivals involving bullfights and running of bulls, disrupting a chain of economic activity from breeders and transporters to costume makers and bullfighters. Spanish bullfighting was already stung by growing opposition among animal rights activists as well as a ban on the sport that went into effect last year in the autonomous region of Catalonia, where anti-bullfighting feelings run deeper than anywhere else in Spain. read more...
Keep up to date with more news related to animal rights and your vegetarian lifestyle.

Upcoming Events
July 21, Pop Up Taco Shop Vegan Taco Party. Portland, Oregon.
July 26-27, Aotearoa Animal Rights Conference. Wellington, New Zealand.
Aug. 2-4, Animal Rights Gathering 2013. Nottinghamshire, UK.
Aug. 3-17, Vegan Camp 2013. Kilkhampton, Cornwall, UK.
Aug. 10-11, Veggie Fest 2013. Naperville, Illinois.
Aug. 12, Tour d'Organics 2013. Sebastopol, California.
Sept. 6-8, 29th Annual Vegetarian Food Festival. Toronto, Ontario, Canada.
Please report your event to us roughly 2 months in advance. Thank You.

Quote of the Month
"A man can live and be healthy without killing animals for food; therefore, if he eats meat, he participates in taking animal life merely for the sake of his appetite. And to act so is immoral."
—Leo Tolstoy, in Writings on Civil Disobedience and Nonviolence (1886)