Copyright © 2015 The Vegetarian Site, All Rights Reserved.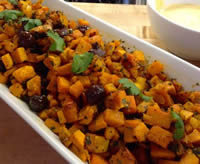 Butternut Squash with Chestnuts and Herb Sauce
©2014 Paulding & Company -- full catering kitchen based in San Francisco. Reprinted with permission.
This month's recipe is a tasty and healthful side dish packed with tons of flavor. The peeled chestnuts used here are available at specialty stores. But if you buy
fresh whole chestnuts, cut an X in one side and roast for about 15 minutes, until tender and skins have peeled back. Peel while piping hot (they are harder to peel when cooled).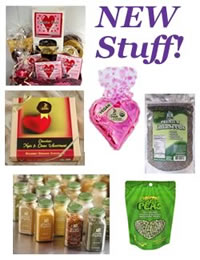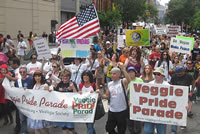 MAIN INGREDIENTS:
1 large butternut squash, about 3 lbs.
2 tablespoons extra-virgin olive oil
1 jar peeled chestnuts (8-10 oz.)
salt & freshly ground pepper

SAUCE INGREDIENTS:
1/8 cup coarsely chopped cilantro
1/8 cup coarsely chopped parsley
1 large garlic clove, minced
1/2 teaspoon paprika
1/2 teaspoon ground cumin
1/8 teaspoon cayenne pepper
salt to taste
1-2 tablespoons squeezed lemon juice
2 tablespoons extra-virgin olive oil

DIRECTIONS:
Preheat oven to 350°F. Top and tail the squash, halve it crosswise, put each piece flat-side down on the cutting board, and peel with a knife. Remove the seeds, then cut it into 1-inch cubes. Place in a large bowl, toss with the 2 tablespoons olive oil and season lightly with salt & freshly ground pepper. Spread on a parchment paper-covered sheet pan. Roast 20 minutes, until the squash is tender and starting to brown. Add the chestnuts, and roast an additional 5 minutes to warm them.

While the squash roasts, make the sauce by combining the ingredients in a food processor or suitable blender (start with the smaller amount of lemon juice, and
half a teaspoon of salt; you can always add more). Pulse to puree to a saucy consistency.
SERVING:
Toss the squash with the sauce as soon as it comes from the oven. Serve hot, warm or at room temperature as you wish. (Serves 12)


New Vegan Products and Valentine's Day Options
With Valentine's Day a couple of weeks away, now is a great time to order delicious vegan chocolates and gift baskets. We've also added some other excellent food items this month -- including 26 different Certified Organic spices and herbs! As usual, your entire order ships for just $5 within the 48-state contiguous USA. And worldwide shipping is always available too. Here are a few of our new offerings this month:
You'll be all set for a vegan Valentine's Day with your choice of Sjaak's Organic Fair Trade Chocolate Gift Boxes. Or if chocolates are not your thing, how about a Valentine's Day Bakery Gift Basket?
Snack with Raw Organic Freeze-Dried Just Peas. Equivalent to 1 lb. of fresh peas, grab a pack of these shelf stable green peas! Enjoy them as a crunchy snack right out of the bag, or add to soups, sauces, rice dishes or pasta. They make an excellent addition to stir-fries, or sprinkle them into salads of all kinds.
We now offer 26 Certified Organic Spices and Herbs from Simply Organic. These spices and herbs are of highest quality and are USDA Certified Organic. All come in heavy-weight glass jars. Prices range from $4.10 to $6.60.
Black Chia Seeds by GetChia are grown without the use of pesticides, and these nutritious seeds are simply one of the best sources of Omega3 fatty acids that nature provides. They're also packed with fiber, protein, minerals, and antioxidants. Perfect in hot cereals, rice dishes, smoothies, etc. Generous 1-lb. bag at a nice price.
See our other recent product offerings or visit the main page of our online store anytime. And be sure to check our big list of items on sale and closeouts too.
As always, each purchase directly supports nonprofit vegan and animal rights causes, as we continue to contribute a full 10% of our product sales to these important organizations.

Vegan Options Invade Fast Food Counter, American Beef Consumption Plummets
(TheStreet Inc.) -- The American hunger for meat, especially beef, is abating for the first time in living memory. Now vegetables are claiming more space in an unexpected place: the fast food counter, with White Castle and Chipotle heavily promoting new vegan entrees. The new options come as Washington and the United Nations are pushing plant-based diets to save the environment and lower health care costs. The restaurant chains, however, say they're just answering consumer demand with new products. read more...
Study Links Consumption of Whole Grains to Longer Lifespan
(LA Times) -- Despite the popularity of such grain-eschewing diets as the Paleo and the gluten-free craze, a new study has found that people who eat a whole grain-rich diet live longer. In fact, eating more whole grains may decrease people's risk of death by up to 15%, particularly from heart disease, according to a large new long-term study from the Harvard School of Public Health. read more...
U.S. Federal Court Rules Industrial Livestock Operations Can Be Held Liable For Pollution From Manure
(Reuters) -- A U.S. federal court has ruled for the first time that manure from livestock facilities can be regulated as solid waste, a decision hailed by environmentalists as opening the door to potential legal challenges against facilities across the country. The district court ruling, if upheld, could affect any large livestock facility that produces more manure than it can responsibly manage, including poultry, beef and hog farms. read more...
Keep up to date with more news related to animal rights and your vegetarian lifestyle.

Upcoming Events
Feb. 1, San Diego Veg Festival, San Diego, California
Feb. 21, VSEP Dinner with Erica Meier, El Paso, Texas
Mar. 1, Vegan Street Fair, Los Angeles, California
Mar. 7, Northeast Florida VegFest, Jacksonville, Florida
Mar. 14-15, NYC Vegetarian Food Festival, New York City, NY
Mar. 14-21, Holistic Holiday at Sea, Miami, Florida
Mar. 20, Great American MeatOut (various events)
Mar. 21-22, Vegfest 2015, Seattle, Washington
Mar. 27-29, Healthfest 2015, Marshall, Texas
Mar. 28, Valley Vegfest, Northampton, Massachusetts
Mar. 28-29, VegFestUK. Brighton, U.K.
Mar. 29, Veggie Pride Parade, New York City, NY

Please report your event to us roughly 2 months in advance. Thank You.

Quote of the Month
"Eating a plant-based diet will end heart disease. If you eat to save your heart, you can cut health care costs and save yourself from other diseases of nutritional extravagance: strokes, hypertension, obesity, osteoporosis, adult-onset diabetes, and cancer."
—Caldwell B. Esselstyn Jr, surgeon and former Olympic rowing champion, 21-Day Vegan Kickstart