Copyright © 2014 The Vegetarian Site, All Rights Reserved.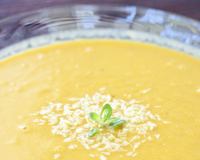 Indian-spiced Coconut Yam Soup
from The Karma Chow Ultimate Cookbook, ©2012 Melissa Costello and published by HCI Books. Reprinted with permission.
A delicious and wonderfully creamy, Indian-inspired soup made with garnet yams, carrots, onions, celery, garlic, and coconut milk. (For a 70% lower fat version, substitute light coconut milk.)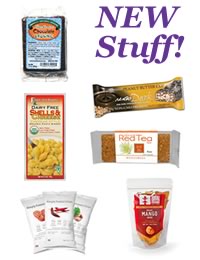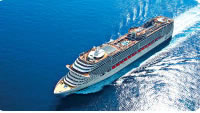 INGREDIENTS:
1 tablespoon coconut oil or olive oil
1 teaspoon fresh ground ginger
3 garlic cloves, minced
2 celery stalks, diced
1 medium yellow onion, diced
2 teaspoons garam masala
3 large carrots, diced
3 large garnet yams, peeled & cubed
4 cups vegetable broth
1 15-ounce can coconut milk
sea salt and black pepper, to taste
ground cinnamon
DIRECTIONS:
Heat the oil in a large soup pot over medium heat and saute the ginger, garlic, celery, and onion until translucent and soft. Add the garam masala and stir to
combine in order to release the flavor of the spice. Add the carrots, yams, and vegetable broth. Turn the heat to high and bring to a boil, turn down to a
simmer, and cover. Simmer for 20 to 30 minutes or until the yams are soft. Remove from the heat and stir in the coconut milk. Puree using a hand blender until creamy smooth and season with salt and pepper to taste. Top with the cinnamon, to taste, before serving. Makes 6-8 servings.



New Vegan Products, and Sale Items Too
We've added a number of excellent new food items this month to our online vegan store, and many other favorites are on sale right now too. From vegan groceries to men's and women's footwear, it's ethical shopping at its best, and your entire order still ships for just $5.
Vegan Decadence Chocolate Brownies are wheat-free, low sodium, and made with organic oat flour. So wickedly rich that they had to be named Vegan
Decadence! An all-natural treat that's sweetened without processed sugar.
Organic Cheddar-Style Shells & Chreese® is the vegan version of a classic American comfort food! Pasta shells and cheddar-style Chreese® sauce mix. Quick, delicious, and soy-free.
The newest addition to the Equal Exchange Fair Trade line is a superb Organic Dried Mango, with a full, rich flavor. No sugar added and no preservatives. And give their Organic Wild Dried Apricots and Organic Dried Pineapple a try too.
We've added a couple more vegan nutrition bars to our growing selection. African Red Tea Live-Food Snack Bars are made with soaked and low-temperature dried ingredients, including fine almonds, coconut, pumpkin seeds, and figs, along with rooibos tea extract. NuGo Dark Chocolate Peanut Butter Cup Nutrition Bars taste like candy, but they have a healthy twist, including antioxidant-rich real dark chocolate plus 10 grams of complete protein. Browse all of our protein, energy, and nutrition bars to find the ones that are right for you.
In the vegan candy bar realm , we've added another flavor of the Crispy Cat Organic Candy Bars -- Chocolate Mint Coconut!
Plenty of popular vegan items are ON SALE this month, from foods to personal care products, bags, apparel, and more. Get this month's special sale prices on these foods: Dandies Marshmallows, The Vegg Vegan Egg Yolk Mix, Orgran Buckwheat Pasta Spirals, Biena Roasted Chickpea Snacks, Elianni Organic Veggie Roll, Let's Do Gluten-Free Ice Cream Cones, and more.
See more new products or visit the main page of our online store anytime.
As always, each purchase directly supports nonprofit vegan and animal rights causes, as we continue to
contribute a full 10% of our product sales to these important organizations.

Cost of Consuming Seafood is Mass Killing of Dolphins, Seals, Sea Lions, Whales
(NRDC) — In order to put wild-caught seafood on dinner tables, more than 650,000 marine mammals are killed or seriously injured every year in foreign fisheries after being hooked, entangled or trapped in fishing gear, according to a new report issued by the Natural Resources Defense Council. A full 91% of seafood consumed in the U.S. is imported and nearly every foreign fish product sold in the U.S. violates a federal marine mammal protection law. The wild-caught seafood most enjoyed by Americans – shrimp, tuna, crab, lobster, and salmon – present a particularly significant risk to marine mammals due to the dangerous fishing practices associated with them abroad. read more...
US News & World Report Ranks Meat-Heavy Dukan and Paleo Diets Dead Last
(The Week) — For those uninitiated in the way of the "caveman diet," the goal is to eat like the hunters and gatherers of the Paleolithic era. To understand why the Paleo diet ranked dead last among U.S. News' group of health and medical experts, it's worth first noting the criteria they used: A good diet must be effective at weight loss, safe, reasonably easy to follow, nutritious, and protective against diabetes and heart disease. Paleo scored pretty low on all these metrics, from 1.7 (out of 5) on long-term weight loss and ease of use to a high of 2.3 for safety. read more...
Reduction in Livestock Key to Curbing Climate Change
(Nanowerk) -- While climate change negotiators struggle to agree on ways to reduce CO2 emissions, they have paid inadequate attention to other greenhouse gases associated with livestock, according to an analysis by an international research team. Cutting releases of methane and nitrous oxide, two gases that can trap even more heat than CO2, should be considered alongside the challenge of reducing fossil fuel use. read more...
Keep up to date with more news related to animal rights and your vegetarian lifestyle.

Upcoming Events
Jan. 25, Plant-Powered Health & Fitness Expo. Berkeley, California.
Jan. 31, Raw Living Expo. Thousand Oaks, California.
Jan. 31, Wholistic Fitness Retreat. NSW, Australia.
Feb. 22-23, Vegan Fusion Workshop, Boca Raton, Florida.
Mar. 1-2, NYC Vegetarian Food Festival. New York, New York.
Mar. 1-8, Holistic Holiday at Sea. from Miami, Florida
Please report your event to us roughly 2 months in advance. Thank You.

Quote of the Month
"I think the rapidly growing tendency to regard animals as born for nothing except slavery to so-called humanity absolutely disgusting." —Sir Victor Gollancz (1893-1967), author & publisher