Copyright © 2013 The Vegetarian Site, All Rights Reserved.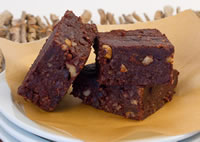 Raw Vegan Black Forest Cherry Brownies!
(requires: food processor and dehydrator) Recipe reprinted with permission from RAW FOOD FOR DUMMIES ©2012. Published by Wiley.
Loaded with healthy Omega 3 fatty acids, raw walnuts serve as the base for these delicious brownies.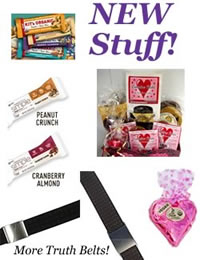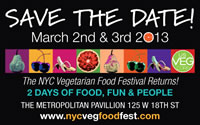 INGREDIENTS:
2 1/4 cups raw walnuts, divided
1/4 cup plus 2 tablespoons pitted and packed dates
1/4 cup plus 2 tablespoons raw cacao powder (or carob)
1 teaspoon cherry extract
1/4 cup chopped unsweetened dried cherries
3 tablespoons filtered water
Note: Store the brownies in an airtight container in
the refrigerator for up to 1 week or in the freezer
for 3 months. (Follow Raw Food For Dummies on Facebook for more information on upcoming tour dates, recipes, and daily tips.)
DIRECTIONS:
1) Soak the walnuts for 4 to 8 hours. Rinse and drain. Dehydrate at 105 degrees for 8 to 12 hours.
2) Put 2 cups of walnuts in a food processor outfitted with the S-blade and grind them to the consistency of meal. Loosely separate the dates and add them to the food processor. Continue to process until the mixture is well combined.
3) Add the cacao powder and the cherry extract and process to mix. Transfer the brownie mixture to a large mixing bowl.
4) Chop the remaining 1/4 cup walnuts and add them and the cherries to the brownie mixture. Sprinkle with the water. Mix well with your hands.
5) Pack the mixture firmly and evenly into a 7-x-7-inch pan. Chill for at least 1 hour before slicing and serving. (Yields 8 brownies.)

New Vegan Products & Valentine's Day Sweets Too
Peruse our online store for several hundred ethically made vegan products. Here are a few of our newest additions.
The Seva belt will be your new favorite belt. It's completely adjustable, so it will fit any pants that you have. And it has a flat buckle, so you'll never have to worry about an unwanted bulge at the front of your stomach.
Introducing Kit's Organic Fruit and Nut Bar. With just a handful of ingredients, it's a delightful celebration of how delicious simple can be. It's gluten-free too. Try all four flavors. And while you're at it, check our huge selection of vegan nutrition bars.
Organic, all-natural, and shelf stable, Viana Jumbo Snack Sausages are the perfect high-protein, low-carb snack food. Eat it right out of the package -- no cooking required.


New Study Shows That Crustaceans, Such as Lobsters and Crabs, Do Feel Pain
(News Limited) -- Chefs may have to think twice before plunging live lobsters into a simmering pot, now that science appears to have concluded the long-standing debate. Lead researcher, Professor Bob Elwood of Queens University Belfast, cautions that the very extreme methods by which billions of such animals are being harvested for human consumption should be reconsidered. read more...
Fast Food Diet Linked to Childhood Asthma and Eczema
(BBC News) -- Eating fast food three times per week may lead to asthma and eczema in children, say researchers who have looked at global disease and dietary patterns. Data from more than 500,000 children in more than 50 countries suggest that poor diet may be to blame for rising levels of these allergy-related conditions. read more...
Berries Cut Women's Heart Attack Risk
(My Health News Daily) -- A study published in the journal Circulation involving 93,600 American women indicates that eating lots of strawberries and blueberries may reduce one's risk of a heart attack. Anthocyanins, natural compounds present in berries, may dilate arteries and prevent plaque buildup. read more...
Keep up to date with more news related to animal rights and your vegetarian lifestyle.

Upcoming Events
Jan. 28 - Feb. 1, Vegan Fusion Culinary Immersion. Maui, Hawaii.
Feb. 2-9, The Jazzy Vegetarian Cruise. Miami, Florida.
Feb. 10, Biggest Vegan Picnic at St Kilda Festival. St Kilda, Australia.
Feb. 14, A Night for the Animals. Portland, Oregon.
Feb. 15-17, Veggieworld. Wiesbaden, Germany.
Feb. 24-26, Int'l Congress on Vegetarian Nutrition. Loma Linda, California.
March 2-3, NYC Vegetarian Food Festival. New York, NY.
March 2-9, Holistic Holiday at Sea. Ft. Lauderdale, Florida.
Quote of the Month
"He was laying there and something struck me. Why do we call this fun to kill this creature who was as happy as I was when I woke up this morning." -- Marv Levy, Pro Football Hall of Fame coach, on hunting at age twelve.