Copyright © 2016 The Vegetarian Site, All Rights Reserved.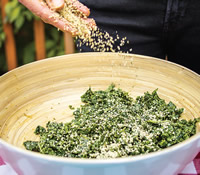 Only-Kale-Can-Save-Us-Now Salad
© 2015 Michelle Schwegmann and Josh Hooten, from Eat Like You Give A Damn: Recipes For The New Ethical Vegan. Reprinted with permission from Book Publishing Co.

There has never been a tastier way to get fresh, raw kale into your daily diet than with this amazing salad.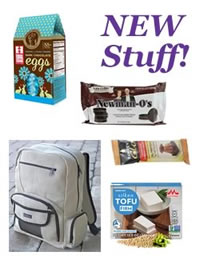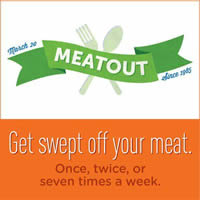 INGREDIENTS:
2 tablespoons tahini
2 tablespoons lemon juice
2 tablespoons reduced sodium tamari
2 tablespoons nutritional yeast
1 tablespoon flax meal
2 teaspoons onion granules
1 teaspoon garlic granules
1/4 cup water, plus more as needed
9 cups curly kale leaves
1/3 cup hemp seeds

KALE PREPARATION DIRECTIONS:
Before you get started, you'll need to clean and prepare the kale. Hold the stem of a kale leaf in one hand, and with your other hand pull the leaf up the stem. When you've removed all the leaves from the stems, tear the leaves into bite-sized pieces. Give the leaves a good bath in cold water, and spin them dry in a salad spinner.

DIRECTIONS FOR THE DRESSING:
Put the tahini, lemon juice, tamari, nutritional yeast, flax meal, onion granules, and garlic granules in a large bowl (large enough to accommodate the kale
leaves). Add the water and whisk to combine, adding more water if the dressing seems too thick (because tahini varies in consistency). Add the kale leaves to the dressing and mix using your hands. Don't be shy now! Rub the dressing into the kale and make sure to distribute it evenly. Sprinkle the hemp seeds over the top if desired (optional). Serve immediately or store in a covered container in the fridge for up to two days.



Newman O's Vegan Organic Chocolate Creme Cookies
Made with organic, all-natural ingredients and without hydrogenated oils or any animal byproducts, these Newman's Own vegan chocolate creme sandwich cookies are rich & delicious!

Hempmania Deluxe Large Hemp Backpack
Made of eco-friendly hemp canvas, this pack features a padded back and straps, a side water bottle compartment, and a side zip compartment. Large interior features ID window, zip pouch, and pen holders.

And don't miss... OUR BIG VEGAN PROTEIN SALE!
Up to 40% OFF items ranging from TVP, tofu, and meat analogs, to protein bars and protein powders too.
See our other recent product offerings or visit the main page of our online store anytime.
As always, shipping is just $5, and each purchase directly supports nonprofit vegan and animal rights causes, as we continue to contribute a full 10% of our product sales to these important organizations.

IN THE NEWS...
Vegetarians Save $700+ Per Year on Food Compared with Omnivores on Average
(Portland Press Harold) — Many vegetarians have heard a friend or family member say: "I'd like to go vegetarian, but it's
too expensive." But it turns out eating vegetarian is actually much more economical than eating meat. In a study published last year in the Journal of Hunger & Environmental Nutrition, researchers found that a meat-based diet in the US costs $53.11 per person per week compared to $38.75 for a plant-based diet. The study is based on foods that food pantry clients can typically obtain – not the expensive foods (grass-fed beef, free-range eggs) that people with more income can
afford. read more...
Meat Company Dumps More Pollution Into Waterways Each Year Than Exxon
(ThinkProgress) — Tyson Foods, one of the largest producers of meat in the world, is responsible for dumping more toxic pollution by volume into U.S. waters than companies like ExxonMobile and Dow Chemical, according to a new analysis from environmental advocacy group Environment America. read more...
The Lettuce Was Framed: A Salmonella (& Other Meat Byproducts) Explainer
(New Matilda) — Contaminated fresh veggies can get a bad rap, but salmonella comes from animal guts. Livestock and factory farms contaminate water by the millions and billions of gallons, and from time to time some plant food producer
fails to adequately protect their product against a pollutant that should be dealt with at its source. This contamination wouldn't be possible if the meat industry fully dealt with its waste. read more...
Keep up to date with more news related to animal rights and your vegetarian lifestyle.

Upcoming Events
Feb. 27-28, VegFestUK. Brighton, U.K.
Feb. 27 - Mar. 5, Holistic Holiday at Sea, Miami, Florida
Feb. 29, Battle of Brussels (Sprouts), New York City, NY
Mar. 5, Northeast Florida VegFest, Jacksonville, Florida
Mar. 11-13, Expo Manger Sante et Vivre Vert, Montreal, Canada
Mar. 13, IDA Vegan Spirituality Retreat, Wakulla Springs, Florida
Mar. 19-20, Expo Manger Sante et Vivre Vert, Quebec, Canada
Mar. 20, Great American MeatOut (various events)
Mar. 20, North Florida VegFest, Tallahassee, Florida
Mar. 20, Vegan Street Fair, Los Angeles, California
Apr. 1-3, Healthfest 2016, Marshall, Texas
Apr. 2, Texas VegFest, Austin, Texas
Apr. 2, Valley Vegfest, Northampton, Massachusetts
Apr. 9-10, Vegfest 2016, Seattle, Washington
Apr. 15-30, Worldwide Vegan Bake Sale
Apr. 24, VegFest Vegan Tastefest, Novi, Michigan

Please report your event to us roughly 2 months in advance. Thank You.

Quote of the Month
"The fisherman has now become one of the most ecologically destructive occupations on the planet.
Eating fish is for all intents and purposes - an ecological crime."

—Captain Paul Watson, Sea Shepherd Conservation Society. From the editorial, "We Need to Stop Eating the Oceans."