Copyright © 2014 The Vegetarian Site, All Rights Reserved.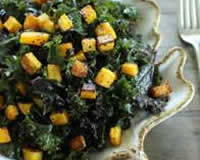 Rubbed Kale with Butternut Squash
©2013 PAULDING & CO - a full catering kitchen based in San Francisco. Reprinted with permission.
This healthy dish is wonderful warm or cold. What an enjoyable way to incorporate kale and squash into your diet!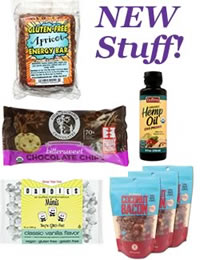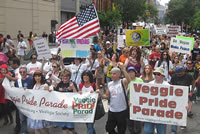 PRIMARY INGREDIENTS:
1 butternut squash (roughly 3 lbs.)
1 bunch very fresh kale
4 tablespoons extra-virgin olive oil
salt & freshly ground pepper

SAUCE INGREDIENTS:
1/8 cup chopped fresh cilantro
1/8 cup chopped fresh parsley
1 large garlic clove, minced
1/2 teaspoon paprika
1/2 teaspoon ground cumin
1/8 teaspoon cayenne, or to taste
salt to taste
2-3 Tbs. freshly squeezed lemon juice

DIRECTIONS:
Preheat oven to 350°F. Top and tail the squash, halve it crosswise, put each piece flat-side down on the cutting board, and peel with a sharp chef's knife. Remove the seeds with a spoon, and cut the squash into 1-inch cubes. Place in a large bowl, toss with 2 tablespoons olive oil and season lightly with salt & freshly ground pepper. Spread on a parchment-paper covered sheet pan. Roast 20-25 minutes, until the squash is tender and starting to brown.

While the squash roasts, strip the kale from it's ribs (easy to do by just running your fingers along the rib on both sides, bottom to top), wash it well, and cut
into fine ribbons. Mix with 2 tablespoons olive oil in a large bowl, and rub and massage the kale until it softens, about 2 minutes.

Make the sauce by combining the ingredients in a food processor. Pulse to puree to a saucy consistency. Combine with the softened kale. Finally, toss the hot squash with the sauce and kale, and serve. (Makes 12-15 sides.)


Nutiva's delicious Raw Organic Hemp Oil is cold-pressed and unrefined. Just like hemp seed, the oil has the ideal 3:1 omega-6 to omega-3 ratio.
Dandies Mini Marshmallows are the little brothers of the prize-winning Dandies marshmallows from Chicago Vegan Foods. Perfect for hot cocoa and for a quick sweet snack, they're gluten-free and made on dedicated vegan equipment.
We're having a SPECIAL SALE this month on dozens of foods and other products. SAVE 10% to 40%...
Elianni Organic Veggie Roll, Organic Food Bar, Non-dairy Yogurt Starter, GoMaxGo Candy Bars, Annie's Worcestershire, Yummy Earth Lollipops, Vegg 'Yolk' Mix, Hemp Pro 70, Dandies Marshmallows, California Suncakes, Gluten-Free Ice Cream Cones, Choc & Nut Spread, Buckwheat Pasta Spirals, Sjaak's Chocolate Bars, Dixie Soy Fudge Mix, and MORE.
Look for our fair labor vegan shoes on sale too, such as the Women's Vegetarian Shoes Olivia heels and the Men's Ethical Wares Kapital Office Shoe. Peruse all our men's and women's footwear to find what's just right for you.
See more new products or visit the main page of our online store anytime.
As always, each purchase directly supports nonprofit vegan and animal rights causes, as we continue to
contribute a full 10% of our product sales to these important organizations.

Kroger Sued for Labeling Factory Chickens as Raised in "Humane Environment"
(Reuters) — Kroger, the biggest U.S. supermarket operator, faces a lawsuit claiming that it deceived consumers by marketing a store brand as humanely raised chicken products when the animals were raised under standard commercial farming by Perdue. The case highlights the growing tension between food retailers and U.S. consumers, who have become more vocal over how food is produced and marketed. read more...
The Rise of the Vegan Lifestyle in Israel
(Green Prophet) — There's a huge new movement in Israel. Not politics. Food. Specifically, veganism. Of a country
totaling eight million people, an estimated 200,000 are now declared vegans. That's roughly 2.5 percent of the population. From animal abuse to food safety issues, the public has taken notice, and so have some major restaurants and chains. It also helps that some of Israel's widely available cuisine is already free of animal products, making the vegan transition not too difficult. read more...
FDA Continues to Allow Sale of High-Risk Antibiotics for Livestock
(Business Week) — The FDA has warned about the dangers of giving low doses of antibiotics to livestock since at least 1972. But efforts to clamp down on their use on the farm were mostly blocked by the livestock and pharmaceutical industries. A more recent FDA review of 30 antibiotics used in livestock found that more than half pose a significant risk of exposing humans to antibiotic-resistant bacteria. Yet compliance with the new FDA guidelines for antibiotic use in livestock remains largely voluntary. read more...
Keep up to date with more news related to animal rights and your vegetarian lifestyle.

Upcoming Events
Feb. 22-23, Vegan Fusion Workshop. Boca Raton, Florida
Feb. 28, Engine 2 Retreat. Phoenix, Arizona
Mar. 1, Cruelty Free Festival. Fremantle, Australia
Mar. 1-2, NYC Vegetarian Food Festival. New York City, NY
Mar. 1-8, Holistic Holiday at Sea. from Miami, Florida
Mar. 20, Great American MeatOut. (various events)
Mar. 29, Valley Vegfest. Northampton, Massachusetts
Mar. 29-30, Seattle Vegfest. Seattle, Washington
Mar. 29-30, VegFestUK. Brighton, U.K.
Mar. 30, Veggie Pride Parade. New York City, NY
Apr. 5, Texas VegFest. Austin, Texas
Apr. 6, Worcester VegFest. Worcester, Massachusetts
Please report your event to us roughly 2 months in advance. Thank You.

Quote of the Month
"We're vegan and we're making history by being on the right side of a socially accepted wrong "

—Butterflies Katz, The Vegan Truth