Copyright © 2013 The Vegetarian Site, All Rights Reserved.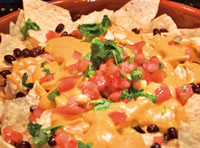 Nachos with Low-fat Vegan Chipotle Cheese Sauce
Recipe reprinted with permission from Artisan Vegan Cheese ©2012 Miyoko Schinner, Book Publishing Co., Summertown, Tennessee.
You won't have to feel guilty about eating nachos when you use this sauce, which is delectably creamy and gooey but nutritious and low in fat too. Pour the sauce right over your favorite chips, and add beans and salsa if you wish. No need to bake the nachos.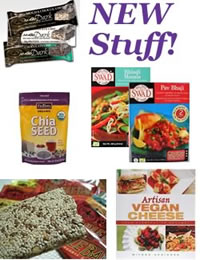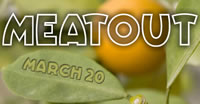 INGREDIENTS:
1 cup cooked and mashed butternut squash
3/4 cup plain, unsweetened non-dairy yogurt (such as Wildwood, WholeSoy or a home-made version)
3/4 cup water
1/2 onion, quartered
5 tablespoons nutritional yeast flakes
1/4 cup raw cashews
3 tablespoons tapioca flour
1/2 chipotle chile in adobo sauce, more as desired
1 teaspoon of salt

DIRECTIONS:
Put all the ingredients in a blender. Process until smooth and creamy, occasionally stopping to scrape down the blender jar and move the mixture toward the blades. Transfer to a heavy medium saucepan. Cook over medium heat, stirring frequently with a wooden spoon until thick and gooey (2 to 5 minutes).
The chipotle in adobo sauce in this recipe adds a wonderful smokiness that's balanced nicely by the sweetness of the butternut squash.
Makes about 3 cups or 12 servings. Per serving of sauce: 59 calories, 3g protein, 2g fat, 8g carbs. STORAGE: Keeps fresh for about 4 days in the refrigerator.

New Vegan Foods, Plus Vegan Shoes On Sale
Peruse our online store for several hundred ethically made vegan products. Here are a few of our newest additions. Your entire order still ships for just $5.
We now offer the biggest selection of vegan nutrition bars, including protein bars, energy bars, meal bars, and more at nice prices. Savings of up to 50% off retail prices on select bars. Mix and match single bars and flavors.
In that regard, we have two new offerings this month, and both are on sale. Organic vegan BumbleBar is the original organic, vegan, gluten-free, ethically sourced sesame bar. Still handcrafted in small batches by a company that follows the People, Planet, Profit business model. You'll also want to try NuGo Dark, the coated protein & nutrition bar made delicious by real dark chocolate.
We also have more new heat-and-eat Indian entrees. Try Bhindi Masala okra or Pav Bhaji potatoes and vegetables. See them in our Ethnic Foods section.
Nutiva Organic Chia Seeds are tiny nutritional powerhouses. These seeds were revered by the early Aztec and Mayan cultures and are making a strong comeback in the 21st century. They're packed Omega-3 (2500 mg per serving) plus fiber, protein, and minerals.
With the book Artisan Vegan Cheese, you can enjoy homemade nondairy cheeses that retain all the complexity and sharpness of their dairy counterparts while incorporating nutritious nuts and plant-based milks.
Vegan shoes on sale this month include the men's Ethical Wares Union Street and the women's Vegetarian Shoes Wombat. You might also take advantage of deep discounts on men's running & athetic shoes and women's too.
As always, each purchase directly supports nonprofit vegan and animal rights causes, as we continue to contribute a full 10% of our product sales to national and international organizations.

Undercover Filming of Animal Cruelty in Factory Farms Halted by Ag Gag Laws
(ABC News) -- Fearing arrest under laws pushed by the agriculture industry, animal rights activists have halted undercover camera investigations into animal cruelty in five farm states where the laws went into effect last year. Such videos have led to public outrage over horrific conditions and the cruel mistreatment of animals in farms across the country. read more...
Airline Animal Deaths Raise Concern
(NBC) -- After a five-month analysis of government documents, the NBC Bay Area Investigate Unit uncovered that in a six-year span, 302 animals have died, been injured, or have disappeared in the care of commercial airlines. Delta Airlines saw the most tragedies, followed by Alaska Airlines, American Airlines, Continental Airlines, and United Airlines, according to Air Travel Reports published by the Department of Transportation. How the animals were hurt or killed remains largely unknown. read more...
Unchecked Antibiotic Use in Livestock May Affect Global Human Health
(Science Daily) -- The increasing production and use of antibiotics, about half of which is used in animal production, is mirrored by the growing number of antibiotic resistance genes, effectively reducing antibiotics' ability to fend off diseases in animals and humans. read more...
Keep up to date with more news related to animal rights and your vegetarian lifestyle.

Upcoming Events
Feb. 24-26, Int'l Congress on Vegetarian Nutrition. Loma Linda, California.
March 2-3, NYC Vegetarian Food Festival. New York, NY.
March 2-9, Holistic Holiday at Sea. Ft. Lauderdale, Florida.
March 16-17, Vegfest UK. Brighton, England.
March 20 and other dates, Meatout 2003. Events worldwide.
March 23, The 26th Genesis Awards. Beverly Hills, California.
March 23-24, Vegfest 2013. Seattle, Washington.
April 6, Texas Vegfest. Austin, Texas.
Quote of the Month
"The risk of heart disease in vegetarians is about a third lower than in comparable non-vegetarians."
--Professor Timothy Key, Epidemiology Director, University of Oxford.