Copyright © 2016 The Vegetarian Site, All Rights Reserved.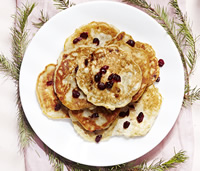 Banana Eggnog Pancakes
Copyright © 2016 Isa Chandra Moskowitz, from The Superfun Times Vegan Holiday Cookbook. Reprinted with permission from Little, Brown & Company.

A special seasonal touch on vegan banana pancakes, this recipe won't disappoint. (Since vegan eggnogs vary from brand to brand and some are thinner than others, you might have to play with the pancake batter a little, adding a tablespoon of extra flour or a splash of extra liquid to get the right consistency. Don't sweat it.)



INGREDIENTS:
2 very ripe medium bananas
1 1/4 cups vegan eggnog
2 tablespoons canola oil
2 teaspoons apple cider vinegar
1 teaspoon pure vanilla extract
1 cup all-purpose flour
2 1/4 teaspoons baking powder
1/2 teaspoon grated fresh nutmeg,
— plus extra for sprinkling
1/4 teaspoon salt
refined coconut oil, for cooking

FOR SERVING:
banana slices
Fresh or dried cranberries
maple syrup



DIRECTIONS:
In a medium mixing bowl, mash the bananas with a small masher until they are almost pureed. Add the eggnog, canola oil, vinegar, and vanilla and set aside.

In a separate large mixing bowl, sift together the flour, baking powder, nutmeg, and salt. Make a well in the center and pour in the banana mixture. Use a fork to mix until a thick, lumpy batter forms. That should take about a minute. It doesn't need to be smooth; just make sure you get all the ingredients incorporated. Let the batter rest for 10 minutes.

Preheat a large nonstick pan (preferably cast iron) over medium-low heat. Lightly coat the pan with coconut oil. Add 1/3 cup of the batter for each pancake and cook until puffy, about 4 minutes. Flip the pancakes, adding a new coat of oil to the pan, and cook until golden brown, another 3 minutes or so.

Transfer the pancakes to a plate tented with aluminum foil while you cook the rest. Serve with sliced bananas, cranberries, and maple syrup.


7 Pages of Closeout Deals + New Vegan Products
Thank You for another very busy and successful holiday season here at The Vegetarian Site. Now it's year's end, a time at which we like to clear out some older inventory at deeply discounted prices, so please do take a look at our Closeout Deals! (before they're gone) As always, we ship worldwide, and shipping is just $5 within the contiguous USA.

and here are a few of our newest product offerings:

Equal Exchange Organic Fair Trade Dark Chocolate Bars
We now have four varieties of the best big dark chocolate bars in stock, and they're all on sale at 20% off. It's the lowest price anywhere on these vegan
chocolate bars, so stock up today.


IN THE NEWS...
Study Finds That Eating Meat Doesn't Make Athletes Any Stronger
(Men's Journal) — Vegetarian diets have so many proven health benefits, but will ditching meat tank your training? Not at all, finds a new Arizona State study, one of the first to answer this question. If you do vegetarianism right, you can build just as much cardiorespiratory fitness and strength. read more...
The Vegan Boss Who Followed His Heart and Made Millions
(BBC) — Follow your heart. It's easier said than done when it comes to business. But for entrepreneur Bob Goldberg, the name of his vegan food company - Follow Your Heart - is a constant reminder that it's possible to be profitable and stay true to your company's idealistic, founding principles. read more...
Homemade Versions of Store-Bought Cookies Are Better Than Their Originals
(One Green Planet) — There's nothing quite like relaxing at the end of the day with a hot cup of herbal tea and a cookie to
satisfy your sweet tooth. Going beyond the classic chocolate chip cookie, there are so many brand-name cookies that have become icons. Unfortunately, many of them are not vegan or they're very high in refined sugar – or contain other ingredients that we would rather avoid. Luckily, we can make vegan versions of any of our favorite cookies. read more...
Keep up to date with more news related to animal rights and your vegetarian lifestyle.

Upcoming Events
Jan. 6, ALDF's Animal Law Reception, San Francisco, California
Jan. 7-11, IVU World Vegfest, Buenos Aires, Argentina
Jan. 9-13, Vegan Fusion Cooking Immersion, Kauai, Hawaii
Jan. 14-15, Sedona VegFest, Sedona, Arizona
Jan. 22-29, b.alive! Raw Food Retreat, Bali
Jan. 27-29, Tulum Vegan Fest, Tulum, Quintana Roo, Mexico
Jan. 28-29, Arizona Vegetarian Food Festival, Scottsdale, Arizona
Jan. 29, SWFL Veg Fest, Fort Myers, Florida

Please report your event to us roughly 2 months in advance. Thank You.

Quote of the Month
"The problem is that humans have victimized animals to such a degree, that they aren't even considered victims. They aren't even considered at all. They're nothing. They don't count, they don't matter, they're commodities like TV sets and cellphones. We've actually turned animals into inanimate objects – sandwiches and shoes."

—Gary Yourofsky, vegan activist and lecturer