Copyright © 2015 The Vegetarian Site, All Rights Reserved.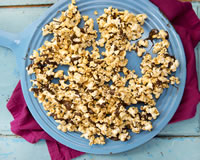 Peanut Butter Cup Popcorn
©2015 Nicole Axworthy and Lisa Pitman, from: DIY VEGAN: More Than 100 Easy Recipes to Create an Awesome Plant-Based Pantry. Reprinted with permission from the publisher, St. Martin's Griffin.
A decadent vegan peanut butter cup popcorn that's sure to please. Fluffy popcorn, in a sweet peanut butter coating, drizzled with a ribbon of dark chocolate. Makes 8 cups.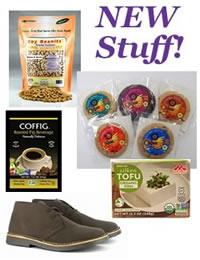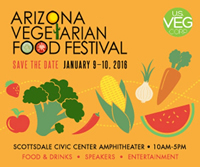 INGREDIENTS:
2 tsp. + 2 tbsp. coconut oil
1/2 cup popcorn kernels
1/4 cup smooth nat. peanut butter
2 tablespoons pure maple syrup
1/2 teaspoon sea salt
1 teaspoon pure vanilla extract
1/2 cup vegan chocolate chips
DIRECTIONS:
1- Preheat the oven to 300°F. Line two baking sheets with parchment paper.
2- In a large pot over medium-high heat, combine two teaspoons of the coconut oil and the popcorn kernels. Cover the pot and shake it back and forth across the burner to keep the kernels moving. Listen for the popping sound to slow down (3 to 5 minutes) then quickly pour the popcorn into a large bowl.
3- In a small saucepan, melt the remaining two tablespoons coconut oil, the peanut butter, maple syrup, and salt over medium-low heat; stir to combine. Remove from the heat and add the vanilla extract. Drizzle the mixture evenly over the popcorn and stir to coat.
4- Spread the popcorn over the prepared baking sheets. Bake for 15 minutes.
5- Melt the chocolate chips using a double boiler. Drizzle the chocolate over the cooling popcorn. Transfer to the fridge to finish cooling, at least 30 minutes. Once completely cool, store in an airtight container at room temperature for up to 7 days.



New Vegan Products + Year End Clearance Sale
With the new year approaching, we're clearing out plenty of inventory. Grab
30-70% off 90 different products, ranging from foods, to shoes, to books and
DVDs right here.

We have more new grocery items to announce this month, as we continue to expand our selection. Here are a few of our newest additions:

Gluten-Free Alternative Baking Company Vegan Cookies
Enjoy a traditional bakery cookie taste with Alternative Baking Company's gluten-free line of vegan cookies. These cookies are made in small, handmade batches. The result is a very special cookie that is decadently good.

Coffig Roasted Fig Coffee Alternative
Here's a new coffee alternative that's made only of 100% black mission figs that are roasted and powdered. Brew and serve like regular coffee. Caffeine-free.


Mori-Nu Organic Firm Silken Tofu
This firm silken tofu is Certified Organic and Certified Gluten-Free. It's versatile for entrees and salads and is excellent for creamy desserts. Does not need refrigeration until the package is opened. High in protein and low in fat.

Onion & Garlic Soy Beanits Soy Nuts
An addictive, healthy and crunchy protein snack. Excellent all-natural onion and garlic flavor with a touch of salt. Much lower in fat and more abundant in high-quality protein than any type of nut. Made with non-GMO soybeans, of course!

Visit the main page of our online store anytime. As always, shipping is just $5, and each purchase directly supports nonprofit vegan and animal rights causes, as we continue to contribute a full 10% of our product sales to these important organizations.



IN THE NEWS...
Famed French Chef Alain Ducasse Removes Meat from the Menu in Paris
(The Independent) — "There is an absolute necessity to go towards a better way of eating, in harmony with nature," said the world renowned chef. Although fish remains on the menu, this move is still quite remarkable for the chef, who has
spent decades preparing dishes heavy on meat and poultry, including foie gras, veal, and all the rest. read more...
Antibiotic Use in Meat Increased Despite FDA Guidelines and Industry Promises
(HNGN) — The sales of antibiotics for livestock use has risen in the past few years, raising concerns about the increasing health risk associated with the emergence of antibiotic-resistant bacteria. Although many companies have
promised to cut the use of antibiotics in meat, a new report published by the FDA revealed that antibiotic use in agriculture has actually gone up by 23 percent from 2009 to 2014. read more...
Only 4% of Americans Are Eating Enough Vegetables
(SF GATE) — When it comes to eating vegetables, Americans aren't dong much better than your average school kid. Only 4 percent meet their daily required consumption of veggies, according to the National Fruit and Vegetable Alliance. And the problem appears to be getting worse: The average consumption of vegetables, which excludes fried potatoes, declined by 6 percent during the past five years. read more...
Keep up to date with more news related to animal rights and your vegetarian lifestyle.

Upcoming Events
Dec. 31, London New Year's Eve Vegan Party, London, England
Jan. Veganuary (Vegan January pledge), Worldwide
Jan. 8, ALDF's Annual Animal Law Reception, New York, NY
Jan. 9-10, Arizona Vegetarian Food Festival, Scottsdale, Arizona
Jan. 24-31, b.alive! Raw Food Retreat, Bali
Feb. 6-7, Vegan Fusion Cooking Immersion, Miami Beach, Florida

Please report your event to us roughly 2 months in advance. Thank You.