Copyright © 2014 The Vegetarian Site, All Rights Reserved.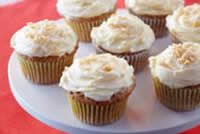 Vegan Ginger Spiced Tofu Cupcakes
©2014 House Foods America. Reprinted with permission (and with minor revisions).
Cupcakes are an indulgent dessert, but they can be made healthier and lighter with all the same great taste by using half whole wheat pastry flour and tofu to replace the eggs and some of the fat.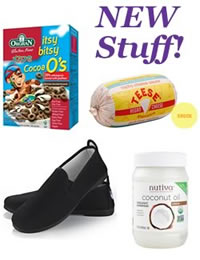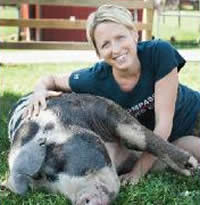 INGREDIENTS:
7 oz. soft/silken tofu (~ 1/2 package)
2 teaspoons vanilla extract
1/3 cup vegetable oil (canola or other)
1 1/4 cups raw or vegan sugar
3/4 cup all-purpose flour
3/4 cup whole wheat pastry flour
2 teaspoons baking powder
1/2 teaspoon baking soda
1/2 teaspoon salt
2 teaspoons ground cinnamon
1 tablespoon ground ginger
1/4 teaspoon ground cloves
DIRECTIONS:
Preheat oven to 350F. In a food processor, puree tofu, vanilla and oil until smooth. Once combined, add dry ingredients and pulse a few times. With a spatula, scrape sides and bottom of food processor. Pulse a few more times. In a cupcake pan lined with wrappers, scoop in batter and bake for 20 minutes, or until done.
SERVING:
Once done, let cupcakes cool in pan, then top with your favorite vegan frosting. They're delicious without the frosting too! (Makes 12-14 cupcakes.)


New Vegan Products + Plenty of Savings
We've added new fair labor shoes and tasty food items too! And in our sale section you'll find plenty of superb deals. Your entire order still ships for just $5.
Here area few of our new offerings this month:

Pop Village natural fiber shoes -- Men's and Women's: It's the footwear brand born out of the UK music scene with the goal of making comfortable, easy & unique shoes that are ideal for long days at festivals and long nights at gigs. These casual canvas shoes are made with ethically sourced cotton and natural rubber. Fair Labor.

Teese Vegan Creamy Cheddar or Nacho Cheese Sauce: If you like the sliceable/shreddable Teese, we've also just added these creamy cheese sauces -- and they're on sale right now too!

Study: Eating Meat is Worse for the Environment Than Driving to Work
(Quartz) -- Next time you brag about biking to work instead of driving for the sake of the environment, take a good look inside your lunch box. According to a new report released by the London-based think tank Chatham House, livestock production accounts for more direct greenhouse gas emissions overall than all trains, ships, planes and road transportation
combined. Making up 14.5% of the global total, the livestock sector is responsible for more emissions than the entire United States, the world's largest economy." read more...
Argentine Orangutan Granted Unprecedented Legal Rights
(WJCL News) -- In a world first, a court in Argentina issued a historic and unprecedented ruling that favors the rights of an orangutan held in captivity. Sandra the orangutan was granted a legal action so she may be transferred to a habitat in keeping with her development. Argentina's Association of Professional Lawyers for Animal Rights filed a writ of habeas
corpus, a resource to avoid arbitrary arrests, on Sandra's behalf. Sandra, who has been living in captivity for the past 20 years at the Buenos Aires Zoo, was considered a "nonhuman being" and she was granted basic rights, such as life, freedom and a premise of "no harm" either physically or psychologically. read more...
Congress Won't Allow Food's Environmental Sustainability in Dietary Guidelines
(NPR) -- A government-appointed group of top nutrition experts, assigned to lay the scientific groundwork for a new version of the nation's dietary guidelines, decided earlier this year to collect data on the environmental implication of different food choices. But Congress now has slapped them down. read more...
Keep up to date with more news related to animal rights and your vegetarian lifestyle.

Upcoming Events
Jan. Veganuary (Vegan January pledge), Worldwide
Jan. 10, Arizona Vegetarian Food Festival, Scottsdale, Arizona
Jan. 10, Veg Speed Dating, San Francisco, California
Jan. 13, Legislating Farmed Animal Welfare, online course
Jan. 16, Vegan Fusion Cooking Immersion, Boca Raton, Florida
Jan. 23, V-Delicious, Berlin, Germany
Jan. 25 - Feb. 1, B.Alive Raw Foods Retreat, Bali
Feb. 1, San Diego Veg Festival, San Diego, California
Feb. 21, VSEP Dinner with Erica Meier, El Paso, Texas

Please report your event to us roughly 2 months in advance. Thank You.

Quote of the Month
"Cows produce milk for the same reason that humans do—to nourish their young—but calves born on dairy farms are taken from their mothers when they are just one day old and fed milk replacers so that humans can have the milk instead." —Mercy For Animals, Milk Is Cruel