Copyright © 2013 The Vegetarian Site, All Rights Reserved.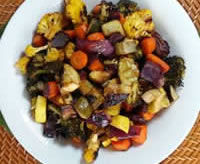 Roasted Vegetables with Balsamic Reduction
©2013 PAULDING & CO. — a full catering kitchen based in San Francisco. Reprinted with permission.
The vegetables for this dish can vary with the season, whatever you most like, and what is fresh in the market. The main thing is to make sure that each is roasted to the perfect point of doneness, which will take a few separate pans.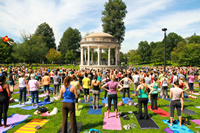 INGREDIENTS:
1/2 cup balsamic vinegar
1 small, firm globe eggplant
handful small sweet red peppers
2 ripe tomatoes, if in season
1 red onion or bunch spring onions
12 asparagus spears, if in season
2 medium zucchini
1 sweetpotato
and/or other vegetables of choice
1 portobello mushroom (optional)
salt & freshly ground pepper
extra virgin olive oil, as needed
2 tablespoons chopped Italian parsley

DIRECTIONS:
A day in advance, pour the balsamic vinegar into a shallow pan. Let sit uncovered at room temperature overnight. You will have thick balsamic syrup by morning! Pack this into a jar or squeeze bottle. If it's too thick, thin with a little bit more vinegar.
Prepare several baking sheets, by covering them with parchment and brushing the parchment generously with olive oil. Preheat oven to 375°F.
Cut vegetables into medium-thick slices. Leave portobello whole, but trim stem. Place tomatoes, onion and mushroom on one oiled sheet. Place eggplant on another oiled baking sheet with the peppers and asparagus. Place zucchini and sweetpotato slices on another sheet. Brush or drizzle all the vegetables with oil. Lightly salt each pan of vegetables, and put in the oven to roast.
Roast until vegetables are lightly golden. Eggplants should be soft, and tomatoes may become very soft. This should take from 15-25 minutes, depending on oven conditions and thickness of slices. Once the mushroom is done, slice it neatly.
Arrange vegetables into a "tapestry" on a platter. Before serving, dress with the balsamic and garnish with parsley. Makes 6 generous servings.


New Vegan Products and Holiday Gift Ideas
Below are a few of the newest additions to our online vegan store. And there's still time to find the right vegan gifts for the holidays. It's ethical shopping at its best, and your entire order still ships for just $5.
The Men's Boulder Boot is Vegetarian Shoes' top-of-the-line classic black
boot. Their Air-Seal cushioned street sole provides excellent shock absorption and insulation. The breathable uppers are made of Vegetan Micro, their highest quality, most water-resistant microfiber material. Superb!
The Women's Vintage Boot is a classic 'Derby' pattern lace-up boot by Vegetarian Shoes. Made from supple and soft-to-touch Vegetan Bucky material finished in black. Style with attention to detail. Hard resin soles with padded insoles make for a very pleasing boot-wearing experience.
For a delicious chocolate-peanut butter experience, try the new vegan "milk" chocolate with peanut butter Organic Fair Trade Bar by Sjaak's. It's on sale this month!
Need some more holiday gift ideas? Take a look at our high quality non-leather belts from Ethical Wares, Truth, Vegetarian Shoes, and Hempmania. We also carry an array of eco-friendly, stylish vegan bags and wallets. If you're looking for vegan gloves or eco-friendly clothing, scarves, etc., be sure to check out our clothing & accessories section. Or maybe a gift certificate is your best option, because they're on sale!
See more new products or visit the main page of our online store anytime.
As always, each purchase directly supports nonprofit vegan and animal rights causes, as we continue to contribute a full 10% of our product sales to national and international organizations.

Study Reveals Global Shift Toward Animal-based Diet Despite Decreasing Meat Consumption in Some Countries
(Nature) — The fast-growing economies of China and India are driving a global increase in meat consumption, canceling out decreases elsewhere, according to a comprehensive study of global food consumption. The work, published in Proceedings of the National Academy of Sciences, takes a detailed look at what people eat, as well as trends from one country to the next. It is also the first time that researchers have calculated humanity's trophic level, a metric used in ecology to position species in the food chain. Humans are not even close to the top of the food chain; that common notion is false. read more...
Elite Athletes Reveal the Vegan Diet Secret Behind Their Success
(News Limited) — Strongman Patrick Baboumian, marathon champion Brendan Brazier, and MMA fighter Mac Danzig are just three elite athletes who enjoy a plant-based diet and swear it is the secret behind their success. But it's not just a matter of omitting all animal products; it's the commitment to a highly nutritious and well-planned vegan diet that has led to their event winning and record-breaking feats. read more...
Animal Abuse on Hollywood Sets Covered Up by American Humane Association
(NPR) — You've probably seen the credit at the end of a movie - no animals were harmed in the making of this motion picture. Well, according to an investigative report titled Animals Were Harmed, that claim is meaningless. The article in The Hollywood Reporter says the group in charge of monitoring animal safety on sets, the American Humane Association, or AHA, is in cahoots with the film industry, accountable only to Hollywood itself. read more...
Keep up to date with more news related to animal rights and your vegetarian lifestyle.

Upcoming Events
Dec. 21, Preston Vegan Fair. Preston, Lancashire, England.
Dec. 21, Worcester Vegan Fair. Worcester, West Midlands, England.
Jan. 13, 10-Day Vegan Fusion Culinary Immersion. Miami, Florida.
Jan. 17-19, New Year New You Health Fest. Marshall, Texas.
Jan. 25, Plant-Powered Health & Fitness Expo. Berkeley, California.
Jan. 31, Raw Living Expo. Thousand Oaks, California.

Please report your event to us roughly 2 months in advance. Thank You.

Quote of the Month
"The major cruelties practiced on animals in civilized countries today arise out of commercial exploitation, and the fear of losing profits is the chief obstacle to reform." —C.W. Hume (1886-1981) author, speaker, and founder of UFAW