Copyright © 2016 The Vegetarian Site, All Rights Reserved.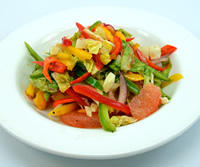 Citrus Fennel Mango Salad
Copyright © 2016 Executive Chef Anthony Stewart, Pritikin Longevity Center & Spa. Reprinted with Permission.

A summer salad that's as delicious as it is colorful, what a way to enjoy your healthy fruits and vegetables! Serves 8.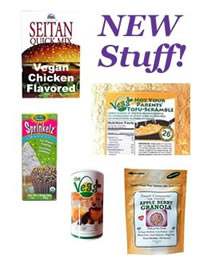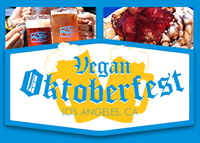 MAIN INGREDIENTS:
2 bulbs fennel, julienned
1 grapefruit
2 oranges
3 mangoes (peeled & julienned)
1/4 bunch cilantro, chopped
1 teaspoon chopped garlic
1 red onion, julienned
1 red pepper, julienned
1 green pepper, julienned
1 carrot, julienned
1 pound lettuce (chopped)


DIRECTIONS:
1 - Combine all Vegetables in a bowl
2 - In a separate bowl combine all ingredients for dressing and mix well
3 - Add dressing to vegetables and let stand 15 minutes
4 - Serve on a bed of chopped lettuce


New Vegan Products This Month
We're continuing to expand our online vegan grocery store with more excellent new food items this month, a few of which are highlighted below. As always, each purchase directly supports nonprofit vegan and animal rights causes, as we continue to contribute a full 10% of our product sales at TheVegetarianSite.com to these important organizations.
New/Improved Vegan French Toast Mix by Vegg
The mix you need to make delicious vegan French toast is new and improved! Another excellent product from Vegg. Each canister contains enough for 112 slices. Gluten-free.

Vegan Chicken-Flavored Seitan Quick Mix
Seitan is a high-protein meat substitute made from wheat gluten. New from Harvest Direct is this vegan chicken-flavored version that's perfect for sandwiches, vegan chicken salad, or anywhere else you want a delicious substitute for chicken meat.



IN THE NEWS...
Perfect Day Animal-Free Milk is a Guilt-Free Replica of Cow's Milk
(Quartz) — Bioengineers Perumal Pandya and Ryan Gandhi have spent years on a quest to develop an animal-free dairy product that looks, tastes and can be used like real milk, with the same (if not improved) nutrient profile. A lactose-free form will be marketed initially as a yogurt, one that is friendlier to the environment and to animals. Their company is backed by tech-savvy Hong Kong billionaire Li Ka-shing and former Chobani employees as well. read more...
Americans Should Eat Less Meat, but Consumption is Actually on the Rise
(VOX) — For most of the past decade meat consumption in the US was falling, but new data and analysis indicate that this trend has reversed. According to a recent analysis from Rabobank, a Dutch bank, consumption of meat in the US rose by 5 percent in 2015 — the biggest increase in 40 years. And, the author notes, in the coming years per capita meat-eating is expected to reach highs not seen in more than a decade. read more...
Chef Matthew Kenney on Going Vegan and the Future of Food
(Observer) — An interview with celebrity chef Matthew Kenney reveals how he discovered the vegan lifestyle, raw foods, the concepts behind his multiple restaurants, and what we will be eating 15-20 years from now. read more...
Keep up to date with more news related to animal rights and your vegetarian lifestyle.

Upcoming Events
Sep. 9-11, Veg Food Fest, Toronto, Ontario, Canada
Sep. 10, MFA Hidden Heroes Gala, Los Angeles, California
Sep. 24, DC VegFest, Washington, DC
Sep. 24, Erie Vegfest, Erie, Pennsylvania
Sep. 24, Charlottesville Veg Fest, Charlottesville, Virginia
Sep. 30 - Oct. 10 , Phuket Vegetarian Festival, Phuket, Thailand
Oct. 2, New Jersey Vegfest, Morristown, New Jersey
Oct. 4, World Animal Day events, multiple locations
Oct. 10, Chicago Veganmania, Chicago, Illinois
Oct. 7-9, Annual Animal Law Conference, Portland, Oregon
Oct. 8, An Evening with PCRM, New York City, NY
Oct. 8-9, World Veg Festival, San Francisco, California
Oct. 14-16, Healthy Lifestyle Expo, Los Angeles, California
Oct. 15, Vegan Oktoberfest, Los Angeles, California
Oct. 22, Texas State Veggie Fair, Dallas, Texas
Oct. 22-23, Boston Vegetarian Food Festival, Boston, Mass.
Oct. 22-23, Portland Vegfest, Portland, Oregon
Oct. 24, Central Florida Veg Fest, Orlando, Florida
Oct. 29-30, SoCal Vegfest, Costa Mesa, California
Oct. 29-30, Twin Cities Veg Fest, Minneapolis, Minnesota

Please report your event to us roughly 2 months in advance. Thank You.

Quote of the Month
"Before hurting an animal, feel her pain and see her tears. Then question your conscience."

—Debasish Mridha, physician and author

DRESSING INGREDIENTS:
1 tablespoon stone ground mustard
1/4 cup rice wine vinegar
2 tablespoons apple juice concentrate