Copyright © 2015 The Vegetarian Site, All Rights Reserved.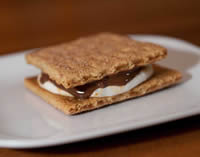 Too Easy Vegan S'mores
Recipe from Chicago Vegan Foods.
We're a couple of weeks late for National S'mores Day (August 10th), but these belated vegan s'mores are guaranteed to be a delicious treat anytime. This is also the quickest, easiest recipe we've ever featured.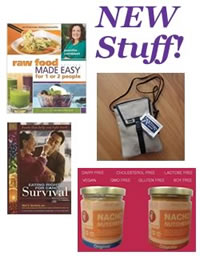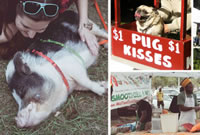 DIRECTIONS:
On a plate, top a vegan graham cracker with 3 Dandies marshmallows. Add several chocolate chips to the top. Microwave on high for about 15 seconds (or until marshmallows puff up). Top with a second vegan graham cracker and it's ready to eat. Yum!

CAMPFIRE S'MORES DIRECTIONS:
Toast the marshmallows on the end of a stick. When finished, place on top of a graham cracker, followed by a square of dark chocolate and a second cracker.


New Vegan Items + 108 Foods & Other Items on Sale
With more new items coming in every week, here are a few product highlights:

Parmela Nacho NutCheeses -- Original or Chipotle
Each handcrafted nutcheese begins with carefully selected cashews that are ground, cultured, and slow-aged using traditional techniques for bold flavors.

Raw Food Made Easy For 1 or 2 People (Revised Edition)
Satisfy your appetite at any time of the day or night with recipes that are easy, good for your body, and really delicious. With so many options to choose from,
you'll never run out of new ways to add more fresh fruits and vegetables to your everyday eating.

Artisan Gear Hemp Passport Shoulder Bag (Made in USA)
The perfect eco-friendly small bag to carry the essentials. Measures 9 x 6.5 with a roomy main compartment, a zippered outer pocket (great for keys or cards), and a back sleeve pocket too. The shoulder strap is adjustable.


Eating Right For Cancer Survival 2-DVD Set (Second Edition)
A comprehensive 4.5-hour program by board-certified physician Neal Barnard, Registered Dietitian Stephanie Beine, and vegan Chef Sualua Tupolo on the scientific and practical approach to helping people diagnosed with cancer to live longer, healthier lives.

108 Vegan Foods and Other Products On Sale Right Now!
Summer is a great time to save here on a big selection of foods, supplements, personal care items, footwear, books, DVDs, and more.
Visit the main page of our online store anytime, and do let us know if there are any favorite vegan products that you'd like to see added to our offerings.
As always, shipping is just $5, and each purchase directly supports nonprofit vegan and animal rights causes, as we continue to contribute a full 10% of our product sales to these important organizations.

IN THE NEWS...
Yes, Veganic (Vegan Organic) Agriculture Is Possible
(treehugger) — Given the fact that most organic and sustainable farming relies heavily on animal inputs like manure, one might argue that most vegans are still supporting animal products when they consume organic foods. But now, sustainable veganic farming is proving it possible to eliminate all such animal byproducts and focuses on maintaining soil fertility within the farm itself—without manures or any other soil treatments from outside. read more...
Federal Judge Strikes Down Idaho 'Ag Gag' Law as Unconstitutional, Raising Questions for Other States
(NPR) — Idaho's so-called "ag-gag" law, which outlawed undercover investigations of farming operations, is no more. A judge in the federal District Court for Idaho decided earlier this month that it was unconstitutional, citing First Amendment protections for free speech. Laws in Montana, Utah, North Dakota, Missouri, Kansas, and Iowa have also made it illegal for activists to smuggle cameras into industrial animal operations. A new North Carolina law goes into effect in January 2016. But now those laws' days could be numbered, according to the lead attorney for the coalition of animal welfare groups that sued the state of Idaho. read more...
Registered Dietitian Explains Why Soy Protein Is So Good For You
(The Des Moines Register) — Soybeans and soy products are a rich source of healthy isoflavones in the human diet. Soy foods are also a good source of high-quality protein, contain omega-6 and omega-3 essential fatty acids and are lower in saturated fat than meat. Recent studies indicate that soy protein may reduce the risk of developing coronary heart disease,
osteoporosis, and some forms of cancers. But the average American consumes only 1-2 grams of soy protein per day, and therefore does not reap these potential benefits. read more...
Keep up to date with more news related to animal rights and your vegetarian lifestyle.

Upcoming Events
Aug. 29, Mercy For Animals Gala, Los Angeles, California
Sep. 11-13, Veg Food Fest, Toronto, Ontario, Canada
Sep. 12 - Nov. 8, Farm Sanctuary's Walk for Farm Animals, multiple locations
Sep. 26, Charlottesville Veg Fest, Charlottesville, Virginia
Oct. 3, DC VegFest, Washington, DC
Oct. 3-4, World Veg Festival, San Francisco, California
Oct. 3-4, Vegan Oktoberfest, Los Angeles, California
Oct. 4, World Animal Day events, multiple locations
Oct. 10, Chicago Veganmania, Chicago, Illinois
Oct. 16-18, Healthy Lifestyle Expo, Los Angeles, California
Oct. 16-18, Annual Animal Law Conference, Portland, Oregon
Oct. 19, Texas State Veggie Fair, Dallas, Texas
Oct. 24, 10th Annual Central Florida Veg Fest. Orlando, Florida
Oct. 24, Farm Sanctuary's NYC Gala, New York, NY
Oct. 24-25, 20th Annual Boston Vegetarian Food Festival, Boston, Mass.
Oct. 24-25, VegFest Accra 2015, Accra, Ghana
Nov. 1, Twin Cities Veg Fest, Minneapolis, Minnesota

Please report your event to us roughly 2 months in advance. Thank You.

Quote of the Month
"Sport hunting, the killing of animals for fun, will not make you more of a man, but it will make you
less of a human being."

—author unknown