Copyright © 2014 The Vegetarian Site, All Rights Reserved.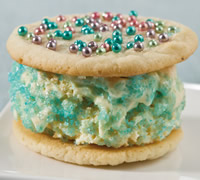 Happy Birthday Cake Batter Ice Cream Sandwiches
©2014 Kris Holechek Peters, from the book Vegan Ice Cream Sandwiches. Reprinted with permission. Courtesy of Ulysses Press/Judi Swinks Photography.

Cake batter ice cream is a novel concept, but with cookies and sprinkles, it's fit for a celebration! A home ice cream maker is required for this recipe.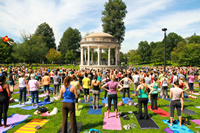 ICE CREAM INGREDIENTS:
3/4 cup evaporated cane sugar
2 teaspoons arrowroot starch
2 1/2 cups soy or hemp milk (full fat)
1 1/4 teaspoons vegan butter extract
(yes, it's vegan)
1 teaspoon vanilla extract
1/4 teaspoon maple extract

COOKIES INGREDIENTS:
2 cups unbleached all-purpose flour
1 teaspoon baking soda
1/4 teaspoon salt
1 cup packed vegan brown sugar
1 cup nondairy margarine, room temp.
1 teaspoon cornstarch
2 tablespoons nondairy milk
1 1/2 teaspoons vanilla extract
1 1/2 cups rainbow or other sprinkles



DIRECTIONS FOR ICE CREAM:
1} In a large saucepan, combine the sugar and arrowroot starch, and whisk until the starch is incorporated into the sugar. Pour in the milk, whisking to incorporate. Over medium heat, bring the mixture to a boil, whisking frequently. Once it reaches a boil, lower the heat to medium-low and whisk constantly until the mixture thickens and coats the back of a spoon, about 5 minutes. Remove from the heat, add the butter, vanilla, and maple extracts, and whisk to combine.
2} Transfer the mixture to a heat-resistant bowl and let it cool completely.
3} Pour the mixture into the bowl of a 1.5- or 2-quart ice cream maker and process according to the manufacturer's instructions. If you have a smaller ice cream maker, do it in two or more batches. Store in an airtight container in the freezer for at least an hour before assembling the sandwiches.

DIRECTIONS FOR SPRINKLE COOKIES:
1} Preheat the oven to 350°F. Line two baking sheets with parchment paper.
2} In a small bowl, combine the flour, baking soda, and salt. In a large bowl, cream together the sugar and margarine. Dissolve the cornstarch in the milk and add to the margarine mixture, along with the vanilla. Add the dry ingredients to the wet in batches, stirring until smooth.
3} Using a cookie dropper or tablespoon, drop heaping tablespoons of dough onto the prepared baking sheets about 2 inches apart. Top each cookie with a healthy
sprinkle of, um, sprinkles. Bake for 8 to 10 minutes, or until the edges are slightly golden. Remove from the oven and let cool on the pan for 5 minutes, then remove
to cool on wire rack. Let the cookies cool completely. Store in airtight container.

TO MAKE THE SANDWICHES:
Spread the remaining sprinkles on a small plate. Let the ice cream soften slightly so it's easy to scoop. Place half of the cookies, bottoms up, on a clean surface. Scoop one generous scoop of ice cream, about 1/3 cup, onto the top of each cookie. Top the ice cream with the remaining cookies, with the cookie bottoms
touching the ice cream. Gently press down on the cookies to level them. Roll the edges of the ice cream sandwiches in the sprinkles, coating the sides of the ice cream. Wrap each sandwich in plastic wrap or waxed paper and return to the freezer for at least 30 minutes before eating. Makes 12-16 sandwiches.


Vegetarian Shoes® 5-Day Sale + New Vegan Items

Many styles of Vegetarian Shoes® brand footwear are on sale for the next 5 days. It's all fair labor footwear made in the UK, Italy, Portugal, and Spain. Several options for both men and women range from dress shoes to hiking boots. As usual, shipping is just $5 for your entire order, regardless of its size and weight.
MEN'S VEGETARIAN SHOES® ON SALE:
Office Shoe, Wombat Shoe, Brown Airseal Gibson, Boulder Boot, Duo Sandal, Brown Kalahari Shoe, Brown Kent Clark Shoe, Veggie Trekker Hiking Boot
WOMEN'S VEGETARIAN SHOES® ON SALE:
Airseal 3-Eyelet Shoe, Veggie Trekker Hiking Boot, Wombat Shoe, Dorothy Shoe, Olivia Shoe, Vintage Boot, Duo Sandal, Brown Kalahari Shoe, Brown Airseal Gibson
The little Hemp 3-Zip Purse by Hempmania is an eco-friendly purse that will carry all your essentials in three zippered compartments. Measures 6x8 inches with a 50-inch shoulder strap. Available in 7 colors.
TeeChia Sustained Energy Cereal is made with six organic super seeds: organic chia, flax, quinoa, amaranth, ramón and pumpkin seeds blended with gluten-free rolled oats and sweetened purely with fruits. Your choice of Blueberry Date or Cranberry Apple.
The new Sierra Trail Mix Clif Bar brings together timeless trail mix ingredients such as peanuts, raisins, chocolate and
seeds. With a mix of whole grains, protein and fiber, these hefty bars offer sustained energy for your workout, your workday, or your weekend adventure.
See our other recent product offerings or visit the main page of our online store anytime. And check out our special 50% OFF Food Closeouts section.
As always, each purchase directly supports nonprofit vegan and animal rights causes, as we continue to contribute a full 10% of our product sales to these important organizations.

In the news...
Nestle Makes Animal Welfare Pledge After Dairy Cow Abuse
(Chicago Tribune) -- After cutting ties last year with a Wisconsin supplier that was documented abusing dairy cows, now Nestle has announced sweeping reforms to improve the welfare of farm animals in its supply chain. Nestle, one of the world's largest food companies, said it has signed a partnership agreement with World Animal Protection, which means all 7,300 of the company's suppliers of animal-derived products will have to comply with the organization's tougher animal welfare standards. read more...
33 Comfort Food Recipes That May Be Better Than the Originals
(New Jersey On-Line) -- Thanks to the taste buds (and kitchen skills) of talented and creative bloggers all over the Internet, we've rounded up meatless and dairy-free versions of some of the most popular, most un-vegan dishes out there. Not only do these recipes eliminate animal products, but many introduce healthier alternatives and more nutritionally
beneficial swaps for flavors that not only resemble, but maybe even surpass the originals. From breakfast to dinner and everything in between, here are 33 dishes you never thought you could vegan-ize. read more...
Vote in the 13th Annual Veggie Awards for a Chance to Win One of Many Prizes
(VegNews) -- We're happy to announce that The Vegetarian Site has been nominated for 'Best Vegan Online Store' by VegNews Magazine. We'd love to receive your vote, and your completed survey enters you into a drawing for fabulous prizes too. Voice your opinions on 2014's best vegan products, places, people, and foods. read more...
Keep up to date with more news related to animal rights and your vegetarian lifestyle.

Upcoming Events
Aug. 23, Bethlehem Vegfest. Bethlehem, Pennsylvania
Aug. 24, Healthy Taste. Sacramento, California
Sep. 5-7, 30th Veg Food Fest. Toronto, Ontario, Canada
Sep. 12-14, Food+Health 2014, Austin, Texas
Sep. 13, 11th Annual Festival of Life. London, England
Sep. 20, D.C. VegFest. Washington, DC
Sep. 20, Plant Powered Health Expo. San Francisco, CA
Sep. 27, Charlottesville Veg Fest. Charlottesville, VA
Sep. 27-28, Portland VegFest 2014. Portland, Oregon
Oct. 1-6, 42nd IVU World VegFest. Accra, Ghana
Oct. 10-12, Healthy Lifestyle Expo. Los Angeles, CA
Oct. 11, Chicago Veganmania. Chicago, Illinois
Oct. 11-12, World Veg Festival. San Francisco, CA

Please report your event to us roughly 2 months in advance. Simply send an e-mail to comments@TheVegetarianSite.com
Quote of the Month
"I don't understand why asking people to eat a well-balanced vegetarian diet is considered drastic, while it is medically conservative to cut people open and put them on cholesterol lowering drugs for the rest of their lives."
--Dean Ornish, Clinical Professor of Medicine, University of California, San Francisco.