Copyright © 2013 The Vegetarian Site, All Rights Reserved.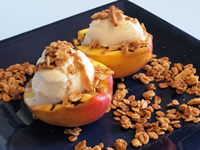 Grilled Nectarines with Five-Spice Granola
Recipe from Grills Gone Vegan, ©2013 Tamasin Noyes. Reprinted with permission from the author. Book published by BPC, Summertown, Tennessee.
The seasonings in the granola that tops this dessert make it unique. When this flavor combination is paired with luscious grilled nectarines and your favorite vegan ice cream, the results are spectacular. It's like a deconstructed fruit crisp a la mode.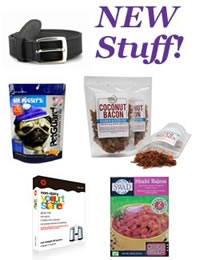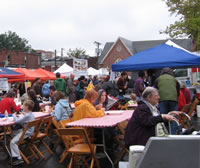 INGREDIENTS:
1 cup old-fashioned rolled oats
2 tbsp. blanched, slivered almonds
1/4 teaspoon five-spice powder
1/8 teaspoon ginger
pinch salt
pinch ground black pepper
2 tablespoons canola oil
2 tablespoons maple syrup
1 tbsp. vegan brown or raw sugar
1 teaspoon vanilla extract
4 nectarines, halved and pitted
1 cup vegan vanilla ice cream
(or 1/2 cup vegan vanilla yogurt)

Makes 4 servings. Per serving: 375 calories, 6g protein, 18g fat, 54g carbs, 54mg sodium, 23mg calcium, 6g fiber.
DIRECTIONS:
To make the granola, preheat the oven to 300 degrees F. Line a 13x9-inch baking pan with parchment paper. Put the oats, almonds, five-spice powder, ginger, salt, and pepper in a medium bowl and stir to combine. Put the oil, maple syrup, sugar, and vanilla in a small bowl and stir to combine. Drizzle over the oat mixture and stir until evenly coated. Spread the mixture evenly in the lined baking pan. Bake until golden (about 25 minutes) stirring every 10 minutes. Be careful not to overbake, as the granola can burn easily. Let cool completely; the granola will crisp as it cools. The granola can be used immediately or may be stored in a covered container at room temperature for up to 3 weeks.
To prepare the fruit and assemble the dish, heat a grill, grill pan, or electric grill to medium-high heat. Lightly oil the grill with canola oil. Put the nectarines on the grill cut-side down and cook until marked (about 3 minutes). If using an electric grill, keep it open and cook a few minutes longer if necessary). To serve, put two nectarine halves on each plate, grilled side up. Top each with your favorite vegan vanilla ice cream. Sprinkle the granola over each plate and serve immediately.

New Vegan Products
Peruse our online store for several hundred ethically made vegan products and our quickly expanding selection of foods (all vegan). Here are a few of our newest additions. Also, see our Food Closeouts section, where you'll find dozens of vegan food items for half price. Your entire order still ships for just $5.
Mr. Pugsly's Peanut Butter Vegan Dog Biscuits are amazing dog treats made with organically grown quinoa as the base ingredient. It's combined with oatmeal, brown rice, sunflower oil and the most natural and delicious peanut butter made from fresh peanuts. No salt, sugar, or artificial ingredients added.
If you need a quality, classic styled black belt, then the Vegetarian Shoes Town Belt in black is for you. Beautifully made with Italian micro-fibre material. Nicely stitched edges. Comes with silver metal color brushed nickel buckle.
Phoney Baloney's is the world's first manufacturer of vegan, gluten-free Coconut Bacon. This piggy-less,
cholesterol-free bacon substitute is perfect for snacking, sandwiches, salads and so much more.
An authentic Indian entree of red kidney beans in wonderfully spiced tomato sauce, Shahi Rajma is fully cooked and
ready to heat in your microwave or on your stove top. This shelf-stable package stays fresh without preservatives of any kind. Visit our Ethnic Foods section for more flavorful entrees.
See more new products or visit the main page of our online store anytime. And don't forget about our Food Closeouts section for vegan foods at half price!
As always, each purchase directly supports nonprofit vegan and animal rights causes, as we continue to contribute a full 10% of our product sales to national and international organizations.

Even Carnivores Are Putting More Meat Substitutes on Their Plates
(NPR) -- According to new research, consumers — and not just vegetarians — are warming up to products like tempeh, tofu, and seitan that can stand in for meat. In a survey released this week by the market research firm Mintel, 36 percent of U.S. consumers said they buy meat substitutes. According to Mintel, sales of meat alternatives reached $553 million in 2012, up 8 percent from 2010.. read more...
Controversial U.S. Farm Bill Provision Could Nullify State Agricultural Laws
(HSUS) -- States' bans on inhumane factory farming practices and many other state laws and rules regulating agriculture are at risk of annulment unless Congress rejects a highly destructive provision adopted by the U.S. House of Representatives in its version of the pending Farm Bill. The Senate version of the Farm Bill does not contain such a provision, and a House-Senate conference committee is negotiating a final bill. read more...
Germany's Green Party Calls For Weekly Meat-Free Day
(The Local) -- The plans are part of a wider attempt to decrease meat consumption among Germans. At present the average German consumes 89 kilograms (196 lbs.) of meat each year. Renate Kunast, chairwoman of the Green Party
parliamentary group asserts that cutting down on meat is good for the environment and will lead to improved conditions for animals. read more...
Keep up to date with more news related to animal rights and your vegetarian lifestyle.

Upcoming Events
Sept. 6-8, 29th Annual Vegetarian Food Festival. Toronto, Ontario, Canada.
Sept. 7, Bethlehem VegFest. Bethlehem, Pennsylvania.
Sept. 21, Chicago Veganmania. Chicago, Illinois.
Sept. 21-22, Portland VegFest 2013. Portland, Oregon.
Sept. 28, D.C. VegFest. Washington, DC.
Sept. 28, Charlottesville Vegetarian Festival. Charlottesville, Virginia.
Sept. 28-29, 14th Annual World Veg Festival. San Francisco, California.
Oct. 19, The 4th Annual Tampa Bay Veg Fest. Tampa, Florida.
Please report your event to us roughly 2 months in advance. Thank You.

Quote of the Month
"The assumption that animals are without rights and the illusion that our treatment of them has no moral significance is a positively outrageous example of Western crudity and barbarity. Universal compassion is the only guarantee of morality."
—Arthur Schopenhauer, German philosopher (1788-1860)