Copyright © 2016 The Vegetarian Site, All Rights Reserved.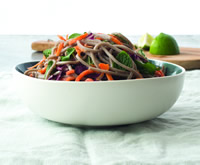 Creamy Cashew Soba Noodle Salad
Copyright © 2016 Rebecca Miller Ffrench, from Whole Protein Vegetarian.
Reprinted with permission from W.W. Norton & Company. (NOTE: This recipe is 100% vegan, but the book contains a number of vegetarian recipes that are not vegan.)

Get ready for creamy deliciousness with this healthy dish. Traditional soba noodles are made from buckwheat flour. Look for soba noodles that are made from 100% buckwheat for a gluten-free, complete protein option. Buckwheat has an amino acid score of 100, which means it's a very high-quality protein.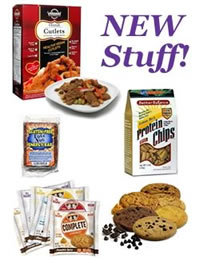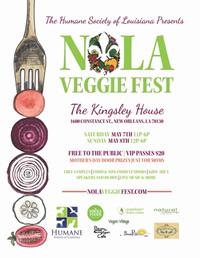 MAIN INGREDIENTS:
8 ounces soba noodles
2–3 large carrots (spiralized or cut into 2-inch matchsticks)
1 cup red cabbage, thinly sliced
3 scallions, sliced, including green
1/3 cup fresh cilantro leaves
1/3 cup fresh mint leaves
1/2 cup roasted cashews, chopped

DRESSING INGREDIENTS:
2 tablespoons cashew butter
2 scallions, sliced, including green
1 tablespoon fresh ginger, grated
1 garlic clove
2 tablespoons fresh lime juice
2 tablespoons toasted sesame oil
1 tablespoon tamari
1 tablespoon rice vinegar
2 tablespoons water
1/4 teaspoon kosher salt
DIRECTIONS:
Cook the noodles according to the package instructions. After you drain them once, rinse with cool water and drain them well again. Set aside.

To make the dressing, put all the dressing in a food processor and run until smooth.

Place the cooked noodles along with the carrots, cabbage, and scallions in a large salad bowl and pour the dressing over the noodles and vegetables. Use two forks or tongs to gently toss. Sprinkle with the cilantro and mint and toss again. Top with the cashews just before serving.

Cook's Note: Try adding edamame, cucumber, or chopped bok choy in addition to or in place of the other vegetables in this dish. The more the merrier. You may want to increase the dressing by one-half if you're adding a significant amount of vegetables.

New Vegan Products + Free Shipping Offer
We have more new vegan foods to announce this month, some of which are also on sale right now. As always, each purchase directly supports nonprofit vegan and animal rights causes, as we continue to contribute a full 10% of our product sales at The Vegetarian Site to these important organizations.

Elianni Gluten-Free Veggie Cutlets
High in protein and fiber, these all-natural Veggie Cutlets are made from non- GMO soybeans and pinto beans for your healthy vegan entrees. They're also low in fat, sodium-free, and they're naturally rich in nutritional minerals such as magnesium, potassium, iron, manganese, zinc, phosphorus, and calcium.

Big Complete Cookie by Lenny & Larry's - 16g Protein
These big 4-oz. vegan cookies are seriously delicious, with an added bonus of 16g plant-based protein and 6g fiber! All-natural, non-GMO, and available in eight varieties.
Frankly Natural Gluten-Free Date Nut Energy-Protein Bar
This soft-baked vegan energy-protein bar from Frankly Natural Bakers is different from other bars. The whole protein and healthy fats come from non-GMO soynuts, sesame seeds, sunflower seeds, and walnuts. No processed protein isolates, and no added oils either.

For more new items, including new flavors of Sjaak's Chocolate bars, new flavors of savory protein chips, and other tasty foods, see our New Products Section. And visit the main page of our online store anytime.

Free Shipping This Weekend On Your Order Over $60
Whether you need a new pair of vegan shoes or you want to stock up on vegan groceries, this weekend is a great time to do it. Simply select the 'Newsletter Subscriber Special' option from our shipping menu (it's the 6th choice on the shipping options list). Please note the following conditions: Valid for orders within the 48-state contiguous USA only. Not valid for purchases made with gift or rebate certificates. One offer per household. Not valid for previous purchases.

IN THE NEWS...
PETA Announces Top 10 Vegan-Friendly US Cities for 2016
(PETA press release) — PETA scoured the country and selected the most vegan-friendly cities. Did your favorite city make the cut? 1-Portland, 2-LA, 3-NYC, 4-Detroit, 5-Nashville, 6-San Diego, 7-Honolulu, 8-Austin, 9-Seattle,
10-Richmond. read more...
Why Going Vegan for Earth Month Can Have a Huge Impact
(USA Today) — With Earth Month in full swing, many people are trying to reduce their environmental footprint by changing their day-to-day routine, like taking shorter showers or using public transportation. But what if we reconsidered our diets? Data suggest that by going vegan, we could change the world. The average person consumes 7,000 animals in their lifetime, but according to the UN Environmental Program, the industry that supports that consumption is not
sustainable. read more...
EWG Releases Latest Pesticide Residue List for 48 Fruits and Vegetables
(EWG.org) — Environmental Working Group analyzed pesticide residue testing data from the USDA and FDA to come up with rankings for popular fresh produce items. Among the dirtiest are strawberries, apples, nectarines, peaches, celery, and grapes. Among the cleanest are avocados, sweet corn, pineapples, cabbage, sweet peas, and onions. read more...
Keep up to date with more news related to animal rights and your vegetarian lifestyle.

Upcoming Events
Apr. 24, VegFest Vegan Tastefest, Novi, Michigan
Apr. 24, Tucson Vegfest, Tucson, Arizona
Apr. 30, Baltimore Veg Fest, Baltimore, Maryland
May 1, New England VegFest, Worcester, Massachusetts
May 7, Milwaukee Veg Expo, Milwaukee, Wisconsin
May 7, Cleveland VegFest, Cleveland, Ohio
May 7, To The Rescue! Saving Animal Lives, Los Angeles, California
May 7-8, NYC Vegetarian Food Festival, New York City, NY
May 7-8, NOLA Veggie Fest, New Orleans, Louisiana
May 11-14, HSUS Animal Care Expo, Las Vegas, Nevada
May 14, Veggie Fest Hamilton, Ontario, Canada
May 15, Annual Run for the Animals, Wheaton, Maryland
May 21-22, VegFestUK. Brighton, U.K.
May 29, American Vegan Garden Party, Malaga, New Jersey

Please report your event to us roughly 2 months in advance. Thank You.

Quote of the Month
"Serving meat and dairy products at an event to combat climate change is like selling pistols at a gun-control rally."

—Morrissey