Copyright © 2015 The Vegetarian Site, All Rights Reserved.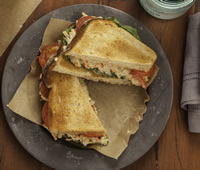 Chickpea Sandwich
Recipe from THE 22-DAY REVOLUTION, ©2015 Marco Borges.
Reprinted with permission of Penguin Group USA.
Chickpeas are good for digestion, managing blood sugar, and getting plenty of protein and fiber—and they are also a tasty way to eat your lunch. There's a reason chickpeas are so popular in so many cuisines across the world; just one bite of this chickpea spread should show you why.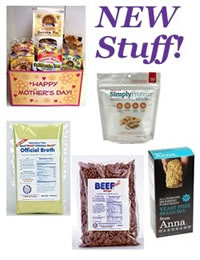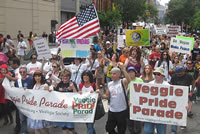 INGREDIENTS:
whole grain or gluten-free bread
1 can (BPA-free) chickpeas
1/4 cup celery (chopped)
1/4 cup carrots (shredded)
2 tablespoons canola mayo
1 tablespoon whole-grain mustard
1 romaine lettuce (head)
1 small tomato
pinch ground pepper

DIRECTIONS:
Place chickpeas, mayo and mustard in a food processor. Pulse a few times until blended well, but not too smooth. Transfer to a bowl, and mix with the celery and carrots. Place lettuce over toasted bread and top with chickpea spread. Add tomato and a dash of pepper to finish.


Vegetarian Shoes® 5-Day Sale + New Products
Many styles of Vegetarian Shoes® brand footwear are on sale for the next 5 days. It's all fair labor vegan footwear made in the UK, Italy, Portugal, and Spain. Several options for both men and women, including shoes, boots, and sandals. As usual, shipping is just $5 for your entire order regardless of its size and weight.

WOMEN'S VEGETARIAN SHOES® ON SALE:
Airseal 3-Eyelet Shoe, Veggie Trekker Hiking Boot, Wombat Shoe, Dorothy Shoe, Olivia Shoe, Duo Sandal, Brown Kalahari Shoe, Brown Airseal Gibson, Ally Black, Hemp Spider XT Trail Shoe, Apollo Shoe

MEN'S VEGETARIAN SHOES® ON SALE:
Office Shoe, Wombat Shoe, Brown Airseal Gibson, Duo Sandal, Brown Kalahari Shoe, Brown Kent Clark Shoe, Airseal Safety Work Boot, Hemp Spider XT Trail Shoe

Breads From Anna Yeast-Free Gluten-Free Bread Mix: Here's your route to delicious, allergy-free vegan bread. It's self-rising, and no kneading is necessary. Yields a hefty 2-lb. loaf!

Vegan Bakery Mother's Day Gift Basket (Gluten-Free): The perfect Mother's Day gift basket, which just so happens to be gluten-free. Contains a dozen large cookies of various flavor plus a bag of mini cookies or a box of shortbread cookies.

Organic Animal-Free Broth by Dixie Diner: Ideal for rehydrating the full range of plain Dixie Chicken (Not!), Turkey (Not!), and Beef (Not!) strips, chunks, and bits. Excellent for general use with water when cooking rice, pasta or veggies. Also great for stir frying and soup starters!

Beef (NOT!) Strips by Dixie Diner: Use these high-protein, gluten-free strips like beef strips in your favorite recipes. Just reconstitute these non-GMO strips with water or broth (recommended). The 1-lb. dry bag makes 3.4 lbs. of plain beef substitute!

See more new items or the 82 items on sale this month, including many foods, plus supplements, personal care items, and plenty more. Visit the main page of our online store anytime. And be sure to check our deeply discounted closeouts.
As always, each purchase directly supports nonprofit vegan and animal rights causes, as we continue to contribute a full 10% of our product sales to these important organizations.

Federal Report Recommends Lowering Meat Consumption for Human Health and for the Planet, Angering Meat Industry
(The Hill) -- A federal panel that helps set federal dietary guidelines is recommending Americans eat less meat because it's better for the environment, sparking outrage from industry groups representing the nation's purveyors of beef, pork and poultry. The Dietary Guidelines Advisory Committee, a federally appointed panel of nutritionists created in 1983, decided for the first time this year to factor in environmental sustainability in its recommendations. They include a finding that a diet lower in animal-based foods is not only healthier, but has less of an environmental impact. read more...
New Zealand MPs Vote to Outlaw Testing Cosmetics on Animals After Pressure from Animal Rights Groups
(International Business Times) -- The MP's decision to ban animal testing comes after the Green Party and animal rights advocates lobbied for a year to criminalize cosmetics testing on guinea pigs and rabbits. Animal rights groups are also campaigning for a ban on imported products that conduct animal testing. The Cosmetic Association shares the same view and said the next step in banning animal testing would be imposing import regulations. read more...
One Size Might Not Fit All, But the First Vegetarian Public School is Thriving
(Fast Company) -- Queens elementary school PS 244 became the first public school in the nation to go vegetarian. This groundbreaking school was founded on the premise that health & wellness is closely tied to academic performance. As others across the nation are struggling to get kids to eat rather than discard healthy vegetables and whole grains, PS 244 attributes their success in part to the education on the benefits of such a healthy diet. read more...
Keep up to date with more news related to animal rights and your vegetarian lifestyle.

Upcoming Events
Apr. 25 - May 3, Food Revolution Summit, free webcast
Apr. 25 - May 3, Worldwide Vegan Bake Sale
Apr. 26, New England VegFest, Worcester, Massachusetts
Apr. 30 - May2, HSUS Animal Care Expo, New Orleans
May 9, Baltimore Veg Fest, Baltimore, Maryland
May 9-10, NOLA Veggie Fest, New Orleans, Louisiana
May 16, LA Vegan Beer & Food Festival, Los Angeles, California
May 16-22, Engine 2 Retreat, Sedona, Arizona
May 17, Run for the Animals, Poplar Spring, Wheaton, Maryland
May 23-24, VegFest UK, Bristol, United Kingdom
May 24, American Vegan Garden Party, Malaga, New Jersey
May 30, Chicago Veggie Pride Parade, Chicago, Illinois
May 31, Kiss A Cow Day, Asha Sanctuary, Newfane, New York
June 6, Philly Vegfest, Philadelphia, Pennsylvania
June 7, Niagara Veg Fest, St. Catharines, Ontario, Canada

Please report your event to us roughly 2 months in advance. Thank You.

Quote of the Month
"Think about it. If you can live well and be happy without causing unnecessary harm, why wouldn't you?"
—Gene Baur, Living the Farm Sanctuary Life, 2015