Copyright © 2014 The Vegetarian Site, All Rights Reserved.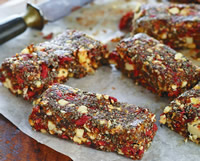 No-Bake Goji Berry Bars
©2014 Lauri Boone - from the book, Superfoods for Life, Chia (Fair Winds Press). Reprinted with permission.

These sweet and chewy squares combine the metabolism-boosting power of goji berries with the natural sugars of dates, the fiber-, protein-, and calcium-packed crunch of raw almonds, plus omega3-rich chia seeds. Enjoy this simple-to-make snack at home or on the go.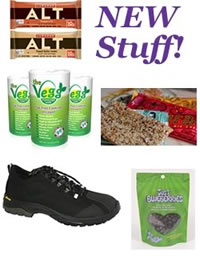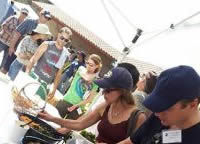 INGREDIENTS:
1 1/2 cups pitted dates
3/4 cup raw almonds
1/2 cup chia seeds
1/2 cup dried goji berries
2 tablespoons agave syrup

DIRECTIONS:
Line a cutting board with waxed paper. Combine all the ingredients in a food processor and process into a coarse dough. The dough should stick together when pressed with your fingertips. If the dough feels too dry, add another date or small squeeze of agave syrup and process. If it feels too sticky, add a few more almonds or a small scoop of chia seeds and process.
Transfer the dough to a cutting board. Press the dough into a large ball and place on the center of the board. Place a second sheet of waxed paper on top of the dough and flatten with the palm of your hand. Keeping the waxed paper on top, use a rolling pin to flatten further into a half-inch-thick rectangle. Trim the
edges of the dough if needed. Cut the dough into 1 x 3-inch bars and set aside. Repeat the rolling and cutting process until there is no more dough remaining. Store in an airtight container between layers of waxed paper. (Yields 12 to 15 bars.)


New Vegan Products + Sale Items

From vegan groceries to footwear, it's ethical shopping at its best, and your entire order still ships for just $5. As always, each purchase directly supports nonprofit vegan and animal rights causes, as we continue to contribute a full 10% of our product sales to these important organizations.
We already carry it in women's, and now the men's Kathmandu Low Hiker is here too! Constructed with a dual density Vibram sole and a reinforced upper. It's a comfortable and hard-wearing design made in Italy.
The ALT Bar - Alternative Protein Bar from LARABAR makes use of an alternative protein source: peas. Gluten-free with 10 grams of protein in each bar, they're on sale this month too.
Organic Just Strawberries and Just Blueberries are the raw, freeze-dried, shelf-stable choices in berries. Each package is equivalent to just under 1 lb. of fresh strawberries or blueberries. They're the perfect healthy & low calorie snacks. And don't miss adding them to your favorite recipes, breakfast cereals, etc.
We now offer 12 flavors of Organic Bumble Bars. From chocolatey, to nutty, to fruity, it's your pick. Around since 1995, these specialty bars are gluten-free, ethically sourced, and vegan (of course).
Check our complete selection of nutrition bars to find the bar that's right for you. It's the largest selection of all-vegan bars anywhere.
See our sale items this month at 10% to 40% savings: vegan brownies, nutrition bars, protein powders, organic pate, candy bars, non-dairy milks, personal care products, eco-friendly bags, DVDs, footwear, and more.
See our other recent product offerings or visit the main page of our online store anytime.

In the news...
Study: Meat/Dairy Consumption Major Threat to Meeting Climate Targets
(Atlantic Monthly) -- Serious about battling climate change? Then you might want to consider going vegetarian. That's because it's looking like world temperatures will continue to climb unless people stop chowing on so much meat and dairy, according to the new study published in the journal, Climatic Change. If agricultural emissions are not addressed,
nitrous oxide from fields and methane from livestock may double by 2070. This alone would make meeting the climate target essentially impossible. read more...
For Soy Foods Month, Tina Miller, MS RD Reveals Benefits, Debunks Myths
(WDIV - Detroit) -- Many people are still confused about soy. The bottom line is: whole soyfoods are beneficial to health. To ensure you're getting the maximal health benefits, it's best to consume primarily whole soy foods like edamame (green soybeans), tofu, tempeh, some soymilks, and soy nuts. Soy has benefits relevant to heart disease and
some cancers, and soy allergies are 40 times less common than dairy allergies. read more...
Seafood's Dirty Secret: Mass Killing of Whales & Dolphins, and Discarded Fish
(The Daily Beast) -- U.S. fisheries are discarding half of all the creatures that they kill, including many protected and
endangered species, according to a new report by Oceana. With wide-reaching nets, catches are unintentionally trapping and killing. It's a problem that is crippling the efforts of ocean conservationists nationwide. read more...
Keep up to date with more news related to animal rights and your vegetarian lifestyle.

Upcoming Events
Apr. 25-27, Engine 2 Retreat. Portland, Oregon
Apr. 26 - May 4, Worldwide Vegan Bake Sale.
May 3, Baltimore Vegfest. Baltimore, Maryland
May 3-4, Your Food, Your Health. Tucson, Arizona
May 4, Hug a Farm Animal Day. Acton, California
May 4, Healthy Taste of the Inland Empire. Riverside, California
May 4-5, Chad Sarno Culinary Training. Atlanta, Georgia
May 10-11, NOLA Veggie Fest. New Orleans, Louisiana
May 10-11, Farm Sanctuary Hoe Down. Orland, California
May 18, Poplar Spring's Run for the Animals. Wheaton, Maryland
May 18, Worldfest 2014. Lake Balboa, California
May 20-23, HSUS Animal Care Expo. Daytona Beach, Florida
May 23-25, Vegfest UK Bristol. Bristol, UK
May 25, American Vegan Garden Party. Malaga, New Jersey
June 1, Niagara Veg Fest. St. Catharines, Ontario, Canada
June 7, Cleveland Veg Fest. Cleveland, Ohio

Please report your event to us roughly 2 months in advance. Simply send an e-mail to comments@TheVegetarianSite.com
Quote of the Month
"Just how destructive does a culinary preference have to be before we decide to eat something else? If contributing to the suffering of billions of animals that live miserable lives and (quite often) die in horrific ways isn't motivating, what would be?" --Jonathan Safran Foer, Eating Animals