Copyright © 2013 The Vegetarian Site, All Rights Reserved.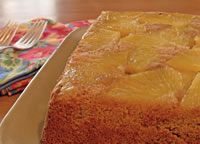 Pineapple-Pecan Cake (it's whole grain!)
Recipe from Jazzy Vegetarian: Lively Vegan Cuisine That's Easy and Delicious, ©2011 by Laura Theodore. Reprinted with permission from Book Publishing Company.
Pineapple keeps this cake moist, and pecans add a wonderful taste and texture, making for a mouthwatering dessert. It's rich in whole grain and isn't overly sweet, so it can do double duty as an indulgent breakfast as well.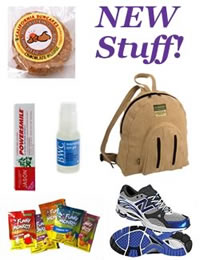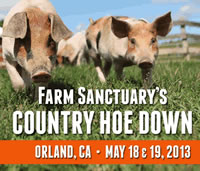 TOPPING INGREDIENTS:
1/2 ripe pineapple, cored and thinly sliced
1 tablespoon brown sugar or raw sugar
CAKE INGREDIENTS:
2 cups whole wheat flour
1 tablespoon baking powder
1/4 teaspoon sea salt
1/3 to 2/3 cup brown sugar or raw sugar
2 tablespoons toasted wheat germ
1 cup chopped pecans
1 cup diced fresh pineapple
1 1/4 cups plain or vanilla nondairy milk
1/3 cup vegetable oil
1 teaspoon vanilla extract
(Makes 6 to 8 servings.)

DIRECTIONS:
Preheat the oven to 375 degrees F. Lightly spread vegan margarine over the sides of an 8-inch square baking pan, then line the bottom with parchment paper. To make the topping, put the pineapple slices in a medium bowl and sprinkle with the sugar. Turn the slices over gently to coat them evenly. Arrange the pineapple slices in a single layer in the prepared pan, slightly overlapping them. To make the cake, put the flour, baking powder, and salt in a large bowl and stir with a dry whisk to combine. Add the pecans and pineapple and stir until coated with the flour. Add the nondairy milk, oil, and vanilla extract and stir just until evenly incorporated and smooth. Pour the mixture into the prepared pan and smooth the top. Bake for 50 to 60 minutes, until the top is golden and a toothpick inserted in the center comes out clean. If the cake begins to brown too much during the last 15 minutes of baking, tent it with foil. When finished, put the pan on a wire rack and loosen the sides with a knife. Let cool for about 15 minutes. Invert into serving platter and carefully peel off the parchment paper. Let cool for 10 minutes longer before slicing. Serve warm or at room temperature.

New Vegan Products and Special Sale Items
Peruse our online store for several hundred ethically made vegan products and our growing selection of foods (all vegan). Here are a few of our newest additions. Your entire order still ships for just $5.
The Hemp Mini Backpack by Ecolution is a smaller 13 x 10 x 4-inch pack made in Romania with high quality, water-resistant organic hemp canvas.
From Beauty Without Cruelty comes a light, oil-free moisturizing eye gel that nurtures and protects the delicate eye area from dehydration and signs of aging.
For an all-natural whitening toothpaste, try Jason Powerful Peppermint Powersmile Toothpaste. It offers an exclusive blend of ingredients for polishing, whitening, tartar control, and healthy gums. Generous 6-oz. tube.
California Suncakes Energy/Protein Oat Bars are hefty 1/4-lb. oat cake bars that are tasty, low-glycemic, nutritious, and filling, with 320 to 360 calories per bar and 30% of your daily values of both protein and fiber. And don't forget that we also have 22 other brands of vegan nutrition bars on hand, many of which are on sale this month. Mix and match individual bars and flavors.
Funky Monkey Raw Freeze-Dried Fruit is a super-healthy snack for kids and adults. It's 100% fruit that crunches!
It's the right time of year to get active and to get your men's or women's running or walking shoes at a deeply discounted price. Grab them while we still have them (limited stock available).
See our other items on sale from foods to personal care items, or visit the main page of our online store anytime.
As always, each purchase directly supports nonprofit vegan and animal rights causes, as we continue to contribute a full 10% of our product sales to national and international organizations.

*New Blog Entry*
If you've missed any of our recent email newsletters, we've put them up online. read it here
The Recording and Reporting of Farm Animal Cruelty is Becoming the Crime
(New York Times) -- Video taken by undercover animal rights activists has led to important cruelty convictions over the last few years. For example, authorities in Wyoming charged nine farm employees with cruelty to animals, and a major egg supplier that operates in Iowa and other states lost one of its biggest customers, McDonald's, which said that the video played a part in its decision. But a dozen or so states have had a different reaction: They proposed or enacted bills that would make it illegal to covertly videotape livestock farms or apply for a job at one without disclosing ties to animal rights groups. They seek to keep any animal mistreatment from the public eye. read more...
Even More Artery Hardening Problems with Red Meat
(FoodNavigator.com) -- The prestigious Nature Medicine journal has published a study indicating that the l-carnitine constituent of red meat is a problem for human health. Specifically, bacteria in the gut metabolize l-carnitine into TMAO, a substance found to harden the arteries. To make matters worse, the study found that diets high in l-carnitine promote the growth of the bacteria that metabolize it, thereby compounding the effect. read more...
Protecting Global Climate with Vegan Challenge
(Rabble) -- The inherent and gross inefficiency of livestock as a food source causes us to use far more resources than would otherwise be required to obtain our nutritional requirements. In terms of land, that has resulted in the clearing of rainforest and other prime areas. We often hear of methane (CH4) in relation to ruminant livestock. That is a critical
problem, but so is CO2, due largely to the clearing of forest and other vegetation. read more...
Keep up to date with more news related to animal rights and your vegetarian lifestyle.

Upcoming Events
April 20-28, Worldwide Vegan Bake Sale.
April 27, Baltimore Vegfest. Baltimore, Maryland.
April 27 to May 5, The Food Revolution Virtual Summit.
May 4, LA Vegan Beer & Food Festival. Los Angeles, California.
May 4, Fashion Loves Animals for Farm Sanctuary. New York, NY.
May 4-5, Chad Sarno's Vegan Culinary Training. Atlanta, Georgia.
May 8-11, HSUS Animal Care Expo 2013. Nashville, Tennessee.
May 11-12, NOLA Veggie Fest. New Orleans, Louisiana.
May 18-19, Farm Sanctuary's Country Hoe Down. Orland, California.
May 19, Poplar Spring's Run for the Animals. Wheaton, Maryland.
May 19, Worldfest 2013. Lake Balboa, California.
May 24-26, Vegfest UK Bristol. Bristol, UK.
May 31 to June 1, Anti-Fur Society Conference. Alexandria, Virginia.
June 1, Cleveland Veg Fest. Cleveland, Ohio.
June 1, Toronto Veggie Pride Parade. Toronto, Ontario, Canada.
June 2, Niagara Veg Fest. St. Catharines, Ontario, Canada.
Quote of the Month
"When I think about the amount of death, suffering, and environmental destruction that goes into something as simple as a burger, it's easy to think to myself... This isn't the right thing to do."
--Caroline Kelly, Get a Heart and Get Healthy: Go Meatless. (from James Madison University's news source, The Breeze)